Gifting is all about going the extra mile but it is easy to get carried away by a gazillion options. In an effort to go "unique", people get swayed by the thought of flattering their recipients, while completely forgetting how those gifts would serve the latter's best interests.
And as garnering appreciation is important for you, your gifting choice doesn't have to be about you. Afterall, the last thing you want to come out as is desperate.
So, no matter on what occasion or whom you are about to surprise, your intentions must meet with your actions. A humble present like a coffee mug harms none, but it is kept with warmth and love by the person you give it to.
Some of you may doubt the very 'validity' of photo coffee mugs as a gift.
"Aren't they cliche?"
"How are they a great gift?"
"What about other gift options?"
Well, coffee mugs can never be "cliche" if you personalise them appropriately. Here's an example –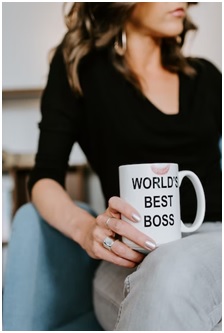 Wouldn't you want to gift something like this to your boss? Yes, it may be simple but it does make a statement.
But here's a disclaimer – going with coffee mugs as a repeated gift or picking those from local gift shops is often not the best approach. They don't make an impression – they ruin it. It is better to go with personalization than just randomly picking the mugs.
So, if you are already occupied with a slew of things and have no time for gifts, you can just buy custom mugs.
Reasons To Hand Out Personalized Mugs
1. Highly versatile – There are no limits to gifting the mugs – whether it's someone's anniversary, a promotion, birthday or achievement of a milestone, mugs are perfect picks for every occasion.
Mugs are ideal for corporate gifting and other handouts. Before printing them, make sure to incorporate your logo and business idea on the mugs.
2. Best for expressing – Personalized mugs aren't easily regifted – which is what makes them an excellent choice for gifts. You can pour your heart out while printing the mugs to show your unconditional love and affection for the recipient.
3. Economical option – A custom mug may cost you between 150-500 Rupees, depending on the brand, print and template that you choose. If a printing service charges extra for their design, you can get one made on Photoshop or Canva, and then print accordingly – thus saving time and effort.
4. Unlimited personalization – You can incorporate as many ideas as you want in a mug, provided they are in synchronisation with its space. Mugs are like a blank slate – you can print anything of your choice.
5. Quick & convenient – With advanced mug printing, last-minute gifting has been taken up a notch. You can get a mug printed and delivered to your doorstep in a few days. If you reach out to an offline printing store, you may get it in a few minutes.
How To Design & Choose Custom Mugs
By keeping a few simple things in mind, you can design an alluring coffee mug by yourself.
1. Photos –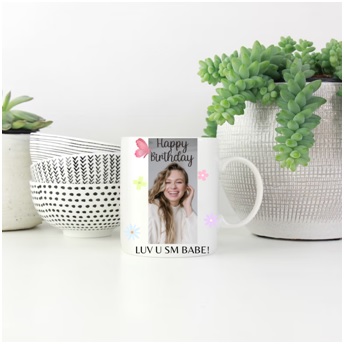 Photo coffee mugs are somewhat universal gifts in today's world. While you can simply put pictures of your recipient on the mugs, it is advised to arrange them so that they look visually appealing. Try to balance out elements like text & design with the photo.
Also, avoid inserting paragraphs on the mug. We know your heartfelt wishes mean more than anything, but you can write them on a letter instead, and gift it with the mug.
2. Quotes or Puns –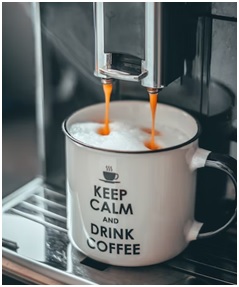 One of the reasons why people adorn mugs on their desks or shelves is because they have something worth drawing attention to. For instance, it could be an inspirational quote, or simply a light-hearted pun.
If you have such quotes or puns in mind, use them according to your discretion. Otherwise pick them up from Pinterest 🙂
3. Colour Changing mugs –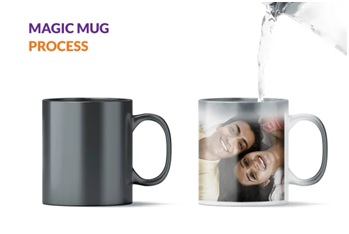 If normal coffee mugs seem too boring to gift, you can add a twist to them. There are personalized coffee mugs that come with a heat-sensitive coating – a paint that is sensitive to changes in temperature. The moment something hot is poured inside the cup, they change their colour. Isn't it amazing?
These are innovative and not a lot of people know about them. While gifting these mugs, your recipients are bound to be impressed!
4. Print something on the mugs they'll love –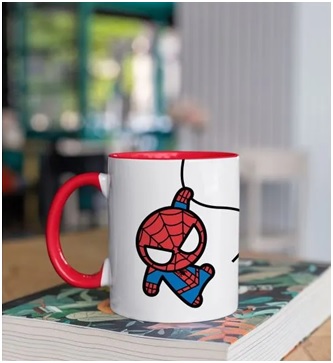 As much as quotes and puns are noticeably the best idea for mugs, a little more personalization could just be the icing on the cake. Consider your recipient's favourite movie, artist or song. You can print anything associated with that as long as it is not licensable (as the printing service may deny proceeding with the design due to copyright issues.)
Conclusion
So, this was about personalized photo coffee mugs. The best way to not suck at mug gifting is put in more creativity. And if you think you cannot go more creative, feel free to ask someone out, or just go to Pinterest for inspiration and ideas. You will find tons of images to choose from, and all of them are free to use.
Whichever way you choose, also ensure that the printing service is a reliable one after checking its reviews from the internet. It would be helpful if you know that the prints on mug are long lasting and don't come off with washing – otherwise, what's the point?