The kitchen of your dreams might feel like a pipe dream, but it doesn't need to be with a few clever tweaks and changes.
Rather than settling for a space that brings zero joy, you must make alterations to ensure you burst with pride when welcoming guests into your home.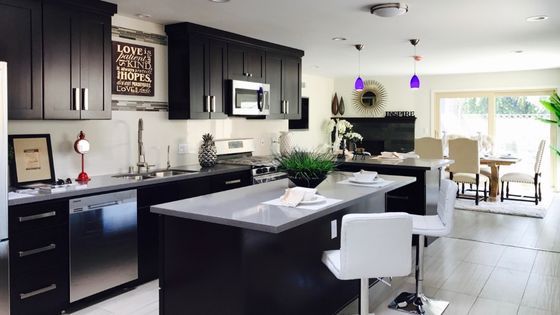 A few affordable tactics will make you want to spend many hours in the space each day. Find out how to elevate your kitchen on a budget.
Change Your Kitchen's Color Scheme
Breathe new life into a tired or outdated kitchen by changing its color scheme. However, you don't need to pull out your existing cabinets to transform their look and feel.
Save yourself time, money, and effort by hiring a cabinet refinishing company to change your cabinet's color scheme and finish.
It is a quick, affordable way to freshen up your kitchen to ensure it matches your taste and style.
Replace Your Cabinet Handles
Once you have refinished your cabinets, turn your attention to replacing the kitchen handles.
Give your kitchen a splash of luxury by selectinga design and metal that oozes warmth and sophistication, such as brushed brass.
It will prove you have exceptional attention to detail and help you fall further in love with a kitchen makeover.
Upgrade Your Faucet
Your kitchen's hardware will detract from the design or elevate your cabinetry, appliances, and color scheme.
Create a high-end look by upgrading your faucet to create a more stylish, attractive space that will impress your loved ones.
Take your pick from many attractive metals, such as opulent gold, vintage brass, or modern matte black taps.
Install a Stylish Backsplash
If you're eager to inject personality, color, and texture into your kitchen, install an attractive backsplash.
A stunning design will update your kitchen while protecting the space from splashes and stains throughout the years.
It's an effective way to create a stylish, durable space that never fails to wow your nearest and dearest.
Add Luxe Lighting
Most interior designers focus on high-quality, well-positioned lighting when redesigning a kitchen. A well-lit space will look more expensive than a dull interior.
You can select from a wide variety of luxe kitchen lighting fixtures, such as an elegant chandelier, linear pendants, and wall sconces.
Also, you could affordably illuminate the space further by adding strip LED lighting inside glass cabinets and underneath cabinetry.
Hang Artwork
Beautiful artwork can elevate every room in the home, especially the kitchen.
Most people don't think to hang a stunning work of art in the space, but it could transform its appearance and atmosphere.
It is a stylish way to add a splash of personality, texture, and color to a kitchen. The right painting can provide the perfect finishing touch to your interior design, tie colors together, and become an attractive focal point. It can also provide the perfect escape when you are cooking up a storm.
If you are tired of looking at a worn or out-of-date kitchen, consider the above affordable changes to the space to improve its appearance and function.