A busy hotel lobby is exposed to serious wear and tear. With guests bringing in their luggage, equipment, and deliveries coming through the doors and dirt, rain, and mud being traipsed through the hallways, hotels can start to look a little worse for wear pretty quickly.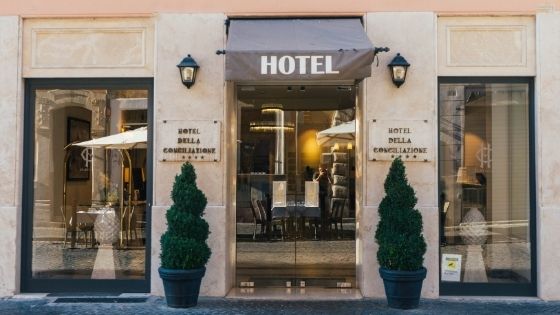 Thankfully, there are certain tricks and materials you can use to keep your hotel looking smart for longer. Whether you're a small B&B or in charge of a large chain hotel, here are some ways to reduce maintenance costs while improving your property's aesthetic.
Textured entrance flooring
Entrance matting is a great solution for controlling the amount of dirt that travels through the hotel.
Textured carpets and mats like Pedimat, for example, ensure soil and moisture are removed from shoes or trolley wheels before entering into other areas of the hotel. While carpets tiles can quickly become faded or separated, these specific entrance mats withstand the hustle and bustle. It's also much more cost-efficient than continuously cleaning more expensive floors like marble or tile.
Door and frame protection
With guests carrying their luggage and allowing doors to slam behind them, hotel room doors and their frames can easily get damaged. This damage can make the whole corridor look a little less appealing and may even compromise the fire safety of the door.
Using door and frame protection can reduce the amount of damage your doors experience. This small investment could save you a pretty penny in the long run, as you are much less likely to have to replace entire doors. Protective guards are usually made of a durable material that can minimize the effects of damage while also hiding away any previous damage done.
Crash rails and wall guards
As mentioned above, very few guests think about how they carry their luggage. A broken suitcase wheel could mean their suitcase hits against the walls or scrapes across corners at every turn. Similarly, cleaning carts and luggage trolleys can bash into walls when not steered correctly – all of which can leave damage and scuff marks on your newly decorated walls.
Corridors and stairwells can benefit from crash rails and metal corner guards. Crash guards are often heavy-duty materials that prevent luggage and trolleys from coming into contact with the actual wall and incorporate shock absorbers to prevent damage to the infrastructure.
Corner guards ensure no bumps and damage come to the corners of each wall – meaning that maybe you can splash out on that special wallpaper you've got your eye on without worrying about it being scuffed or peeled at the edges.
Hygienic wall coatings
Commercial kitchens are a cesspit for bacteria when not properly maintained. Keeping a fully working kitchen spotless is challenging at the best of times. Tiling can become chipped or cracked, giving bacteria and mold the perfect hiding spot, and regular emulsion can quickly collect staining and grease.
Using a hygienic, anti-microbial wall coating will make cleaning the kitchen quick and pain-free. These coatings are usually specifically made for commercial use, ensuring that there is little chance of salmonella or E. coli spreading.
With a few upgrades, you'll be back to running a smart-looking hotel that you can feel proud of.