Today, we are facing the wrath of coronavirus. It has snatched the breath out of so many and it has cast a deadly spell over the world. Humans are forced to stay in the confines of our homes, our mobility has been prohibited, and COVID-19 has cut the cords of human touch and human interaction. People have turned a deaf year to the cries of the people who are longing for a decent meal. With almost 73 million people living in extreme poverty. The repercussions of the invisible enemy (COVID -19) has led them to turn their sweat into the blood for a loaf of bread. It has hit the lower sections of the society thus pushing them towards poverty. With each passing day, thousands of people are succumbing to hunger and the rest are scavenging for food. This has posed a question in front of us. Is it possible to feed millions of people and how can it be done? The bins are being rummaged by the rag pickers and poor kids which is the major source of food to them. In times like these, iCFDR has rushed to the aid of daily wage workers and the marginalised folks. It has been running a campaign to provide nutritious food to the ones wailing for it.
While the common people are in fear of stepping out of their cocoons. ICFDR has ahead on a journey to be a light to the ones in despair. The bold warriors of iCFDR are marching forward to feed the hungry. It has targeted the daily wage workers, the lower-income level, farmers, underprivileged, and all those whose means of income and livelihood has been threatened by COVID-19. These folks are not only running out of food but are also lagging health kits and another basic necessitates. So far, our NGO has distributed free essential food items to the poor and marginalised with the service of door-step delivery.
Our foundation has rendered its services to thousands of corona hit households. It is constantly on their toes to provide help to the ones seeking it. To the uninitiated, it has equipped a number of people with full-fledged facts about Coronavirus and the preventive measures that can be adopted. Along with a mass distribution of sanitary masks, detergents, ration kits and health kits to the villagers of Dehradun, Delhi, Bareilly, Badaun, Rampur, and Itanagar. Our motto is to feed every young and old. It is currently running the COVID-19 relief work campaign and has listed down a bunch of activities for the near future. Take a look.
Our formulation plan goes like this
Extension of help to the oppressed.
Feeding the poor in and along the outskirts of Delhi.
Expanding our reach to more cities & rural regions.
Providing relief to several other families.
We have the determination and we do not want to leave any stone unturned to achieve our goal. It has been quite a task to reach out to the people amidst the curfew and the fear of contracting the contagious disease. But we at ICFDR put the needs of others before ourselves. We have devoted ourselves to the betterment of society. We have managed to reach out to 5000 daily wage workers as well as giving out 7000 sanitary masks and 500 ration kits. We have pledged to offer help in any means we can. We appreciate the efforts put by our zealous volunteers and well-wishers for their contribution however big or small has helped us sail through the storms in a befitting manner. We want to accomplish this mission and emerge successfully. However, as you are aware, that every journey has its share of good and rough times, we too, are struggling to attain our target. Nevertheless, if we have your backing, it will relieve us from the strain.
5 reasons why we need you
Your support can help us to put food on somebody's plate.
The monetary donation will be utilised for reducing the misery of someone.
Your non-monetary donation in any form will be used directly for their benefit.
Your correspondence with our foundation will aid in promoting our NGO (which will help us to extend our reach in other states and cities.)
You can volunteer with us to experience the joy of giving.
We are stuck in this havoc together, it will be unfair to overlook the pleas of the poor. When it comes to taking pride in India being diverse and rich in the Human capital nation, we all have raised our heads in pride. If we have accepted them during the gleeful times, then why not now? Give it a thought.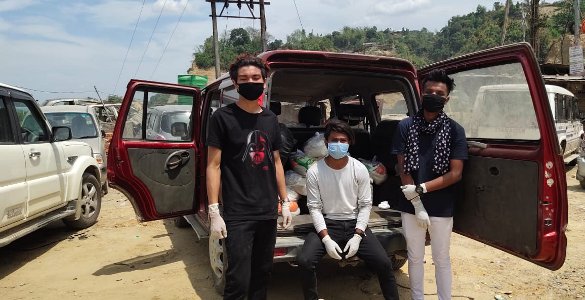 Corona may have afflicted us physically and mentally but it cannot take that one thing from us "Humanity". It is an inbuilt feature. Look past the fear and you will see a nurturing human in you. Similarly, if you ever come across that caring human being in you. You will always find a warm welcome at iCFDR. It is high time, you make the right choice, and most of us are bestowed with a roof above our head and a meal to satisfy our hunger. I bet it wouldn't cost you buck loads to share a teeny tiny thing. iCFDR calls out to each and every one of you to contribute to the well-being sof the people desperate in search of food. Donate in however means you wish to give be it by giving away daily essentials or simply by donating a day's meal. A humble request to all the citizens, we may not be able to reach in every nook and corner but you as a human are responsible to perform your duty. Let us make this a pact with ourselves, to keep our humane self alive.
Join us on this expedition where we are striving to aid the marginalised. Besides, not to mention happiness is inevitable. Each one of you can be a messiah to them if you just part ways with the very minute things you have. Trust me, once you do so, the feeling of self- satisfaction starts kicking in. They all are eagerly waiting for a hero to save their day, can you be one for them?
For more details visit: iCFDR