Fashion brands have long used a QR code on clothing labels to inform consumers of care instructions, increase online following, and boost engagement in their latest campaigns.
Taking it a step further with a QR code generator, some brands are now rocking QR codes in fashion weeks.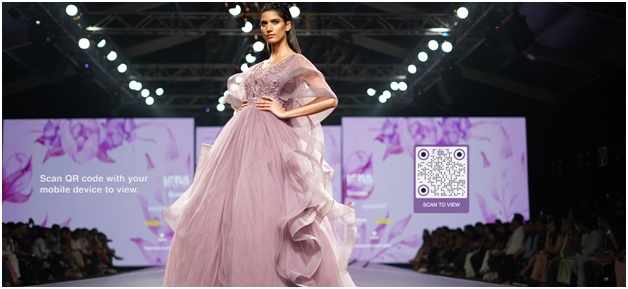 In the wake of the pandemic, this has helped brands create noise among models, influencers, and fashion gurus, which is crucial in an industry that relies heavily on physical appearance and social interaction.
And with QR codes, clothing lines or brands can easily promote their pieces to a wide range of audiences across different platforms, whether on the streets or online.
If you're a brand that may also want to elevate the use of a QR code on clothing, here are some ways to integrate it into your runway shows during fashion week.
Fashion TV's QR code display
Fashion TV is a global multimedia platform that reviews the latest in fashion on television.
In its replay of London Fashion Week last March, QR codes popped on the TV screen that will lead viewers to the company's website.
This allowed viewers to stream ads and watch different fashion shows from big-name brands like Versace, Prada, Lanvin, and Tommy Hilfiger.
It's a genius way to increase the brand's web traffic and enhance the viewer experience through an interactive experience, which is critical during lockdowns and social restrictions.
Glenn Martens' sustainability commitment
Clothing is one of the most common trashes on the streets, in landfills, washed up on shores, and in the middle of oceans!
For Belgian designer Glenn Martens, sustainability is critical in his debut collection for denim giant Diesel at Milan Fashion Show.
Aside from his famous '90s-inspired collections, he ensured all the cotton was certified and labels included a QR link with product information.
This is a big move toward more sustainable clothing pieces, especially from a prestigious brand like Diesel and from an esteemed designer in the industry.
Klarna models holding QR code signs
For Australia's first-ever 'censored runway,' Klarna had the chance to grace the runway with their models wearing only a pink robe while holding a QR code sign.
Consumers can scan the QR code through Klarna's shopping app to reveal the outfit in their online store so they can purchase the clothing immediately!
It's not how a typical runway show works, but the brand hoped that the creative execution of QR codes on clothing and fashion shows would help Aussie shoppers during their most challenging period at the height of the pandemic in 2020.
The move from the brand offered something new and helped consumers shop easily with just one scan, driving up sales performance.
QR code outfit and other bizarre designs
A post on Instagram by Dramatic People @dramaticpeople_ has gained much attention due to its bizarre and out-of-the-box designs.
In particular, models walked on the runway wearing a QR code out of a box—that's it!
On the other hand, other models wore outfits made out of aluminum, pink cloth, and other garments that may be impractical.
It has received mixed feedback from internet users—but if the goal is to create noise and recognition online, then the fashion show has served its purpose.
DemnaGvasalia's Afterworld: the age of tomorrow
For Balenciaga's designer DemnaGvasalia, fashion films are a thing of the past.
In his launch of the 2021-2022 Fall/Winter collection, he opted for something more modern with Afterworld: the age of tomorrow — a video game in partnership with Epic Games.
The game revolves around an allegorical adventure set in 2031, with the wardrobe characters wearing his designs.
Fans can access the game through the QR code issued by Balenciaga.
This creates many possibilities for using QR codes in fashion, pushing brands to innovate continuously with more creative applications.
Generate a QR code on clothing in a breeze
QR codes have been around for some time and have evolved to be used in significant fashion events worldwide.
Generating a QR code on clothing for your fashion shows is now made easy with QRTIGER, the best QR code generator software.
It offers plenty of customization features like changing the colors and adding your logos—all for free.
Go to QRTIGER today and create customized QR codes for your brand.