Bespoke suits are made to your specific measurements in your chosen style. The process requires up to 4 fittings.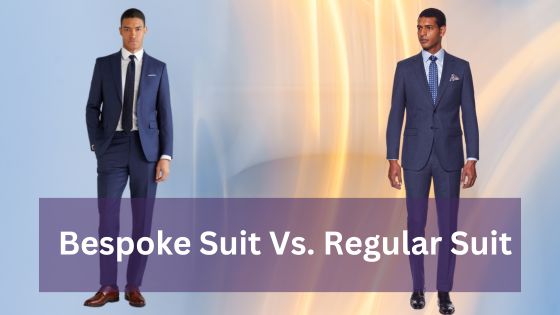 Custom or tailored suits are a great way to get a suit that fits well right now. The key is choosing a tailor to account for future body changes.
Size
There are several key differences between bespoke and off-the-rack suits. The most obvious is the superior fit of a bespoke suit. This is not only due to the more precise measurements taken but also the attention to detail in both the construction and materials used. This leads to a garment that fits well now and will continue to fit well for years to come, even with dramatic body changes (such as pregnancy or weight loss).
The quality of the material is also better in a bespoke suit. Many off-the-rack suits are made from cheap fabrics that will quickly wear out. A bespoke suit is made from high-quality wool or cotton, lasting longer and looking better.
Another difference is the level of customization possible in a bespoke suit. A bespoke suit can be fully customized from the fabric to the lapel shape, buttonhole stitching, and monogram stitching. It can also be trimmed with different types of stitching, lining,buttons, and specified cuffs and pleats. It can also be padded or unpadded and can be stiff or soft. It can also be partially or fully canvassed and can have a glued or sewn interlining.
Despite these advantages, a bespoke suit is not without its drawbacks. Firstly, making a bespoke suit takes much longer than a ready-to-wear one. Creating a bespoke suit can take up to 80 hours, not including fitting sessions. This can be an issue if you are trying to get a suit for a specific occasion, such as a wedding, and need it in a hurry.
Finally, the best bespoke suits can be more expensive than an off-the-rack suit. However, the cost is offset by the longevity of the garment. A bespoke suit will easily outlast an off-the-rack one, saving you money in the long run.
If you are looking for a more affordable option than a bespoke suit, you can consider a tailored or MTM suit. This will benefit you from a better fit than an off-the-rack suit and will often be cheaper than a bespoke suit. This type of suit is usually made from a pattern and will take less time to make than a bespoke suit.
Fabric
If you're going for a truly made-to-measure suit, it must be made of top-quality fabric. Bespoke suits can be made of any fabric — from classic business fabrics like wool to vintage, and even a few more exotic options, such as silk or cashmere. The tailor will be able to help you decide what fabric is best for your situation, taking into account your lifestyle and the occasion.
The fabric will also be a major factor in the cost of your suit. For instance, a cotton-linen blend suit will be significantly less expensive than a wool-cashmere blend. Another factor in cost is the number of alterations that need to be made to your suit. Generally speaking, the more alterations your suit needs, the higher the cost will be.
Bespoke suits are typically a more high-end choice than made-to-measure suits. This is because bespoke suits are built from the ground up, while made-to-measure suits utilize existing patterns that need to be altered to fit your body shape. This means that a bespoke suit will require more attention from the tailor and will therefore take longer to complete.
During the first consultation, the bespoke tailor will take detailed measurements and observe your build, posture, and stance. This process is a key part of the relationship between the client and the tailor and helps to build trust. During this meeting, the tailor will also discuss your suit requirements and options, such as lining, buttons, pockets, etc.
The tailor will send the measurements to his workshop at the end of the initial consultation. He will then create a pattern specifically for your body, using at least 25 body measurements and posture images. He will also alter the base pattern based on your unique build and stance.
Tailors will then sew your suit and finish any alterations that are needed, such as the waist, cuffs, and lapel width. A good tailor will be able to recommend alterations that will fit your budget without compromising the integrity or style of the suit.
Bespoke suits are a great option for men who want to stand out in a crowd and feel confident about their appearance. They are not cheap but will last for years, assuming you don't undergo drastic body changes.
Design
The design aspect of bespoke suits is what really sets them apart from other options on the market. If you want a suit made with a particular style in mind, the best way to go is to have one of the top tailors on Savile Row design a custom suit for you. They will work with you to create a design that fits your needs and is tailored to your specific body type.
This process of designing a unique look for your suit can take some time. But it is well worth the effort and will help ensure that your finished product is exactly what you want. The tailors will be able to make suggestions and recommendations along the way that may help you achieve the finished look that you are going for without spending more money than you have in your budget.
Aside from the design aspect of a bespoke suit, you will also have the option to choose from a variety of different fabrics. While this may seem like a simple decision, it is one of the most important aspects of your final suit. The fabric will help determine the overall look of your suit and will dictate comfort, movement, and durability.
Another important consideration when choosing a fabric for your suit is the lining. You will have the option to choose between a fused or glued lining. Fused linings are more common and offer more flexibility than a full-canvas lining. However, if you are going to spend the money on a bespoke suit, you will want to opt for a full-canvas lining. This will provide the most luxurious fit and offer your suit the most movement and flexibility.
Bespoke suits are often pricier than other options because of the level of customization. This includes the fabric, the design of the suit, and the fact that it is handmade by a skilled tailor. It is the most expensive way to purchase a suit, but it is the only way to guarantee a perfect fit and truly stand out in a crowd.
Fit
If you want to look your best, there's no doubt that a bespoke suit is the way to go. A good bespoke tailor will spend up to 50 man hours on a single suit, and their team of cutters, sewers, and buttonhole makers will pay special attention to every detail. Whether you're going for an event like a wedding or business meeting, a custom suit will give you confidence that you'll look your best.
If your budget doesn't allow for a fully bespoke suit, there are made-to-measure options available. However, these suits are typically made from standard patterns and will not have the same fit as a bespoke suit. In addition, made-to-measure suits typically cost more than a fully bespoke suit from a reputable Savile Row tailor such as Anderson and Sheppard.
A bespoke suit is truly unique in that it starts out as nothing more than fabric that has been patterned and cut specifically for one client and no other. This level of customization makes a bespoke suit so expensive, but it also sets it apart from off-the-rack or made-to-measure suits that are made with a standard pattern.
Tailor-made suits are more affordable and often made in Asia and India, which is a big reason why they can be purchased at brick-and-mortar retailers. Many of these suits are made using a 3D measurement technique that is not as accurate as a human eye and will not always produce the desired results. In fact, a poorly fitting suit can actually ruin the fabric and cause loose stitching and other problems.
When you invest in a tailored suit, you will likely need to come in for multiple appointments, at least two and perhaps up to five. You'll meet with your tailor to discuss your needs and vision for the suit, and they will pin you in various positions to see how the suit fits. If any adjustments need to be made, they will make a note and call you back for another appointment.
Depending on the amount of customization that you choose, your suit will take up to four weeks to be made. At the end of the day, a bespoke suit is an investment that will last for years and can be a great way to make a statement in the boardroom or on the golf course.