It's time to kick back and enjoy time with your favorite people. Whether you're celebrating your child's birthday party or looking for an excuse to invite the neighbors over for a fun-filled evening, a pizza party is always welcome. Here's a few ways you can ramp up your next pizza party with the cheapest pizza specials, exciting topping options and a group of people who promise to make it a day to remember.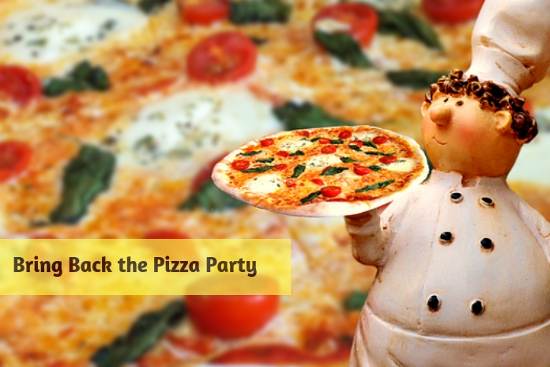 Cheap Specials
There's a lot to plan for a pizza party. From kids' games and entertainment options to drinks and seating arrangements, you've probably got your hands full with all the last-minute prep. Shop online or call your local pizza place to order the cheapest specials. Whether you're looking for your go-to pizza style or are thinking about trying something new, search for daily specials, shop for coupons and snag a few affordable options to surprise your gathering.
For the latest in coupon shopping and bargain hunting, look for a mobile app from your favorite pizza place. Many stores are utilizing this helpful technology to connect you with the best local deals on a range of pizzas and sides. Whether you're looking for a pizza or two for your coworkers or loading up on pizza, wings, desserts and drinks, you'll find a special that works for you.
Loaded Options
Step aside pepperoni, there's a whole new world of pizza toppings available. Take a walk on the wild side and discover how the works pizza toppings can add spice to your pizza party. This hearty pizza includes an exciting range of toppings for everyone to fall in love with:
Real cheese made from mozzarella
Black olives
Mushrooms
Green peppers
Onions
Italian sausage
Canadian bacon
Pepperoni
This fan-favorite has a little something for everyone. It's a mouth-watering alternative to the typical cheese and pepperoni options available at most pizza parties. The Works, Phillysteak and other unique varieties are all available for you to surprise your guests with a new twist.
Of course, if your crowd is in love with the classics, pick up a few quality pizzas made with more traditional ingredients. Don't try to fix something that isn't broken, but stick with the classic Italian sausage or pepperoni options that everyone is sure to love.
Consider whether you need to go big and choose an extra-large pizza, or stay small and go with personal-sized options. Depending on your crowd and range of tastes, ask your pizza store about sizing options to find the perfect pizza.
Memorable Company
Finally, no pizza party is complete without your friends and family. Whether your family dinner needs spicing up or you're gearing up for a long weekend of food, fun and friends, a pizza party is a great way to gather everyone together and create special moments. Be sure to have enough pizza to go around and find ways to celebrate any occasion.
Look for the latest deals and discounts at your local pizza store. If you're curious who has special on phillysteak pizza or who has the cheapest pepperoni pizza around, search online for specials or call your favorite location today to prepare for your next exciting pizza party.