If you're building a PC, you may be wondering how you can choose the right motherboard. What's the difference between motherboards, and does it matter which model you choose? In this guide from our computer shop specializing in laptop specials, we'll discuss what you need to know about how to pick the right motherboard for your PC build.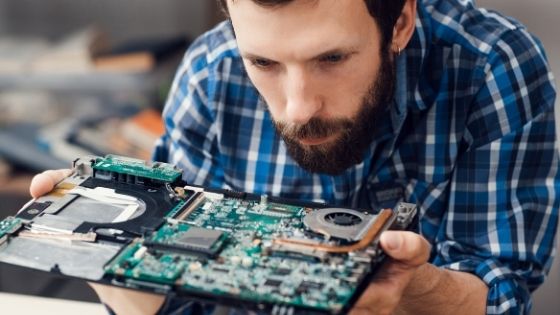 What Is A Motherboard?
The motherboard is essentially the "heart" of your PC. All of your PC's various components – from SSDs to the graphics card, CPU, USB devices, and RAM are all connected to the "motherboard," which contains processors and software/firmware that allows these components to work together properly – and allows your PC to run.
This means the motherboard is very important to your PC build. But you still may be wondering what the difference is between each type of motherboard, and why one model may be better than the other. Let's discuss that now.
What's The Difference Between Different Types Of Motherboards?
If you're browsing a selection of motherboards and wondering what the difference is between each one, here's a quick guide that may help you understand their features in more depth.
CPU socket type – Each motherboard is designed for a different type of CPU. A motherboard designed for an Intel CPU, for example, won't be usable with an AMD CPU, so keep this in mind when shopping.
PCI slots – The number of PCI slots varies depending on the motherboard. As a rule, more expensive motherboards have more PCI slots, where you can install things like graphic cards, NVMe SSDs, wireless cards, and other accessories.
Component quality – Cheaper motherboards use less stable and less reliable components. On the other hand, more expensive models tend to have better overall quality and are more reliable.
Overclocking support – This is a big thing to look for. Some motherboards allow you to "overclock" your CPU, increasing its speed beyond its factory settings. If you have an overclockable CPU and want to overclock it – either now or in the future – it's very important to buy a motherboard that supports overclocking.
Total number of ports & connections – The motherboard contains HDMI, USB, Ethernet, and audio connections, along with a variety of other ports. Typically, higher-end motherboards will include more ports and connectors, as compared to cheaper models. This is definitely something to keep in mind – if you will use a lot of peripherals and PC accessories, splurging on a motherboard with extra connections is a good idea.
Know How To Choose The Right Motherboard For Your PC Build!
Choosing a motherboard can be tough, but if you know what to look for, you'll have a much easier time shopping for a motherboard at our PC shop. So don't wait. Come into our store today or shop our motherboards online to get what you need to build your PC.
GTR Computers offers you a wide range of refurbished laptops for both home and office users.