The stunning snow-covered slopes of Utah are full of all sorts of outdoor thrills and experiences that can thrill families looking to enjoy quality time together.
And with its wide variety of ski resorts, ranging from beginner-friendly runs to the backcountry, Utah is a popular destination for family skiing.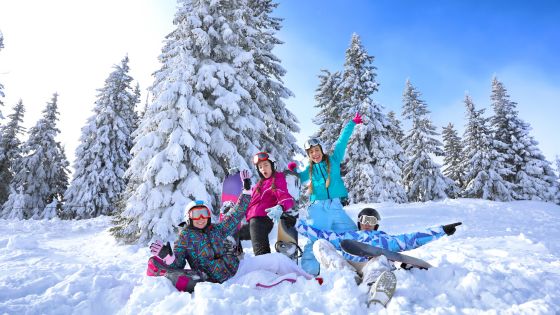 Whether your kids are bunnies or black diamonds, there's something here for everyone! From breathtaking views and comfy lodges to fantastic learning opportunities on real mountain terrain, skiing in Utah offers some truly unique memories, no matter what level you're at.
There's an emphasis on safety at ski areas, and many have programs aimed specifically at teaching younger generations important skills like how to navigate a piste (or trail).
So if you're interested in creating a safe yet exciting environment for your family group this season, read on as we take you through all the components that make ski trips truly special when they happen in The Beehive State!
Benefits of Skiing with the Whole Family
Skiingis a fantastic way to bond with your loved ones, and it's a sport that can be enjoyed by everyone in the family. Not only does skiing promote physical fitness, but it also encourages teamwork, communication, and problem-solving skills.
It's an ideal activity that fosters a sense of togetherness and collaboration as you glide on the snow together. Skiing is also a great way to soak up some vitamin D while immersing yourself in the beautiful scenery of the mountains.
Plus, it's a fantastic excuse to get away from the hustle and bustle of everyday life, let loose, and create some unforgettable memories with your loved ones.
Safety Tips for Beginner Skiers
Skiing can be an exhilarating experience for beginners; however, it can also be risky. Safety is of the utmost importance when it comes to this winter sport.
Before hitting the slopes, it is essential to know some safety tips that will help you enjoy this sport to the fullest. As a beginner, it is crucial to enroll in skiing lessons and familiarize yourself with skiing etiquette.
Always wear appropriate gear, including helmets, goggles, gloves, and layers of warm clothing. When skiing, maintain control of your speed and distance from other skiers.
Avoid skiing in areas that are beyond your skill set. Always stay within your comfort level, take breaks, and stay hydrated.
By following these beginner skiing safety tips, you can ensure a safe and enjoyable experience on the slopes.
Ideas for Making the Most Out of a Ski Trip
What's not to love about a ski trip? The crisp mountain air, the thrill of carving through fresh powder, and the cozy après-ski atmosphere all make for an unforgettable getaway.
But if you're looking to take your ski vacation to the next level, there are plenty of ways to maximize your time on the slopes.
Start by hitting the mountain early to beat the crowds, take advantage of lesson packages to improve your skills, and indulge in local cuisine at après-ski spots.
And don't forget to document your adventures with plenty of photos and videos to relive the memories for years to come. With these tips in your back pocket, you're sure to make the most of your next ski trip.
Special Programs and Rewards for Season Pass Holders
As avid theme park enthusiasts, we all know the perks of having a season pass. But did you know that some parks offer special programs and rewards exclusively for their season pass holders?
From exclusive ride times to free merchandise, the options are endless. Imagine getting to ride your favorite coaster before anyone else or snagging a limited-edition souvenir only available to season pass holders.
These programs and rewards not only enhance the overall park experience, but they also make being a season pass holder all the more worthwhile.
So, if you're a loyal fan of a particular park, be sure to check out their special programs and rewards to maximize your park-going experience.
Activities Offered in Utah That Go Beyond Skiing and Snowboarding
Utah might be a winter wonderland, but that doesn't mean that skiing and snowboarding are the only activities on offer.
Visitors to this beautiful state can explore a range of winter sports, from snowmobiling to cross-country skiing, making it the perfect destination for adventurous travelers.
One of the most unique experiences on offer is dog sledding, where visitors can take a ride through the beautiful Utah wilderness, pulled by a team of finely trained huskies.
Alternatively, visitors can take in the stunning scenery from above on a hot air balloon ride or try their hand at ice fishing on one of Utah's many frozen lakes.
With so many exciting activities to choose from, Utah is the ideal destination for those looking to experience winter in a new and thrilling way.
Skiing in Utah can be a wonderful experience for families. Not only are the ski resorts family-friendly, but they also offer plenty of activities for all members to enjoy.