2022 is looking to be another big year for home improvements. Rather than rush into improving your home and simply following the trends, you should instead plan the home improvements that you want to perform in advance, even if you are not planning to make a start on them until the summer months.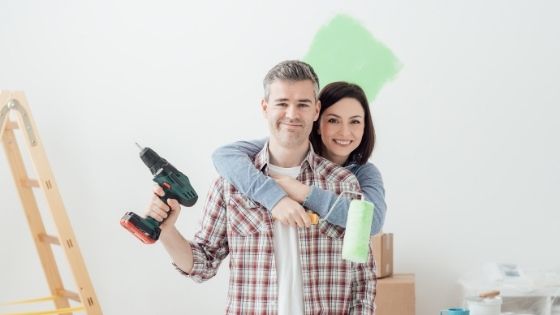 So, here are some of the home improvements that you should consider preparing and saving up for in the coming year.
1. A Roof Replacement
One of the top improvements that you should consider making is a roof replacement. Many people ignore the importance of having a sturdy roof, and this can mean that shingles become loose and worn over time. These loose shingles can then lead to leaks and water damage in your house. If you are looking at starting on a major project in 2022, you should consider making this a roof replacement and hiring a professional residential roofing service to help you conduct the improvement to a high standard. This can then help your home's exterior to look brand new again without you having to jeopardize your safety or spend the entire year learning new DIY skills.
2. New Windows
People are also planning to install new windows into their homes in 2022, with many houses still having single glazed or double glazed windows rather than the triple glazed windows that are currently in fashion and that can help to save you money. Not only this, but some homeowners are now deciding to create entirely new window spaces in their homes. These can help their rooms to look more spacious and can allow families to feel closer to nature by breaking down the walls between them and ensuring that they can look out onto plants and greenery at all times. Not only this, but an excess of windows can also brighten rooms that previously looked dark and cramped. Depending on the type of window you install, you may qualify for a tax credit. You may need a tax calculator to determine the exact figures. Of course, you can always consult a tax professional if you're unsure about anything.
3. An Extension
However, now that the COVID-19 pandemic has left people staying inside for more time than ever before, many people have begun to feel claustrophobic in their homes. Not only this, but the absence of travel and other activities for nearly two years has left some homeowners with more money to spend on major improvement projects. This means that many property owners have gone so far as to build a new extension onto their homes. If you are starting to feel fed up with your home but believe that a little spring clean will get you nowhere, instead of moving home, you should consider the advantages of building an extension onto your home in 2022. For instance, you might be able to create a large open space that you can use as a kitchen, living area, or dining room, and which can help to bring your family together.
4. Landscape Gardening
After another cold winter, many people will be flocking to their gardens come the spring and summer months, and this means that landscape gardening is also likely to be a popular home improvement to try this year. Therefore, you should consider planning for this project now, creating designs for an outdoor living space where you can entertain guests, cook and eat meals, and even listen to music. This will allow your backyard to have something for every member of the family to enjoy and ensure that your outside space does not go to waste.