Want to know What is required to be a Successful Mechanical Engineer? Read ahead and get the details. All those who belong to the non-medical background might have considered the mechanical engineering stream. Mechanical engineering is one of the most rewarding career options and is highly lucrative. So, for that, you need to have the required skills so that you become successful as well as important in the field.
Pursuing engineering would be one of the best options for you and if you want to secure placements in the top corporations then it is the best stream. The primary responsibility of the mechanical engineer is to design, test and build the mechanical devices as well as the set of tools and engines.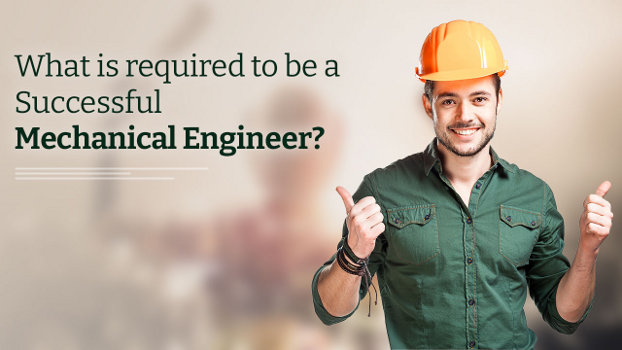 So let us see some of the top skills that the students must have in order to pursue mechanical engineering are provided below.
1. Problem Solving
One of the main tasks that mechanical engineers have to perform is solving problems related to high-tech machines. These might occur to clients or even employers so they ought to have the required set of problem-solving skills to tackle the problems that they are facing. So, mechanical engineers need to be analytical thinkers. So that they could analyze the results and even modify the designs.
2. Ability to Communicate
There might be some co-workers who have not received engineering training. So, you being a mechanical engineer need to have good communication skills so that you can communicate clearly to them regarding the issues, priorities and even the processes. Secondly, the clients need to be guided about new products and developments. Therefore good communication is necessary to communicate with clients when the new product and processes are to be carried out.
Moreover, engineers need to work with different departments and people so they need to have collaborating abilities as well. During college time, students learn the effective way to communicate with people related to the Mechanical Engineering field. Popular mechanical engineering colleges in Kerala such as TOMS particular known for the overall development of mechanical engineering students.
3. Creativity
Mechanical engineers have to design a vast range of products taken from medical devices to electrical generators. The products are designed and developed only if the mechanical engineers have the necessary understanding and creative skills. Thus, engineers need to have the best creative thinking skills set to fulfil the needs and requirements of the job. Engineering colleges in Kottayam help to grab the best skill sets.
4. Mathematics
This is not a soft skill but mechanical engineers also need to have statistics and calculus skills. Not only mathematics problem-solving skills but aptitude skills are required the most. This will help mechanical engineers to have a strong aptitude so that they can excel at their job. There are a lot of students who want to become mechanical engineers but do not have the desirable skills for the same. So, if you wish to have the desired skill set then work hard so that you get your desired and dream job.
5. Choosing the right University
When you are thinking of pursuing your graduation degree then you ought to select a college or university that is best suited for your needs. Choose a top college for yourself and work hard to get yourself a seat there. After that, you would find that the name of the college in your CV will give you great opportunities to excel and enjoy your career with the highest packages. So shortlist some of the best engineering schools from where you would want to pursue engineering.
6. Gain Experience
Universities and the colleges where you are pursuing your education matter. But it is very important that you add some value to your education and that can be done through adding experience. So, the students can develop their mechanical engineering skills by getting themselves enrolled in internships, part-time jobs, and volunteering so that they can add up to their CV. These will help to enhance your chances of getting selected by the top recruiters and enhance your chances of getting selected as well.
Best Colleges for Mechanical Engineers
Well, India has plenty of colleges/universities that offer various types of programs in Mechanical Engineering like diplomas and degrees (UG, PG, and PhD). In the Indian state of Kerala, TOMS College of Engineering is one of the most prestigious and best colleges for mechanical engineering students. It is one of the AICTE-approved colleges in Kerala and is best known for its courses, faculty, insfratucture, placement and co-curricular activities.
Apart from TOMS, there are countless colleges in India that offer Mechanical Engineering degree courses to all students like; IIT Delhi, IIT Madras, IIT Bombay, and Delhi Technical University.
Conclusion
To be a mechanical engineer one needs to have important skills such as problem-solving skills and analytical skills as well. Mechanical engineering colleges in Kerala help to get the best education and skills. The branches of mechanical engineering involve manufacturing, system dynamic and control, mechanical design and transportation systems. Those who are looking forward to pursuing Mechanical engineering need to clear the entrance exams, to get admission into the top colleges. The forming years are important as through these years one gets the basic skills that will be helpful throughout the career.
One can choose the mechanical engineering option to have versatility and wide career options. There are various fields in which one can work such as the automotive industry, robotics as well as the energy sector. Some of the skills are Designing the systems and the components, conducting the experiments methodically, performing lifecycle product development and many more.
Well, it is regarded to be the toughest one and there are various science courses, lab sessions and a wide range of topics that the students need to take. The mechanical engineer must be aware of statistics, data analysis, lab equipment, technical writing, technical drawings and a lot more. If you want to earn all these skills under a single roof, TOMS College of Engineering would be the best place for you. For more information, kindly visit the official website of TOMS.