Besides wedding bands and cufflinks, jewellery for men is still a relatively new concept, and purchasing a stunning piece for your significant other can be tricky. As with buying jewellery for women, you need to get the style of jewellery right. However, the right piece of jewellery can make an incredibly meaningful and sentimental gift that will make them think of you every time they wear it. The perfect jewellery gift for your man needs to match his style, enhance his outfits, and, of course, he needs to love it too. Here are a few considerations when buying jewellery for your other half.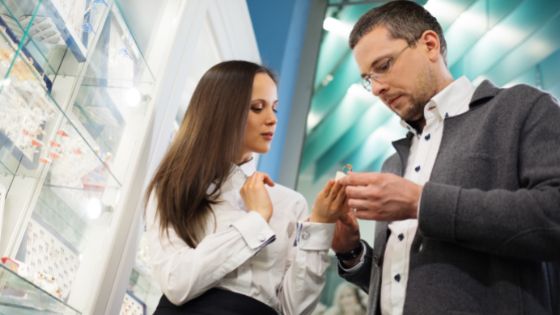 What's Your Budget?
As with any other gift, you need to consider your budget before making a purchase. Whether you decide to buy online or go to a physical jewellery store, splashing out on a gift without considering how much you want to spend in the first place can lead to excessive overspending, which you might regret later. Determine the amount you are willing to splurge by thinking about key factors, such as the materials the jewellery is made from, how much you think the piece will mean to him, and how often he will realistically wear it.
Consider His Style and Personality
After the budget, the most important thing is finding a piece that complements his style and personality. What does he like to wear on a day-to-day basis? Is he naturally introverted, or does he like to be the centre of attention? Does he prefer gold or silver embellishments on his accessories? A piece of jewellery should be a reflection of his personality and suit his style to a tee.
Where Can I Buy Men's Jewellery?
When it comes to men's jewellery, you have a huge range of choice, and you can purchase a variety of pieces from many different places. Big chains and department stores are the go-to places for those looking for something simple and reliable. Independent jewellers are often more expensive, but you are more likely to nab a unique piece, while antique shops have a range of second-hand jewellery at a range of prices. Unfortunately, unless you know your jewellery, you might find yourself paying more than you should. Alternatively, there are plenty of reputable online jewellers who can offer a plethora of high-quality pieces. Newman Bands specialise in titanium and tungsten rings for men. Their collection includes diverse styles and colours, and some of their rings are crafted with unique inlay materials such as deer antler and abalone shell.
Make It Even More Personal
A great way to make a jewellery gift even more personal is by getting it customised with a personal message. Many types of jewellery can be engraved or embossed, but it is important to seek the expertise of a professional. A few simple words on the back of a timepiece or a special date inscribed on the side of a ring can take your gift to the next level.