The pros and cons of lace front and closure wigs
When it comes to wearing natural weaves, wigs, and extensions, there seems to be a new hair trend every few years. Hair weaves and wigs have made great strides in the last several years, and it's getting increasingly difficult to distinguish between natural hair and wigs.
From huge social media stars to your next-door aunties, everyone is seeking a quick and easy way to change their styles to match their attire. However, styling your hair with chemicals and heat regularly will surely do a lot of harm. Hair becomes brittle, dry, and frizzy as a result of this. Wigs come into play in this situation.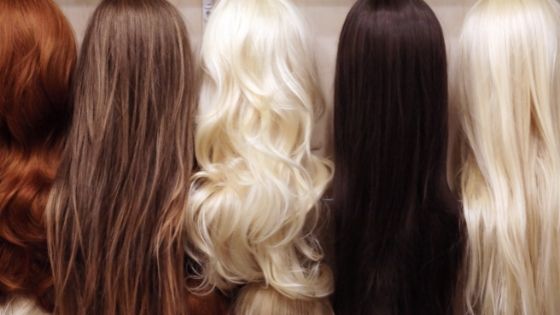 Here's everything you need to know about lace frontal and closure wigs, their pros and cons, and how to maintain them so you can flaunt stunning hairstyles every day without damaging your natural hair.
What is a Lace Frontal Wig?
Lace front wigs with human hair are wigs with a piece of lace put at the hairline of the head. The human hair is hand or machine-sewn into the lace's hole. The virgin human hair is sewn into a thinner and firmer material on the other side of the wig. Lace front wigs are simple to wear because you only need to glue the lace section to your head.
Lace frontal wigs are perfect for women who are experiencing hair loss or want to achieve different styles without compromising the health of their hair.
Pros Of Frontal Wigs
Now that you know what frontal wigs are, here are a few pros and cons of these types of wigs.
Styling Versatility
Lace frontal wigs made of human hair offer a ton of styling versatility because these wigs can be parted and heat-styled to achieve any look you desire.
A Natural Look
Lace front wigs have a natural appearance. The wig cap is constructed of incredibly tough lace, and the hair strands are tied to it. This lace will be tinted to match your skin tone, making it almost undetectable and making it appear like the hair is growing from your head and along a natural hairline.
Longevity
Lace wigs made of human hair last for over a year when they are properly maintained.
Comfortable To Wear
Lace front wigs are lightweight; they're light and enable your scalp to breathe, making them far more comfortable to wear than other wig materials, especially during the summer months.
Cons Of Lace Front Wigs
High Price
Lace front wigs aren't the most expensive hairpieces on the market, but they are more costly than most other types. The ones made from real hair are the most expensive, which is understandable given these hairpieces' numerous advantages.
Maintenance
Taking care of a lace front wig is similar to taking care of your own hair. It needs to be washed and conditioned on a regular basis. To wash the wig, you must remove it. To retain its shape, wash and condition it while it is on a mannequin head for optimal results. Brush your lace front wig every night to ensure that it lasts as long as possible.
To keep shine and body, use a mouse or moisturizer every other night. Some women remove their wigs every night, while others wear them for days or weeks.
If you want to wear the wig overnight, professional stylists recommend winding the hair in a circular motion around the scalp until it creates one massive spiral. Wear a satin sleep hat to keep your hair in place until you have time to undo and brush it in the morning.
Delicate Material
You must be gentle with lace front wigs because the lace material is extremely delicate. With these wigs, tugging and scratching should be avoided at all costs.
Application Hassle And Damage
If you are wearing wigs for the first time, then the installation is a significant issue. Since your scalp is under the wig's material, installing the wig incorrectly can lead to hair damage, especially if you are using wig glue to attach the wig.
What Is A Closure Wig?
A closure wig is a wig that has a closure attached to the unit. Rather than a strip of scalp-like material that spans from ear to ear, the closure is usually a 4×4-inch patch placed in the central, front portion of the wig.
Closure wigs are a popular choice for women who are looking for an inexpensive way to achieve a natural look. Wigs with closure come in a variety of sizes, such as human hair 4×4 closure wigs, 5x5closure wigs, and 6×6 closure wigs.
Pros Of Closure Wigs
Tons Of Textures To Choose From
From Silky Straight Remy to Afro-Curly closure wigs come in every texture you can imagine. So let your hair down, play around with different textures that you might normally avoid.
Low Maintenance
Compared to lace front wigs, closure wigs are relatively low maintenance. You can achieve any style with little maintenance.
Styling Versatility
Invest in closure wigs and enjoy unlimited styling versatility. Made with human hair, you can heat-style and dye these wigs to achieve any style you want without damaging your natural hair.
Protective Style
The fact that your hair is braided and protected behind your weave and closure provides for the most effective protective styling. Allows your crown to take a rest from everyday wear and tear, including flat-ironing, product build-up, excessive styling, and sun damage. Your hair, like the rest of your temple, requires rest from time to time.
Helps Conceal Hair Loss
For women undergoing hair loss and hair thinning, closure wigs are the best inexpensive way to conceal them. Since the closure comes attached to the wig, it is already pre-blended for you.
Longevity
A closure wig will last longer with adequate care. Closures are perfect for hot weather because they don't require a lot of glue to install. As a result, it will progressively relax at the edges after three weeks.
Cons Of Closure Wigs
Parting Limitation
The most significant downside of closure wigs is parting limitations. Closures are available in free-parting, middle-parting, and three-parting, so if your closure wig is made with three and middle-parting, then you have parting limitations.
Fitting Issues
Most brands' closure wigs don't fit every head size, so measurement is extremely important.
Requires Readjustments
If you are wearing a sew-in closure wig, it will need to be readjusted as the hair grows. This usually elevates or pushes your wig out of the way, and you'll need to adjust it every four weeks.
Lace frontal wigs and closure wigs are becoming extremely popular among women because of the many advantages they have to offer.
Let the above-mentioned pros and cons for each product help you get the one that meets your needs.
If you are looking for affordable lace frontal wigs and closure wigs, True Glory Hair is a fantastic line of Brazilian Remy hair wigs at an unbeatable price.