A great deal of effective marketing is conducted using online platforms. Businesses marketing towards other businesses are no exception: they need to have an effective online presence in order to attract and convert customer organizations. Business to business marketing was previously highly reliant upon referrals.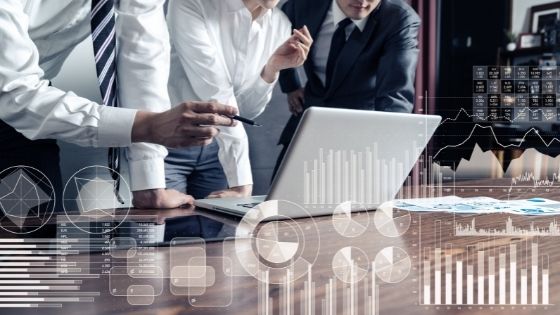 Businesses having goods and services referred to them via word of mouth is no bad thing, but it somewhat limits the amount of actual custom that a B2B company can actually attract. Here are a few tips designed to help your business to business company's online marketing up to scratch.
Compose A Scorecard
Before you start to work on improving your marketing strategy using these tips, you will need to figure out where you have been going wrong and what areas you are having success in. Digital marketing scorecards are a simple way of figuring out your marketing strengths and weaknesses. In order to create a scorecard, you need to collate the data you have about website visitors and conversion rates. Several companies offer scorecard questionnaires that take your data and automatically produce a report concerning your marketing strengths and weaknesses. As always, data is your friend.
Research Your Targets
In order to market effectively you need to know your target audience. Because business to business organizations have very specific customer bases, it is immensely important to tailor marketing materials directly to the people you want to pay attention. Using your customer data and larger datasets from around the internet is one way of finding out more information about the business leaders you want to target.
Search Engine Optimization
The internet is a vast and complex network. Throwing your marketing materials into the void will yield terrible results. In order to correctly target the professionals you want to market goods and services towards, you need to do some Search Engine Optimization. Search Engine Optimization is a set of practices designed to make your website and marketing materials more visible to the people who you want to attract by ensuring that your content is ranked highly when people search for relevant terms. SEO practices are constantly changing as internet giants like Google change their search engine algorithms. SEO is extremely important. Simple SEO tasks like keywork inclusion can go a long way, but a full SEO makeover including link building and metadata inclusion usually warrants the hiring of a specialist agency.
Integrate Online And Offline Strategies
It is important to keep online and offline strategies integrated in order to create a genuine sense of brand identity and cohesion. Gaining the trust of the people that visit your online materials is partially reliant upon their understanding of a consistent business identity.
Integrated strategies also help develop more complete datasets. If, for instance, your company is displaying at a conference and receives inquiries, integrate this data so that it can inform your online marketing choices. The bigger and more diverse your dataset the better your forecasts will be.