Online shopping changed the way people buy products and services. If you are ever planning to purchase bicycles, you do not have to get off your bed to get one shipped to your location.
However, online shops have a higher return rate compared to brick-and-mortar stores. For example, about 30% of the e-commerce products are returned compared to less than nine per cent in physical stores. Judging from the data, people who buy balance bikes online are likely to commit some mistakes that will force them to replace the product.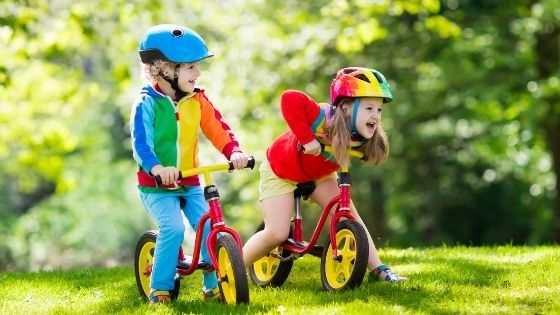 But you can avoid the hassle of returning the products by following the tips below:
1. Pneumatic or solid tyres – Solid tyres are made from plastic or rubber. Make no mistake, they will still do the job of teaching kids how to ride a bike. However, pneumatic tyres will mimic the feel of a regular bicycle, making the transition easier. They will also provide better traction, regardless of the terrain.
2. Size of the bike – You need to determine if you are selecting the right size for your kid before buying balance bikes online. To do this, measure from the inseam of your child's pants until the heel of their foot. Make sure the seat height is sufficient where they can plant their food firmly without standing up. You can also choose bikes with adjustable seats.
3. Wheel size – The wheel diameter will be crucial in determining the size of the balance bikes online. As a rule of thumb, the bigger the wheel diameter, the bigger the bike. If you have a toddler, you can start them off with 12-inch wheels. You can upsize to 14 inches if you have a pre-schooler in the house.
4. Brakes, Yeh or Nah? – Balance bikes equipped with brakes are more expensive. Three-year-olds are less adventurous, which means you do not need to buy one with brakes. They would rely more on their feet anyway to stop their movement as they do not have the motor skills to operate the brake properly. You can buy an older kid a bike with brakes, especially if they typically drive on slopes or uneven terrain.
5. Bike weight – Another thing to consider is the weight of the bike. The lighter the bicycle, the easier it is for your kid to manoeuvre it. When they go off-road, they can also carry the bike when riding it becomes impossible. Be warned, however, that premium lightweight bikes have a hefty price tag.
Buying Balance Bikes Online
Riding a bike teaches kids how to be more independent and confident. Unfortunately, fewer kids nowadays are hopping on a bicycle.
The data about fewer kids are riding bikes is symptomatic of overprotective parents. A VicHealth study showed that parental fear is a contributory factor why kids do not do physical activities as much.
For example, some parents think that teaching kids how to bike will encourage them to wander around. Others are worried that their children will sustain injuries while biking. More than anything, parents are scared of getting in trouble with Australian child protection laws.
Buying a balance bike nowadays does not require much effort. E-commerce sites offer a wide array of products, and they have even more versatile selections than brick-and-mortar stores.
Fortunately, the technology is already here before the age of the pandemic. It means that shopping is not disrupted while buyers can still follow minimum health protocols.