Every New Year ushers in a fresh fashion. Long-term client loyalty and incalculable beneficial results are awarded for companies who are steadfast to execute.
The commitment to putting the needs of the client first has always been the foundation of the e-commerce culture, and this year's e-commerce mobile app development trends are no different.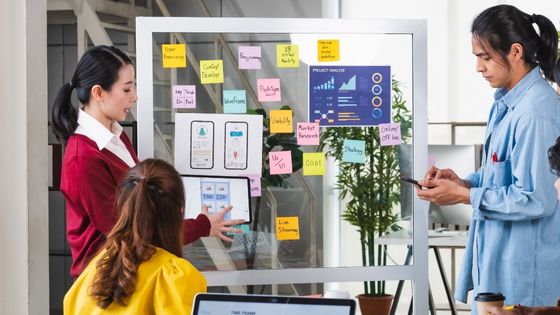 By putting these new trends to the test and incorporating them into their retail/marketplace software solutions, the very best digital players and e-commerce businesses will step up their game. By doing this, they will not only have a competitive advantage over their rivals, but they will also be able to scale their operations to meet the spike in demand and develop a strong go-to-market plan.
The top e-commerce app development trends for 2023 are revealed here.
Top E-Commerce Mobile App Trends for 2023
1. Using AR/VR to Improve Online Shopping
Nearly all e-commerce sectors use augmented reality (AR) and virtual reality (VR) technologies to give customers an engaging online purchasing experience. Through the virtual try-on feature, which allows customers to virtually try the products on their bodies or physical stores before placing orders, augmented reality and virtual reality technology improve the online shopping experience for consumers.
In 2022, AR/VR integration in the creation of e-commerce mobile apps will have an impact on how consumers perceive a brand, aid in the development of solid marketing tactics, and advance, modernise, and innovate your company. In the long run, this engaging and positive customer experience will enhance patronage of the brands and goods.
The interactive shopping experience will also aid online retailers in reducing cart abandonment, product returns, and replacements because users will be able to visualise and assess if a particular purchase will be a wise one or not.
2. Voice Search Will Increase in Popularity
The classic search and commerce modes are being updated with the voice search capability. Because it is not language-specific, it makes searching very rapid, easy, and accessible for everyone. By requesting input from the user in their local language and listing the available results on the platform, this feature customises the purchasing experience for the users.
Voice Search is a sophisticated AI-enabled technology that can comprehend speech, identify keywords, and then produce results based on that information. These outcomes may be particular to a brand, category, size, gender, colour, fabric, style, and a number of other characteristics. Voice search helps businesses and organisations increase customer value and boost performance in addition to facilitating a frictionless buying experience.
Bonus! Speedy result pages are necessary for this tech-inspired searching, thus the site loading page must be quick; otherwise, it will be removed from the list of search results. Similar to how most users look for nearby goods and services, location-specific search would provide a competitive advantage in addition to other advantages.
3. AI To Increase Leads With Cross-Selling and Upselling
AI with Machine Learning analyses each customer's search and purchasing behaviour, then creates an algorithm to tailor each user's shopping experience. AI continuously gathers information about each customer's shopping and purchasing habits, including the products they initially browse at and ultimately buy.
Only the technology is able to follow the shopping habits of specific customers since it compares all the prior data to update the customers' shopping habits. Based on that, AI generates personalised product recommendations to rapidly draw in and capture clients' attention. However, traditional retail channels will not be able to provide such individualised customer support.
Additionally, the AI-enabled e-commerce software can offer ongoing, real-time suggestions based on searches. These recommendations could take the shape of upselling or cross-selling goods from the same or different sellers. The development of technology also provides tailored customer service and support. An e-commerce app's incorporation of AI-enabled chatbots enables personalised and prompt client care. It is and will continue to be among the most popular and difficult tech integrations in the field of e-commerce mobile app development for a Mobile App Development Company in California.
4. Big Data Will Take Centre Stage for Personalized Shopping Experience
Big Data helps e-commerce companies by creating a comprehensive understanding of their clients. Businesses can segment their clients depending on their gender, region, age, and social media activity using big data analytics. Companies can use this information to study client search and shopping patterns, design targeted advertising with specialised offers, and develop campaigns that are specifically intended for a particular demographic of customers.
This data analysis enables e-commerce organisations to predict their consumers' purchasing preferences and provide tailored shopping recommendations, which ultimately boosts customer engagement and expenditure.
With all these skills, Big Data will add creativity and empathy to its data analytics for consumer communication. Big data will also be preferred by e-commerce enterprises for data analysis to find fraudulent activity, malicious acts, and safe payment methods. Customers are increasingly worried about payment-related frauds, therefore big data technology will help provide a higher level of online payment security.
5. Chatbots Will Completely Change the Shopping Process
Since the introduction of neural networks into chatbot technology a few years ago, the experience with chatbots has significantly improved. Customers today are quite impatient and busy as well, therefore they prefer instantaneous relevant results over lingering on the app for too long. When purchasing online, these chatbots are no less effective than in-store sales staff and are essential to completing the sale quickly and efficiently.
The AI-enabled chatbots provide customer support services that are available around-the-clock and may provide assistance at any moment. It cuts down on client wait times and addresses problems as quickly as feasible. The customer help is sent to human customer care so that the issue can be resolved effectively because such bots are very sensitive to human interaction and comprehend their emotions.
A clever and effective tool for handling several consumers at once, chatbots are used in e-commerce. It saves money and reduces the need for human labour. Additionally, these tools don't get bored of doing the same thing over and over again or need a break from working long hours, which boosts business productivity and customer service.
6. New Markets and Active Distribution Channels Keep Growing
Many different manufacturers and dealers have products available on the online marketplaces. The majority of merchants on an e-commerce platform are "third-party sellers" who make use of the platform's capabilities. These companies will continue to serve as a fresh marketplace where shoppers may examine comparable products from various providers.
With online sales, the fulfilment of the stock supply to the retailers is no longer sufficient; the product must also be delivered to the final consumer. These numerous avenues of distribution guarantee prompt delivery in response to customer demand.
Global marketplaces like Walmart and Amazon provide a range of distribution channels to work with different businesses and serve many customers at once. Small shops benefit greatly from the simplicity of doing business and customer reach, hence these retailers are inclined to disregard the platform usage fee. In the e-commerce sector, the development of new marketplace apps is a trend that is most likely to continue.
7. The Customer Experience Will Be More Localized and Personalized Granular
Digitalization has made the global market a global market by extending the reach of buyers and vendors. As a result, companies don't need to physically expand their operations in order to reach out to customers around the world, tap into their requirements, and provide an omnichannel experience that is rich in hyper-personalization.
Global consumers anticipate a level above customer-targeted experiences with premium goods, making the global market no less than local. The newest technological advancements are put to use to provide a tailored level of customer service.
8. Various Payment Methods To Stay In Cult Forever
There are numerous digital payment platforms available due to the growing trend of online payments. Therefore, in order to provide customers with the greatest simplicity and comfort of options, these e-commerce platforms must be coupled with a variety of payment systems.
The integration of multiple payment platforms reduces cart abandonment, facilitates easy checkout, boosts customer conversion rate, and improves customer happiness. To make customers' needs easier to meet, each of these third-party payment systems additionally supports several languages, currency converters, and a well-known local payment option that serves a large demography.
Customers are encouraged to prefer the specific e-commerce app solution to place their orders by such localised and reliable numerous payment alternatives. Evidently, it fosters trust between clients and the online shopping platform.
9. Blockchain: A New Development in the E-Commerce Sector
Blockchain is a fantastic technology that is outpacing its role as a "saviour" of all problems in the e-commerce sector. By creating a highly secure environment that is advantageous to both buyers and sellers/retailers, blockchain technology has the potential to completely alter the eCommerce industry.
Blockchain upholds data security, eliminates data dangers or cyber-attack problems, and greatly relieves company and consumer concerns. It is constructed using Distributed Ledger Technology (DLT), which offers the finest security for an online database platform. Additionally, it enables the integration of various management systems to plan supply chain processes and permit transparent online transactions between buyers and sellers.
Blockchain will have a significant influence and impact on the e-commerce sector in the not too distant future and will significantly alter the online buying experience.
10. Standardized Warehouse & Shipping Management
Processes for managing warehouses and shipping have been made easier by business automation. Today's severe economic competition encourages the usage of automated warehouse management and standardised shipping methods to speed up the entire process. The ongoing improvements in the product distribution and shipping process are improving the overall customer experience.
E-commerce mobile app development makes it simple to manage all of these procedures, including bar-code identification for unique inventory identification, in-stock and out-of-stock tracking, delivery status, product packaging, additional shipping costs, and many more. Businesses also employ cutting-edge strategies to draw in more clients, such as offering free delivery alternatives, same-day delivery options, drone delivery, quick delivery services, etc.
11. Ongoing Innovations in Headless & API-driven E-Commerce
A Headless e-commerce platform has a front end and a back end that are separate from one another and operate separately. In the end, it enables flexible and speedy platform development, and the business owner has full ownership of the site architecture. It makes it simple to integrate APIs and customise the entire website experience.
A headless e-commerce website is simpler to design because it does not require specialised linguistic knowledge. Businesses will be able to quickly adapt to changing market conditions, keep up with emerging trends, and stay competitive while simultaneously maintaining and attracting new clients thanks to the integration of APIs.
Incorporating user-friendly interfaces, free and expedited delivery services, and other features into the e-commerce app development can create a distinctive client experience. Because creating an e-commerce app is typically a difficult process, the creation of an API-driven, headless e-commerce platform generally adheres to the agile development approach.
The Last Wise Words
Companies must succeed in three areas to enable speed in the e-commerce sector: customer centricity, a test-and-learn culture, and automated operations that enable quick responses.
According to research, more than 0.5 percent of organisations that are doing well are quick to implement changes to their products, services, or operational procedures in response to suggestions.
Therefore, to move up the value chain, you must immediately adapt to these trends in order to make your business strong, flexible, and customer-centric from the ground up.