There are over 1.88 billion active websites. How would you ensure the public recognizes and chooses your brand? Studies show only 0.63% of users click on the second page of Google Search results. Large businesses or enterprises need a robust online presence to gain a competitive advantage.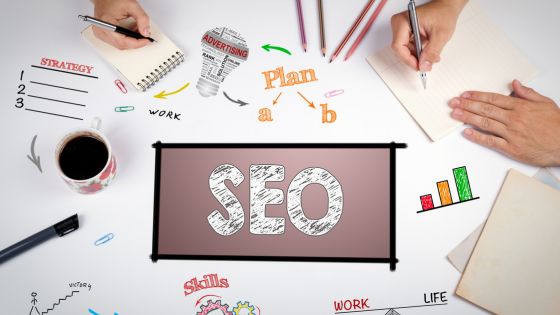 But an interactive website and quality products and services are not enough. All you need is the right SEO strategy to compete for those results.
While SEO has been here for a while, did you know that 89% of marketers claim it is a successful strategy? Well, it is unsurprising since organic search forms over 50% of the website traffic, and 93% of all the searches begin online.
But what do you do when your flourishing business has thousands of web pages and keywords? Your company needs an enterprise SEO strategy.
This article will explore the answer to "What is enterprise SEO?" and guide you through the concept. So, read ahead!
What is Enterprise SEO?
Enterprise SEO refers to the strategic execution of organic programs across larger companies. It focuses on improving organic presence and revenue for companies with substantial web pages.
Enterprise SEO strategy is crucial for modern large corporations to stay competitive online. You can utilize it to design campaigns at scale and maintain rankings on search engines.
Why is Enterprise SEO Important?
SEO brings various pleasant outcomes, from massive traffic influx to increased brand recognition. Some other significant reasons to use enterprise SEO services are:
1. Digital User Experience
It is a new competitive age for the customers. All departments in an enterprise are under more process to provide personalized experiences to retain consumers. An effective SEO strategy is essential to add value to your business. It can help you grasp what users are looking for and how to improve your digital offerings.
2. Business Intelligence
Business Intelligence, or BI, offers insights to help you understand your customers and increase productivity and efficiency. More than 79% of marketers plan to leverage BI to stimulate digital strategy and align their objectives. Bi is among the crucial aspects of enterprise and helps drive business growth and significance.
3. Scalability
Managing organic search optimization for an enterprise website requires advanced strategy and planning. Enterprise SEO empowers you to scale your business efficiently and ensures each webpage is optimized for maximum visibility and relevance.
What Enterprise SEO Includes?
Enterprise SEO improves search engine rankings to enhance the organic presence of your business. It uses various elements to increase business visibility and traffic. For instance,
1. Site Audits
An enterprise SEO performs an in-depth examination of factors that influence search rankings. It assesses elements of your website and evaluates your SEO strategy on the following pointers:
Targeting Keywords: It checks whether the chosen keywords effectively contribute to high-quality leads.
Page Indexation: It identifies pages missing from search results due to not being indexed.
URL Check: It scans URLs to determine if they include relevant keywords and align with the intent.
Title Tags: It ensures your title tags are unique and within the character limit.
2. High-Volume Keywords
Enterprise SEO follows a different strategy for keywords than traditional SEO. Monitoring the keywords your competitors use and figuring out how to outrank them is essential. Enterprise SEO can significantly help in this aspect:
Filters our competitor company keywords to secure your distinct brand identity.
Prioritizes optimisation for featured snippets and includes "People Also Ask" queries in the content.
Identifies pages that contain keywords but lack sufficient content length to improve rankings.
Searches for high-volume keywords to yield quick results.
3. Competitor Analysis
Ranking on search results can be challenging when you do not know what your competitors are doing. Enterprise SEO strategy helps in an extensive competitor analysis. Here are some tips you can approach the process:
Determine your true peers.
Identify and compare landing pages, knowledge centre pages, and home pages.
Include a website design review, keyword gaps, content pages, and more.
4. Content Optimisation
Content optimisation means presenting the content in a way a search engine can comprehend. It focuses on making content appealing and user-friendly. Enterprise SEO strategy optimizes your content using the following steps:
Conducts research to identify the right keywords.
Updates existing content with new and trending keywords.
Adds internal links to the content.
Embed images or videos to the content wherever possible.
Benefits of an Enterprise SEO Strategy
SEO is a critical piece of the marketing puzzle for large corporations. However, the stakes are higher when it comes to enterprise-level companies. Consequently, seeking expert and best enterprise SEO services is often the way.
But how enterprise SEO will help your business? Here are some notable advantages.
1. Improve Customer Reach
User search patterns can help you tap into novel opportunities for current products. SEO can align your products with brand messages and goals. It will help you engage with new audiences and introduce new products.
2. Improve Brand Reputation
You can manage and control brand content found online using an enterprise SEO strategy. It includes brand messaging and potentially negative information about your company. It allows you to shape and handle your brand narrative and build public relations.
3. Get Better Backlinks
In addition to improving your brand reputation, enterprise SEO can help you build better backlinks. Thus, you can raise your ratings and win your target market's confidence.
4. Increase Conversion
Ranking higher on Google increases your visibility and authority. An enterprise SEO is among the promising ways to accomplish it. It can improve visibility, attract more users, generate leads, and boost your bottom line.
What to Look for in an Enterprise SEO Agency?
Online marketing at the enterprise level is complex, to say the least. You would not want a rookie agent steering your search engine optimization, would you?
Given below is a checklist for seeking reliable enterprise SEO optimization services.
1. SEO Expertise
Many agencies offer SEO solutions as one of their many marketing services. The problem with seeking their assistance is they do not prioritize SEO. It is more of an afterthought. It would help if you choose a specialized SEO agency for your website to achieve the desired outcomes.
2. Communication and Transparency
Communication and collaboration are the two most important things to maintain a good client and agency relationship. A good expert team will walk you through the process and analytics. You should always know how your campaign is progressing.
3. Enterprise Experience
SEO knowledge and experience are not the only attributes to look for when searching for an agency. To learn about their ability, you must consider their previous works and achievements in running enterprise-level SEO campaigns.
The Bottom Line
An enterprise SEO strategy can give you a hand in ranking higher on search engines and acquiring more organic traffic. However, getting results from it demands time, effort, and expert guidance. While the ranking aspects are the same as traditional strategies, the scale of enterprise sites requires a problem-solving mindset.
It requires a different ingenuity and dedication level to master and implement enterprise SEO. Understanding what search engines look for and how users interact with search results can help you create an effective strategy. Therefore, consider consulting with a specialized enterprise SEO company in India to execute the plan successfully.