So, you're trying to go vegan. Or maybe you've been vegan for years now. No matter if you're a lifelong vegan or just trying to cut back on your meat consumption, you're going to need to eat lunch.
And sometimes, you just don't have much time.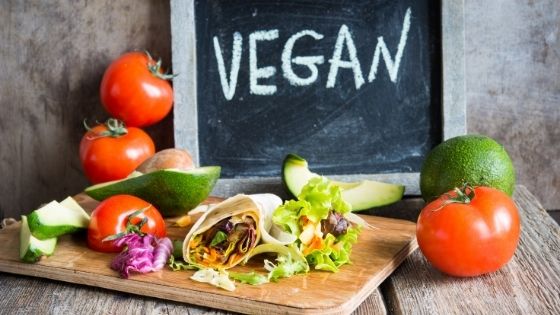 Being vegan doesn't have to be hard. Lunch should definitely not be hard. If you're a busy vegan, try out one of these easy, quick vegan lunches.
1. Smoothie Bowl
Have you seen those cool new travel blenders? They run on batteries and are about the size of a water bottle. Plus, they're pretty inexpensive. And they're just cool.
If you need an excuse to buy one, try out this smoothie bowl idea. Simply pack a bunch of your favorite fruits and maybe a little greens into your portable blender. Bring some nuts, shaved coconut, chia seeds, and granola to add once you're blended.
2. Chickpea Salad Sandwich
Whip up a quick chickpea version of egg salad by mashing up some chickpeas with vegan mayo, mustard, and some paprika.
Add in chopped celery and onion for crunch, then put the mixture with a leaf of lettuce on whole-grain bread for a classic vegan lunch.
3. Spinach Udon
Boil some udon noodles. Sautee some spinach with cubed firm tofu in a pan.
Add the two together, then top with crushed peanuts and green onion for something a little different.
4. Hummus Veggie Wraps
This one is pretty straightforward. Grab a multigrain tortilla and spread some hummus all over it.
Next, add your favorite veggies like spinach, tomatoes, bell peppers, and sprouts. Roll it all up and you've got the easiest lunch ever.
5. Greek Salad
A classic greek salad can easily be made vegan by swapping out regular feta for the vegan version.
Use the vegan feta with some chopped romaine with tomatoes, kalamata olives, and sliced red onion. Bring your Greek dressing on the side to keep the veggies crisp.
6. Power Bowl
Do you have a bunch of healthy ingredients but no game plan? Just throw them together.
Just use this helpful trick. Start with a grain, like whole grain rice or quinoa. Then add a protein like beans, chickpeas, or cooked tofu. Top with any veggies you'd like for a complete vegan lunch.
7. Avocado Pasta
Blend together avocados with lemon juice and a touch of salt for a creamy sauce. Then pour over your favorite pasta for a fresh take on a classic pasta dish.
Add cherry tomatoes and basil for a bit of extra flavor and variety.
8. Vegan Sushi Bowl
Do you miss sushi? With this recipe, you won't have to anymore.
Start with the classic sticky rice. Add pieces of nori and crunchy veggies like cucumber and carrot. Add avocado for a creamy texture and edamame for some protein. Make a spicy mayo with cashews and top with some sesame seeds.
9. Bento Box
A new take on the traditional Japanese version, you can fill a store-bought bento box with any smaller snack you want.
Fill the compartments with raw veggies, some type of protein like tofu, and any fruits you desire. You can really play around with this one so try out different combos.
10. Burrito Bowl
Who doesn't love a burrito?
Make a burrito bowl by layering rice, beans, vegan cheese, and whatever salsas your heart desires.
Just make sure that you don't forget the guac.
Vegan Lunch Made Quick and Easy
When it comes to your busy schedule, try out one of these convenient vegan lunch options.
You don't have to sacrifice flavor or nutrition if you're a vegan on the go.