The business world is constantly changing and evolving with the ongoing advancements of technology. The business world that was once paper-based is now transitioning into a completely virtual one, where most aspects of business – from marketing, to internal storage, to communications and many other facets – are performed online.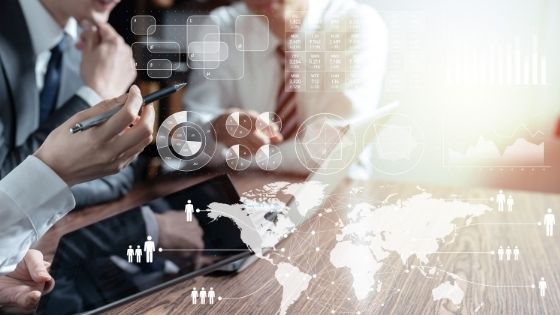 As a result, the 21st century has seen the emergence of a number of new industries which help businesses make the shift from in-person operations to online ones. In this article, we'll discuss what these rising industries are and why they are so important in the modern business landscape.
Overthrow Tradition with Social Media Marketing
Ever since the creation of Facebook and other similar social media platforms, many businesses have foregone traditional marketing strategies in favour of social media marketing. This is because businesses have found that the average person is consuming social media much more often than other mediums (such as radio and television).
In fact, according to the Content Marketing Institute, 90% of B2C businesses have now invested in content marketing tactics including social media. Due to social media's enormous reach, businesses can leverage the platforms for marketing and investment purposes.
Social media marketing operates on both direct and indirect product placements. Businesses can work with social media influencers who indirectly promote their services or products. They can also directly market their goods through posting on platforms as well as paid ads.
Influencer marketing is becoming a popular alternative to direct social media marketing. Through influencer placements ranging from $100 to $10,000 a year, businesses are able to increase their reach. Businesses can also pay for advertising space on social media platforms and take advantage of their algorithms to promote their products to relevant target audiences.
Additionally, the algorithms used in social media platforms have given businesses the ability to target specific demographics (from age, to gender, to areas of interest, etc.) – something that traditional marketing could never achieve. By taking advantage of these algorithms, businesses are able to research, target, profile and connect with their target market in ways that have not been done before.
Social media marketing is radically changing the way businesses connect with and target their customers. We have entered the age of the social media tech giants: let's see how they wield their power.
The Emerging World of Cyber Security and Blockchain Technology
As businesses transition into online operations, secure cloud-based storage is becoming an essential priority. As a result, the field of cyber security is also rapidly growing to meet the needs of business, with the industry predicted to grow 7.6% in the next year. Cyber security is primarily concerned with improving the security levels of existing data storage technologies (such as cloud-based and hard drives), as well as building entirely new security software.
One of the emerging areas in cyber security applications is block chain technology. Block chain technology is most commonly used in bitcoin and cryptocurrency, and protects virtual data and transactions much more securely than traditional cloud or hard drive services. This is due to the fact that block chains store data in separated and decentralised 'blocks' over a large encrypted network.
Due to growing business demand for cyber security, the block chain technology space is set to grow at a rapid rate of 37.4% per annum. The industry is expected to grow to $7.59 billion in market size by 2024, according to Transparency Market Research.
As more companies invest in this digital transformation, the protection of cloud assets is becoming the new norm. In this way, cloud security systems are overtaking traditional IT security.
The New Office: Make Way for Virtual Meeting Platforms
One area that has grown tremendously in recent times is that of virtual meeting platforms and software. According to a recent report published by Fortune Business Insights, the industry is currently worth $12.11 billion USD, and is only going to grow within the next few years, with a 17% per annum growth rate predicted until 2027.
This growth is a direct result of the coronavirus pandemic, as well as rising demand from employees for businesses to adopt remote work policies.
According to Global Workplace Analytics:
The number of individuals regularly working from home has growth 173% since 2005 (47 times than the self employed population)
80% of employees want to work from home at least some of the time.
With the demand for remote work increasing, it is important for businesses to invest in the right virtual meeting platform. Different virtual meeting platforms have different facilities that cater to different needs (for example, simple video calling versus separate communication servers).
Thus, businesses should take the time to find which virtual meeting platform works best for them.
Understanding these emerging industries is essential to helping your business gain a competitive advantage. Not only will these industries change the way your business operates now, they will also transform how businesses are fundamentally run for years to come.
Change is the law of life. And those who look only to the past or present are certain to miss the future. John F. Kennedy