Do you follow the home improvement or house flipping shows? If so, you'll know that floors are always a hot topic of discussion when buying, selling, or upgrading a property.
Flooring is such a major part of the picture when it comes to homes, that the market has grown to $369.26 billion worldwide in recent years.
Often the debate about which is the best flooring centers on solid hardwood versus engineered hardwood flooring. There are pros and cons associated with both, but which one is best for your home?
The best way to decide is by comparing them for yourself.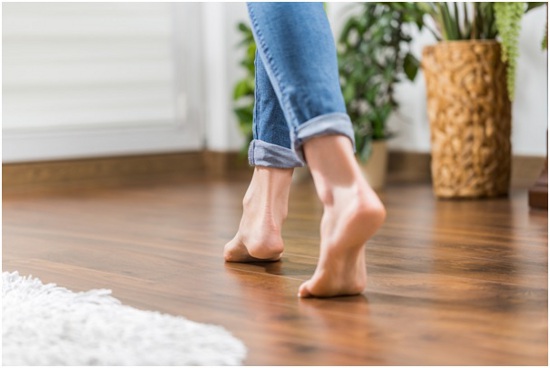 What Is Solid Hardwood?
As suggested by the name, solid hardwood flooring's made entirely from wood. Oak, walnut, or maple are the preferred species for these applications.
The flooring planks are long and sturdy, milled with tongues and grooves on each end, so the boards interlock when installed. These boards are always blind nailed to the sub-floor during installation.
You'll need a skilled professional to complete this complicated process when installing your floors.
The Basics About Engineered Hardwood
The main difference between engineered hardwood and solid hardwood is that the former type of flooring consists of composite planks instead of 100% wood.
On the surface, these two types of flooring appear very similar. Yet, engineered hardwood has only a thin layer of hardwood bonded over a top-quality plywood substrate.
The average DIYer can install engineered hardwood boards without too much trouble.
Like solid hardwood, you can also resand and refinish engineered hardwood, although you'll only get away with this once or twice with this type of flooring.
Despite, this, engineered hardwood has a few benefits that put it in the same league as solid hardwood.
The Main Benefits and Drawbacks of Solid Hardwood Versus Engineered Hardwood
Both these flooring options are an excellent choice for most applications but they differ in a few respects. These are:
Environmental Issues
Since hardwood floors consist of solid wood, they're a less eco-friendly option than engineered hardwood.
Hardwood trees are slow-growing species while the cores of engineered hardwood planks originate from more easily replenished trees.
Also, the sawdust created while cutting these trees into planks amounts to a lot of wasted wood. Engineered wood uses sliced strips of hardwood veneer, meaning there's no sawdust involved, and thus less wastage.
Surface Appearance
Solid hardwood flooring boards are usually narrower than their engineered counterparts. You'll also find a good range of species and coloration to choose from if you opt for this type of flooring.
It's available in both unfinished or pre-finished boards. Once installed, there are very tight seams between the boards.
Engineered hardwood boards are wider with slightly beveled edges. They're almost always sold pre-finished with a less diverse range of colors and species.
The beveled edges create slight grooves between the boards.
Apart from these few differences, both types of flooring add an undeniable sense of luxury to any home.
Maintenance and Durability
Since you can sand down solid hardwood floors over and over again, they win hands down when it comes to durability. A good quality solid hardwood floor could last a lifetime.
You can only sand and resurface engineered hardwood once or twice during it's 20 to 30-year lifespan.
In both cases, pre-finished forms of this flooring will perform better when it comes to durability and both will benefit from a regular coat of surface varnish.
Due to the variety of species used, the usual Janka hardness test isn't a reliable measure of durability or hardness when comparing solid vs engineered hardwood.
Caring for Your Wood Floors
Day-to-day care can have a major impact on how long your floors last. Both these types of flooring are easy to clean.
Sweeping, vacuuming and an occasional damp-mopping with a suitable wood cleaner will keep your wood floors looking pristine in between re-varnishing. Avoid using water or steam to clean your wood floors.
Pets can have a major impact on all types of flooring. Their sharp claws cause scratches, wet pawprints result in water damage, and spills can wreak havoc with your flooring.
If you have pets, it's advisable to ask for pet-resistant brands when searching for wood flooring. It's also important to check that the presence of pets doesn't void the warranty on your floors too.
There are a few things you can do to lessen the impact pets have on your floors. Use area rugs to protect high traffic areas, keep their claws trimmed short, and place their water bowls on a tiled surface.
Heat and Water Resistance
Heat is no problem for either type of wood flooring although neither one suits wet locations.
When you install solid hardwood against concrete slabs, it tends to swell and warp thanks to humidity migrating through the concrete.
Thanks to its plywood base, engineered hardwood flooring has good dimensional stability and won't warp as easily in humid conditions. Ideally, you shouldn't subject either of these floors to humidity above 55%.
While it's not ideal, if you have to install wood flooring over a concrete subfloor, engineered hardwood is the top choice.
The Installation Process
While it's not impossible to install solid hardwood flooring yourself, it's best to leave this complex task to the professionals. The main steps involved in the installation process include:
Preparing the subfloor by sweeping it and blocking any doorways
Adding an extra layer of plywood substrate to a wood subfloor
Applying a layer of vapor retardant material over the subflooring
Laying out the installation leaving a half-inch gap around the perimeter
Using a power-nailer to hammer the boards to the subfloor
It's a good idea to stacking the solid hardwood planks in your room for up to two weeks before installation, so they can acclimatize before installation.
Installing an engineered hardwood floor is a lot simpler. You should give the boards at least 72 hours to acclimatize before getting started.
Prepare the subfloor as for solid hardwood flooring and lay the planks out
Glue or nail the planks in place according to the manufacturer's instructions
Most DIYers find that click-lock varieties of engineered hardwood flooring are easier to install.
There are a host of tips and tricks involved in getting your flooring straight and uniform. These vary considerably and while they offer good guidelines, the outcome depends on the shape of your room and how straight the walls are.
In both cases, you'll end up with a more pleasing result if you get a contractor to do the work for you. They know all the intricacies of placing boards for maximum effect and durability.
Cost Implications
On average, solid hardwood flooring is slightly more expensive than engineered hardwood, especially when it comes to installation costs.
Due to the high degree of skill involved, hardwood flooring is usually more expensive to install.
When it comes to selling your house, real estate appraisers will often place a premium on solid hardwood floors because of its long-lasting properties. That means you'll get a higher ROI when you install solid hardwood floors.
Prospective homebuyers are unlikely to turn their noses up at engineered hardwood flooring though since they're equally attractive.
Wrapping Up the Pros and Cons of Solid vs Engineered Hardwood
When faced with a decision between engineered or solid hardwood, your unique circumstances will determine which is best for you.
They're closely matched in most areas especially when they're installed correctly. Here's a quick recap of both types:
Both feature attractive colors and finishes to suit your interior decor
Engineered hardwood is slightly more tolerant of humidity
Solid hardwood floors aren't suited to DIY installation
Neither suit below-the-ground installation such as basements
Both types of flooring require extra protection from pets
Solid hardwood floors offer a higher ROI when selling your home
You'll pay less for a home with engineered hardwood floors
Engineered hardwood is more sustainable than solid hardwood
Solid hardwood floors last much longer than engineered hardwood
Pricewise they're almost on a par depending on installation and quality
Many homeowners view solid hardwood as a timeless classic with a value that extends beyond the practicalities. Others view engineered hardwood as a more up to date and forward-thining type of flooring.
Make Better Decisions for Your Home
Your home is one of the most expensive and important purchases you'll ever make. So, it's important to research all your options before making major changes.
Never rush decisions like deciding on solid hardwood, engineered hardwood flooring or Patio Wood Decking Singapore. Keep researching and reaching out for advice before you make the call.
If you'd like to find out more about your home improvement options, keep browsing through our website. We have reviews and comparisons on everything related to finding or creating your dream home.