You will rarely find a home without a blanket somewhere, and that is because they are some of the most versatile and useful objects that we can get our hands on. Whether you want to make a room look nice, need an extra layer of warmth, or need to keep yourself cozy or a valuable possession safe, blankets are there to help, providing us with a solution to many different issues and also inspiration for creativity.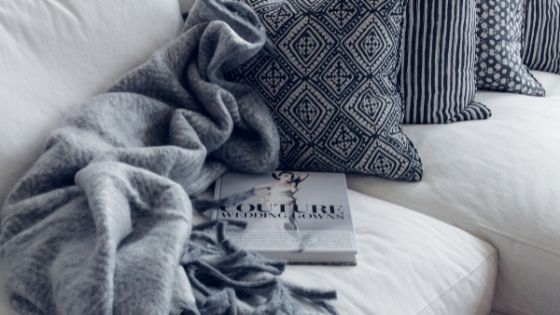 This piece will take a look at three ways in which you can use the humble blanket.
To Provide Comfort
Blankets are one of the ultimate comfort tools. Whether you are snuggling up to one, or are using one to hide from the world, there is a certain level of comfort that can only be achieved through a blanket. Children demonstrate this best, as they usually have a favorite blanket they like to carry around, or will wake up after falling asleep on themselves with a blanket around them. That being said, adults have their own versions, too!
Not only do many of us love to crawl under the duvet if we are having a down day, but there are even specific blankets to help us with low moods and help us feel more comfortable, such as weighted gravity blankets. The unique feeling of comfort provided by a blanket cannot be replaced—only added to!
To Make a Great Gift
Blankets are a perfect gift. Not only for the reason mentioned above, but also, because they come in such a variety of different materials and colors, you are bound to be able to find a blanket that suits anyone! Not only can it make a great gift for someone you do not know very well—thoughtful yet non-intrusive; but you can also make it as personalized as you want for those you want to show that you love. An example of this could be a t-shirt quilt!
This is where you handover any special t-shirts to be put together by a specialist to create the ultimate t-shirt quilt. Each one is entirely unique, which makes a wonderful, special present for loved ones.
To Make an Inside Fort
Indoor forts are a special part of some people's childhoods and if you have young children yourself, you will probably already have experienced some fort-making attempts. Blankets are a classic way to facilitate this type of play time, and you can turn two chairs into a tent of someone's dreams in the blink of an eye. You can also use blankets inside to keep your belongings warm and cozy, to create a separate door, and even to put down as flooring! There are no limits to what some blankets can do to create an indoor fort, so just get some blankets and let imaginations run wild. Sometimes even the most grown up of grown-ups can benefit from making a fort, so if you do not have children, you should still go ahead and try it out.