Are you interested in starting a podcast? If so, you're not alone. Podcasting continues to grow in popularity and shows no signs of slowing down. For listeners, podcasts are easy to consume and multi-task friendly, and there's no shortage of content available on all subjects. For budding podcasters, it's inexpensive to get going, and the possibilities are endless in terms of the content they can produce.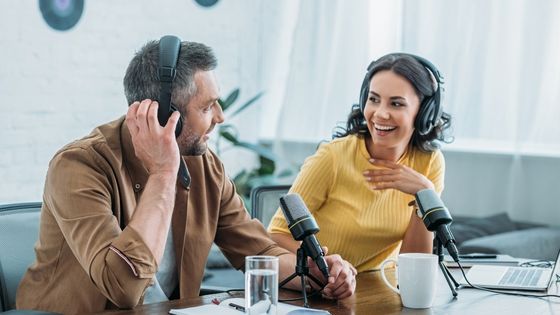 Nevertheless, a successful podcast requires numerous important ingredients. If even one is missing, it can place a limit on audio quality, audience numbers, and earning revenue. To stop that from happening, below is a beginner's guide to starting a new podcast in 2022.
Choose A Topic
Before anything else, you must decide on a topic for your planned podcast. It's essential to think about this with care. Go too vague or generic, and you will struggle to establish an audience for your content. True crime podcasts are a hot topic right now, for example. The market is saturated. So if you decide to create a true crime podcast without a unique hook or selling point, it will get lost in the ocean of other options available.
Podcast Equipment
Even if you're eloquent and have a great speaking voice, all of this can be lost without the right equipment. A poor microphone will spoil the experience – and listeners won't stick around. A high-quality microphone is only the start. A beginner podcast setup should include the following equipment:
Desktop or laptop
Mixer
Headphones
Microphone stand
Podcast Recording Software
It's not just about equipment. Using great podcast recording software is imperative when starting your own podcast. Visit http://melonapp.com/solutions/podcast-recording-software/ for some of the best out on the market. With this software doing the heavy lifting, there's no need to worry about trying to complete certain tricky, niggling tasks like inviting guests and using visuals for livestreams.
Promote Your Work
Starting a new podcast is a serious challenge. It seems like nearly everyone has a podcast these days, and there are only so many hours in the day for potential listeners to consume podcast content. One crucial step is to promote your work. You can take various routes without spending a penny but still spread awareness effectively. Posting on social media is an obvious step, as is sharing your latest podcast episodes on relevant forums and discussions. The more visibility for your podcast, the more your audience will grow.
Stick At It
Those first podcast episodes can be challenging. As well as being difficult to get to grips with producing content, listener numbers will typically be low. Yet you mustn't lose heart; stick at it and push through these tricky times. With the right approach, you should be able to get the ball rolling, gain confidence in creating episodes, and build those all-important viewing figures. Make sure to also listen to your audience. If they have feedback about possible sound issues or topic ideas, implement their suggestions into future recordings. If you don't, you may find it harder to keep the listeners you've worked hard to gain.