Nearly all businesses in the retail, restaurant or consumer services industries can benefit from having the right point of sale system. However, the needs of each business are unique. Clover has been quickly increasing in popularity over the past few years. The good news about that is that there is a Clover POS that can meet just about every business's needs.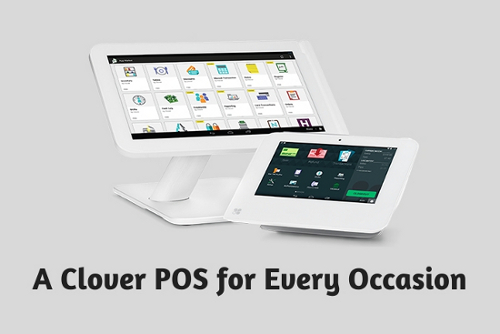 Clover Station
The Clover Station is the go-to choice for many retail businesses. It features a touchscreen main console that can be swiveled to the customer's view, a feature that helps with tipping businesses. This version of Clover also has a cash drawer and receipt printer which can optionally have a secondary screen for the customer.
The main advantage of Clover is in its software. Regardless of whether you choose the Clover Station or another version of the hardware, you will have access to an intuitive POS system that has functionality to fit all sorts of businesses. For example, it can be configured to meet the needs of a restaurant will tabling, bill splitting and other similar features. Alternatively, it can be configured for a retail store.
Clover Flex
An increasingly popular option for restaurants is the Clover Flex. This features many of the same features as the full-size station but in a compact, mobile machine. The Flex is about the size of a smartphone with an integrated credit card reader.
This gives restaurants the option to have servers process the bill right at the table. Many establishments are moving towards this, especially in the casual sector. This can be great for any business that has personal service. For example, it can be helpful for a retail establishment with premium customer service such as personal shoppers.
Booker
This extension for the Clover Mini console gives businesses powerful tools for businesses that take appointments. Spas, salons and other appointment-based businesses will love Booker Clover. It combines the powerful, user-friendly POS of Clover with useful booking tools provided by Booker. These include online booking and easy appointment setting.
Clover Mini
Another excellent option for many businesses is the Clover Mini. This smaller console maximizes counter space for businesses that need every inch or that want to present a cleaner area. It is similar to the Clover Station in function. However, the touchscreen device is smaller and lower profile.
It can work with a cash drawer or without. It accepts swipe, EMV chip and contactless payments. This is a great option for many businesses that need something simple but powerful. The Clover 2.0 software is very customizable, meaning that you can make the device fit the exact workflows of your business.
Learn More About Clover and POS Systems
There are many great options for point of sale systems. Clover is, without a doubt, in the top tier for many business needs. Since there are several options to fit different situations, you can be confident that there is a Clover that will work for your business. Learn more about POS systems and which one may work best for your business. Getting the right one for 2020 could help you accelerate your growth.