Many businesses feel that they have the right lead generation strategies in place, and yet they get disheartened when they see the outcome.
Most of those companies complain of not making conversions right at the last hurdle. One common issue, which has been raised, is that the forms are too complicated and dreadful to encourage prospects to fill them.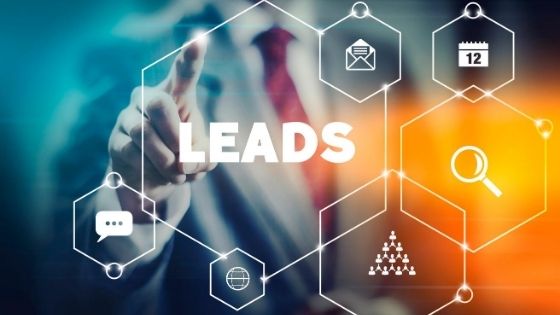 A Lead Generation Form has long been the tried and tested tool to help businesses –
Get names, emails, phone numbers of potential customers
Create a database for establishing continued communication
Using lead gen data across different organization verticals
Launching new products, creating buzz and publicity
In this article, we are going to discuss Lead Generation Forms. We will also share with you some online form examples of lead-gen forms. We will look at how you can make them work for your business.
What is a Lead Generation Form?
In its simplest avatar, a lead generation form is a web form, which asks people to type in their details (on the form) and submit it to a company. In exchange, people are offered information, discounts, freebies and access to something, which the company uses as bait.
For a very long time, lead generation forms had been poorly construed and not-optimized. This resulted in businesses investing a lot in the steps leading to the form, only to see very few people filling the same.
A lead generation form can be either a registration form or a contact form or even a sign up form. However, if it is too long, or too complicated, customers might get a negative experience filling out the same. They are more likely to bail out and leave you with an incomplete form.
Lead generation is important for any business looking to grow and attract new customers. If you as a brand want to attract customers, you need to create an experience, which is easy, enjoyable and liked by the customer.
4 Best Online Form Examples for Lead Generation
1. Free Giveaway Lead Generation Forms –
The most popular and the highest ROI returning forms are the ones, which typically announce a giveaway or a lucky draw. This incentive is a major attraction for consumers who want to fill out some details in the hope that they can win something big.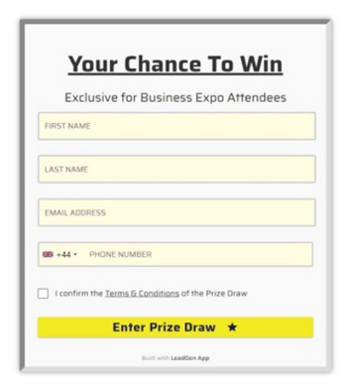 As you can see, the form is simple, precise and to the point. It also uses an attractive CTA rather than just mentioning 'Submit Form'. Lead gen forms like this have a higher chance of getting conversions.
2. Product Based Business Forms for B2B –
According to data, 94% of all B2B businesses use lead generation form to further their business interests. However, not all B2B businesses gain leads from their lead gen forms. This is because they make the form all too difficult, complicated and serious.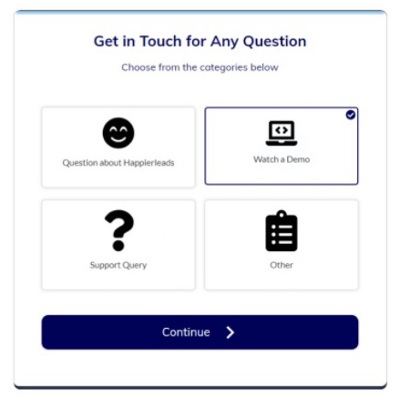 Many experts suggest that even though B2B businesses might be serious, their forms can be fun and engaging. In this form, you can see the use of images and quirky elements to lighten up the mood. It also conveys exactly what the click button is going to do.
3. Business Webinars Lead Gen Forms –
In the past few years, (and especially because of the pandemic), webinars are becoming very popular. However, for the webinar to be a success, you need people to log in to the session. Below is an example of a successful webinar registration form.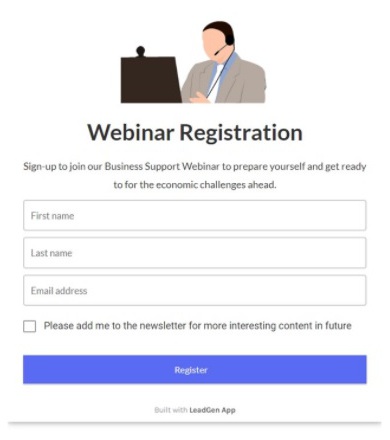 As you can see, the small text at the top communicates why you should log into the webinar. It also only asks people to fill in just three folds, making the process simple and fast. You can also use a vector image just to bring some light to the entire lead generation form.
4. Customer Feedback Forms –
Many times, businesses want to know what they are doing right and what they are doing wrong. This is important in terms of an internal assessment, which the team can make after listening to what the customers feel about the brand,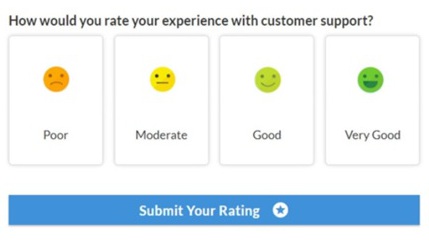 In the above customer feedback form, we can see a very smart use of 'emoji' to convey emotions and feelings towards the brand. This example is light, funny and engaging and requires just one click to answer. You want to make customers do as little as possible.
Conclusion
Lead generation forms have the potential to directly influence your sales and grow your revenues. Proper care and consideration should be paid to the designing of the form, along with the choice of content being used. By following the pointers in the article, you too can ensure that your lead generation forms yield the best conversions for your business.