The purpose of a wardrobe in the bedroom is convenient and practical. Wardrobe design have transformed, and they have come a very long way, from simple wooden wardrobes to modern ones. The look and the finish is the most integral part of a wardrobe design. Smart storage and stylish interiors are also necessary for a wardrobe design.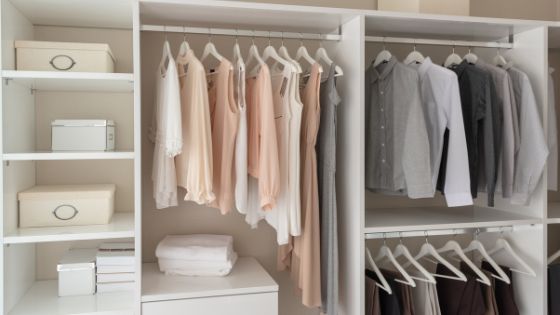 Following are the five unique wardrobe designs for the modern bedroom designs
1. Sliding door wardrobe
You can make a style statement in your room by opting for a sliding wardrobe design. This wardrobe design comes in an array of mirrored, lacquered, and laminate types. You can choose the one which suits your requirements well. A sliding door wardrobe comes with desired functionality. The best part about this wardrobe is that it can fit into any crevice. This type of wardrobe is space efficient.
2. Fitted wardrobes
You can augment your room décor with beautifully designed wardrobes that offer a taste of luxury. A fitted wardrobe is perfect if you want a design that provides space efficiency. Fitted wardrobes are the ones that create space for your stuff. These wardrobes can be tailored according to the dimensions of your room. The significant advantage of choosing this type of wardrobe is that it maximizes the vertical space available.
3. Hinged door wardrobe
The most conventional wardrobe design is the hinged door wardrobe. It is the kind of wardrobe in which the shutter or the door is attached to the closet. It is attached to the closet with solid hinges. The significant advantage of this wardrobe is that the shutters can swing wide open at an angle of 90 degrees. This enables us to see the full view of the wardrobe.
You also have the liberty to install hangers, pockets, and racks. One major disadvantage of this wardrobe is that these take up space while swinging outwards. One can also hang accessories such as ties, scarves, and sling bags in the closet.
4. Free-standing wardrobe
If you have the habit of changing the layout of your home, a free-standing wardrobe is a perfect choice. When it comes to free-standing wardrobes, the space for storage does not lie only on the inner side of the wardrobe but also above it. A free-standing wardrobe is one which provides you with some extra space if you have a high ceiling in the bedroom. Thus, you can make the best use of vertical space in the bedroom by installing a free-standing wardrobe. The best part about these wardrobes is that they offer you a tremendous amount of flexibility.
5. Walk-in wardrobe
You can take your bedroom to the next level when you have the luxury of space. A walk-in wardrobe provides sufficient space for storing all items you have in your vanity. There are innovative storage solutions in a walk in wardrobe. You will also be able to organize and sort everything well as there is ample space available in a walk in wardrobe.