When it comes to improving your property with home renovations, it can be difficult to figure out the best way to spend your money. Those who are blessed with a loft will discover that a loft conversion has many benefits, especially if your loft is currently unused and gathering dust. This type of home improvement isn't cheap, but it will pay off in the long run. From expanding your home to boosting your property's market value, here are a few reasons why you should convert your loft.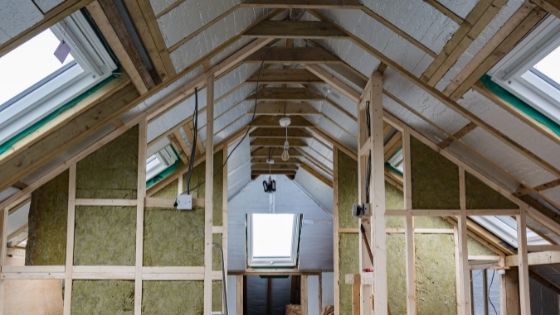 Extra Room For A New Addition
Growing families often find themselves upgrading to larger homes to accommodate new additions. Uprooting your life just to move into a property with an extra bedroom can be a long, disruptive process. Not to mention, you also need to get your old property back on the market too. However, you can bypass this lengthy process if your home has a loft. A loft conversion might be costly but moving home will almost definitely cost you more. Converting your dark and dingy loft into a livable bedroom can save you the money, time and hassle of moving to a new place. Your brand-new bedroom can be given to your eldest child so that your new addition can move into their current room. Alternatively, it can be used as a nursery or a playroom.
Rent it Out for a Passive Income
Lofts often have the potential to become spacious bedrooms, and you can even go the extra mile and install a bathroom or a toilet up there. Homeowners with a bedroom in their loft can rent it out for an extra income. This is a great idea for homeowners with properties in large cities. Working professionals who are looking for rooms to rent in London, Manchester, Birmingham, and other metropolitan areas, will snap up your room in no time. Especially if it comes with an ensuite.
Boost Market Value
A loft conversion is a great decision for people who are looking to boost the value of their home and potentially move to a new place in the future. Research shows that loft conversions can increase the value of a home by around 20 percent, which makes them an excellent return on investment. Unlike other costly home improvements, such as extensions, you won't need planning permission to transform your loft (although it is still a good idea to check with a loft conversion company first). Loft conversions are popular with potential home buyers as they are a functional way to use dead space, and they can be used in many different ways.
Practical Storage Space
Besides a spare bedroom transformation, a converted loft can be used as a practical storage space. This is a great idea for compact homes that get cluttered quickly. Designing your new loft in a way so that it can hold all of the miscellaneous items you own can help you keep your home neat and tidy. Just make sure you organize your items properly so that you don't end up with a messy storage space.