In order to get the best output from your office, you will need to work on your workforce's morale and provide them with the correct level of support, as well as the best equipment and software that you can.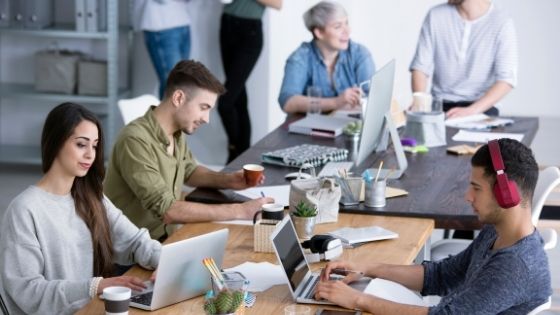 Improve your hardware and your software
One of the best ways to improve your office output is to make sure that your employees get the most up-to-date hardware to work with as well as the best software and that the two are totally compatible with each other.
Having old hardware or software can make any job role really frustrating. Having to work when the two are not compatible with each other is near to impossible and totally unmaintainable. Systems run slowly, and information cannot be either stored or found, making the thought of meeting deadlines laughable.
In order to give your employees a chance of having a stress-free working day, and for them to be able to get their work done to an acceptable standard as well as being able to hit their deadlines easily, it is important to make sure the equipment and software they are using are the best available. Make sure to offer your employees training and give them the opportunity of getting help as and when they require it.
Get the correct level of assistance
In order to keep your business running smoothly while enhancing your office output, it is important that you gain the correct level of assistance for your employees. With the world of technology moving so quickly, having the support of an IT business that really knows their stuff is a real must.
IT support does not just cover the point of when things go wrong, which in itself is amazingly handy, especially when you do not know what you are doing, but other very important services too, such as data backup and recovery and cybersecurity, to name just a couple of services.
Make sure information flows
It is important in any business for the information to flow easily. This brings all employees together and means that nobody is left out of the information loop. The best way for information to be shared around your business is to have regular meetings that involve all your workforce. This is so that any questions can be answered there and then and that there are no chances at all of any negative rumors being bounced around your site.
It is good practice to then send out emails to all your employees stating the points and any issues raised within the meeting so that everybody has documentation to say that they have received the information. Should some of your workforce not have access to emails, then it may be a good idea for those employees to have a paper copy.
By making sure that everyone is in the information loop, you are protecting your employees' morale and making them feel that they are part of the bigger team and that they belong. If the morale in your business is low, then this action alone will heighten it.