Believe it or not, you don't need to spend big to develop a tranquil, stylish, and sophisticated interior. A few upgrades, adjustments, and décor changes could turn your average bathroom into a calming oasis.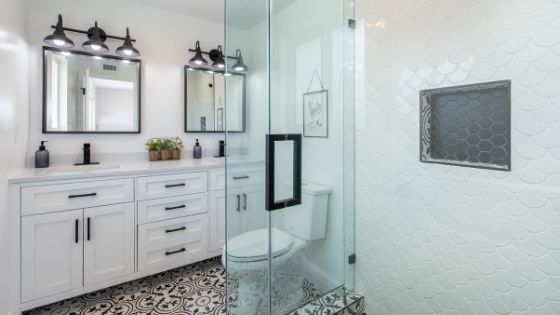 If you want to impress each guest who walks into the room, various products will transform its appearance and atmosphere. Find out how to make your bathroom more luxurious.
Install Soft Lighting
Create a spa-like experience by installing soft lighting into your bathroom. If possible, place the lighting near a vanity mirror to create an airy, spacious, and tranquil environment. Also, invest in a dimmer to adjust the brightness to match your mood and needs when showering, bathing, or brushing your teeth.
Switch Your Bathroom Hardware
Help your bathroom ooze style and luxury by incorporating stylish bath hardware, such as a modern brass towel bar, a sleek towel ring, or a traditional robe hook. It is the little details that matter in a bathroom, which is why you must choose your hardware wisely.
Also, you can spruce up tired vanity cabinets with new cabinet knobs or pulls. The small changes will make a noticeable difference to your interior. Find the perfect residential hardware products for your home at access-hardware.com.
Choose a Neutral Color Scheme
A neutral color scheme can help your bathroom exude elegance. It will create a soothing, welcoming environment while complementing luxurious features, such as a freestanding bath or a reclaimed fireplace.
Great neutral colors for a bathroom include:
Soft cream
Cloudy gray
Various shades of beige
Crisp white
Charcoal
Plus, a neutral color scheme will ensure it matches your various bathroom accessories, artwork, and furniture.
Invest in High-Quality Cotton Towels
High-quality towels are the epitome of luxury in a bathroom. White is often the best choice, as the clean, hygienic towels can create a spa-like backdrop. Also, you must choose the towel material wisely, as they aren't all created equal.
For soft, absorbent, and luxe towels, you will not regret buying Egyptian or Turkish cotton. Pair the white towels with a soft white rug and neutral accessories to provide a perfect finishing touch.
Breathe Life into Your Bathroom with Indoor Plants
Indoor plants can provide a bathroom with many benefits, from purifying the air to adding a natural pop of color and texture to the interior. Plus, a tall plant can draw the eye up, which will make a small bathroom appear more spacious.
Some indoor plants can thrive in humid environments, such as:
Boston Ferns
Aloe Vera
Orchids
ZZ Plants
Snake Plant
Add Sophisticated Bathroom Accessories
Add a splash of refinement into your bathroom with matching glass dispensers and bottles. They are an elegant way to dispense soap, shampoo, conditioner, body wash, or lotion. Also, incorporate glass toothbrush holders and soap dishes to take your bathroom to the next level.
Don't settle for a dull, lifeless bathroom. A few small changes can create a beautiful, luxurious space that will make you want to enjoy many an hour soaking in a bathtub.