What is extempore?
Extempore is a kind of public speaking where you are given the topic on the spot and you get 2 to 3 minutes to think about it and then you have to speak on it for a given time on the spot. It is different from debates as there are no specific sides and you can speak for or against the topic-it is absolutely your choice. Also there can be no interjections.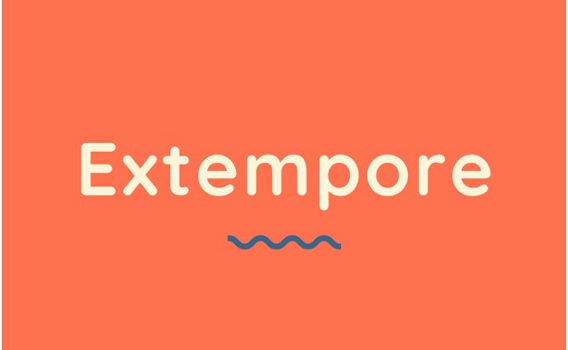 An extempore is basically a test of your impromptu speech and knowledge about general news and topics. It tests your thinking on the feet skills and also tests your English fluency given that you have almost no or very little time to prepare.
To participate in an extempore you should have good knowledge about current affairs and economic, political and social awareness. You should also have good knowledge of the current affairs and news of the day. This knowledge will help you speak on any topic for a given period of time.
Usually an extempore speech lasts for 4 to 5 minutes but it can depend on situation to situation and thus there is no fixed time limit for an extempore.
Why is it mostly used in the b school selection process?
If you want to get admission in a top B school then you must have complete awareness of all the news and current affairs of the day. You should be well read and also should keep track of the social, economic and political conditions prevailing in the country. Or if possible one can enroll for the online english speaking course in India to get good results.
Extempore are used in B school selection procedures as they test your awareness levels and also your ability to think on your feet and speak without preparation.
In a debate you know the topic beforehand and thus you have enough time to prepare while in an extempore you get only 1 to 2 minutes to get your thoughts together and then you have to speak for 4 to 5 minutes. Thus an extempore is more challenging than a debate. It takes good knowledge and great presence of mind to win an extempore competition.
Thus if you are planning to go for a B school interview where there will be an extempore then you should keep yourself updated with the latest news and current affairs. You should read newspapers such as economic times and also reference books like Manorama year book.
Some of the general category wise topics
ABSTRACT
Can Teachers be Facebook friends
IPhone versus android
Junk food good or bad?
Outdoor games are better than video games
Dogs are the best pets
Books are better than internet websites
CURRENT AFFAIRS
GST and its impact
ARTICLE 370 and Kashmir
Demonetization can help fight corruption
EDUCATION
Vocational Education and its benefits
Phones should be allowed in schools
Are school uniforms outdated?
These are some extempore speech tips
Keep yourself updated about all current affairs
Watch the news daily and also read the complete newspaper daily
You should read papers like economic times and also the Hindu and also the editorial page completely
Practice with your friends and family
Record your extempore while practicing and then do an analysis of your strengths and weakness
Read general knowledge magazines like competition success and reference books like Manorama year book
Thus by following all these tips and practicing extensively you will definitely become a pro at extempore speech and will be able to speak on the spot whenever you are asked to. It takes great effort, toil, awareness and creativity to speak on the spot but with persistent practice and determined effort you can surely win any and every extempore competition.