Jewelry making in today's world is not just a noble work of goldsmiths. You can also make your own future in the making of jewelry. You can start your work with a little investment initially.
Just like the jewelery is no longer the name of gold and silver, this work is no longer left of the goldsmiths. Due to the growing demand for jewelery and competition in the market, the educated professionals in this field are now getting an opportunity to work. Due to getting cheap and good artisan here, the world's attention is sustained by India.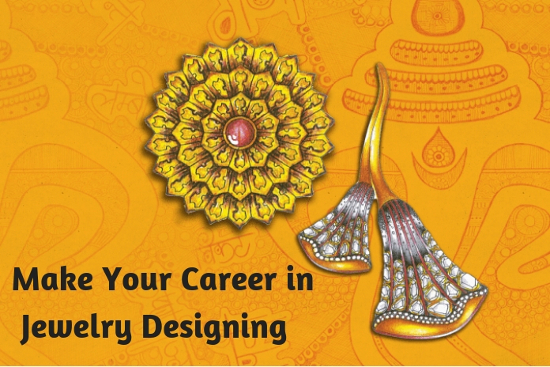 Now that period is also going slowly, when people used to buy jewelery less than the necessity of the investment, more than the idea of make-up or make-up. Nowadays, people are paying special attention to the investment with the fact that the jewelery they are buying, how it is designed and how it will look if we wear it. If the design is good, then the beauty of the person wearing it will be four moon. Because of this people's thinking, there is a lot of demand in the market of artificial and costume jewelery in addition to gold and silver and this is the reaosn for the florishing of many Jewellery Designing Colleges in India.
Well, if the jewelers are either gold or silver or those who produce both artificial or costume, training is given in the same way. Nowadays changing trends and the excellent chances of a career in this field, the youth are showing a lot in this direction. There is no shortage of money in this area.
Work of Jewelery Makers
In addition to making jewelery, modifying, designing etc. in this field, the basic knowledge of jwellery and casting technology, history of jewelery, stone cutting and engraving, measuring the purity of gems, selection of gems, price, setting , Polishing, sleeping and soldering, fabrication, repairing, besides gems, using terracotta beads and ivory teeth and shells Is taught. If you are interested in art. Tenth or twelfth pass and if you want to do your work or you are not getting a good job or you have not been able to get good marks in the exams, then you can earn a great amount of money in this field by learning the work of jewelery making. How come, let's know-
Choice of Place
For jewelery making or designing, rooms at least 10 feet wide and 12 feet in length are needed. To make bigger work, more space is needed in the same way. If you have learned to work in drawing or threading, that means that you have been trained to wear or stitch, you can do this by putting a counter on it. If you start this work in markets that are marketed around or around the Goldsmiths or Artificial Jewelery markets, then your work can be done smoothly, because then you have to go down to the Goldsmiths or Artificial Jewelry merchants to order. You will have to reduce marketing.
Tools and Machines
To do this work, you will need many tools and some machines, which are as follows – cutters, sand, kathali, plas, screwdriver, gas burner, coal furnace, melting furnace, mold, casting plant, wax mold i.e. wax Mold, wire, drawing machine, computer etc.
Cost
At least five lakh rupees are spent in this work. The more you want to work, the more the cost will come.
If you only do the work of soldering or you want to work in the work of pulling the wire or adding the thread, then your work can start in twenty-thirty thousand rupees. You have to bear the cost of the place separately.
Hands
Hands i.e. collaboration, means you will need at least how many workers to do this work, then tell you that you will need at least 15 people if you start work by spending five lakhs. If you start work by putting a counter, you will not need any other person's help or you can work as a craftsman.
Jewelery Making Courses
To become a jewelery maker, it is necessary to do a diploma/certificate or Bchelor in Jewellery Making courses from Top Jewellery Designing Colleges in India. For this, your minimum academic qualification should be twelfth. Some private institutes also provide training to the tenth-pass students. Large institutions give admission on the basis of written examination and interview.
Duration of Course
The Jewelry Making Courses vary from 3 years to 4 years in case of bachelor degree. There may be many many certificate courses and short term courses, while diploma courses are conducted in 1 to 2 years. Nowadays, some Jewellery Designing Colleges in India also offer weekly courses, in which stitching, cleaning the jewelery, pulling the wire and adding the train are taught.
The Duty
The fee for jewelery making courses depends on the training period, course and institution. Institutes teaching this work charge Rs 10 thousand to two lakh rupees (However, you need to confirm this, from individual colleges). The institutions which teach only to apply stitching, they charge for one thousand to five thousand.
Earnings
The job of jewelery making is such a thing, in which your income keeps on growing as well. In this work, 15% of gold and silver is sold in alloy ie two-three metals and 5 percent in casting. Broadly speaking, according to different places 14, 15, 18 or 23 percent of the person gets the dividing and the banui separates. Only other constructions are made from the making of jewelery from other metals. If you talk about net earnings, you can earn up to millions of rupees per month, starting from the cost of Rs. 5 lakhs, while there is little earning in making artificial or costume jewelery. The larger the scale or increase your work will be, the earnings will also increase accordingly.
Loan
If you do not have enough money to start the jewelry making work then you can also take a loan. You have two ways for this. To take loans from a bank directly at a private level and to start work on the loan under the schemes of the Rural or Urban Self Employment Scheme on the other government's certificate of the institution. In either case, you will need to submit the necessary documents. These documents include security report, ID proof, passport size photograph etc., according to project report, place paper, bank or scheme. Apart from this, you also need two witnesses. The amount of the loan will depend on your project report, the size of the work, and the value of the place.
Careers can make less educated
The job of jewelery making is at number one in the fastest growing business in the world. The first machine-made jewelery was imported in India, but today the jewelery of machines manufactured in India is exported to China etc. Today, India's jewelery from Siligiri, Pathankot, flower jewelery design, Kundan jewelery from Rajasthan, Thappavark jewelery is exported from Tamilnadu, while Mughal Jewelery is exported from Dubai to Coimbatore. In the jewelery selling in Dubai, 60% of the jewelry goes from here. Here, jewelery work is done at a very large level in Mumbai based seeps.
This work is good for growth. Every year, 13% to 15% of the work is going on increasing. Not just gold and silver, Indian ornaments made of Artificial and Costume are also very popular among foreigners. All the youth who have knowledge of jewelery market are turning to this area today. In this area, any one can keep up to 10th-12th-edited young steps and earn good money in a very short period of time. If you work correctly, then it will prove to be an area where you can get all the expenses incurred and get it back within a year. It may also be that you earn profit in the same year.