As aptly put by Thomas Moore, marriage is an "ethnic weaving of families, of two souls with their individual fates and destinies, of time and eternity- everyday life married to the timeless mysteries of the soul".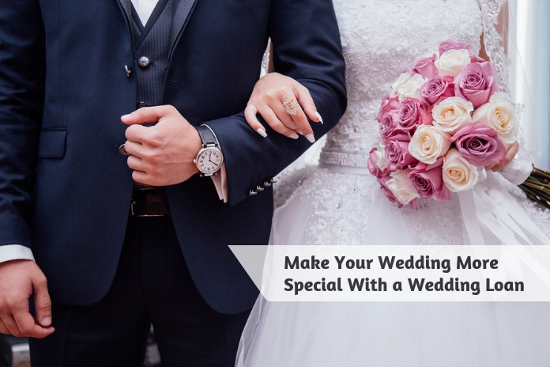 Agree to this? I do too!
If you have a marriage ceremony around the corner in your home, you would definitely want to celebrate it in a manner filled with pomp. If it's your own marriage, you would like to do everything to make it unique. It is easily the biggest day in your life and you would definitely want to make it perfect, don't you?
But here comes an alarm! Any wedding function in India is synonymous with a lot of rituals, and it goes without saying that one has to incur a lot of expenses. If you do not want to depend on money from your parents or relatives, you need to have sufficient funds to make everyone cheerful throughout the event and to make it truly special.
Worried about a possible budget crunch lurking in to dampen your spirits? You should not these days! Now you have a Marraige loan or a personal loan for marriage to cover for all expenses during the wedding.
The beauty of a wedding loan
You just can't plan 100 % for your expenses during a wedding. A wedding loan can be the best tool for you to manage both your planned and unplanned expenses. With these loans, you can either finance a few marquee events or the entire wedding. This loan will take care of all the associated expenses such as venue, photography, catering, dress, decoration and you name it! Most of the reputed lenders in India are offering customized wedding loans to suit your unique needs. A borrower may require wedding loans to cover for expenses related to rituals, big guest lists, food, event management( destination wedding is a craze in India nowadays!) and other activities. However, the budget for each of these activities may differ for different people and places. Considering all these things, the lenders have smartly devised different loan schemes to attract loan seekers. Wedding loans are getting extremely popular by the day as they involve less documentation and are offered in a relatively quick and hassle-free manner.
Some of the most popular personal loans available in the Indian marketplace for marriage are as follows-
ICICI Bank wedding loan.
Marriage loan by AXIS Bank.
HDFC Personal Lifestyle Loan
Corp Shubh Vivah Scheme
Tata Capital personal loan for wedding
PNB wedding Loan
The factors that influence your eligibility for marriage loans
As a usual practice, the eligibility of an individual for a personal loan for marriage is calculated by a lender depending on the below-mentioned factors-
● The income of the borrower- Your prospective lender will check on your monthly income before processing your loan application to have an idea about how well you can manage your expenses. Generally, a personal loan for marriage is approved if your regular expense (including fixed expenses, rent outflow, existing EMIs etc) is found to be less than 35% of your income on a given month. A minimum Net Monthly Income (NMI) of Rs 15000 is set by most lenders. Certain lenders can have a higher minimum NMI of Rs 25000 as well.
● The credit score of a borrower- You should possess a good credit score to have a better chance of getting your personal loan for marriage approved. Generally, lenders tend to offer such loans, if your credit score is 750 or above. You can still manage to secure a wedding loan, but there is a chance that you may be levied a higher interest rate or the loan will be approved with more stringent terms.
● Your employment status- Individuals with a steady source of income are preferred by lenders and they invariably get good offers for marriage loans. Salaried professionals with at least 2 years of working experience (minimum 1 year with the current employer) are eligible to avail these loans. Also, if you work in a company with a good reputation, it will impact your loan eligibility in a positive way.
● Your age- You should attain a minimum age of 21 years ( 23 years for some lenders) to avail a wedding loan. Also, for salaried individuals, the maximum age (at loan maturity) should be 58 years. The maximum age criterion for self-employed applicants is 65 years.
Documents required for availing a wedding loan-
Most of the providers are offering marriage loans with easy documentation processes. Nevertheless, you need to submit certain basic documents when you apply for these loans.
A) Age proof- Any of the below-mentioned documents can be submitted as age proof-
Birth Certificate
High School Leaving Certificate, with a mention of age on it.
PAN Card
You also have to submit a loan application form along with the required documents to the lender to avail such loans. This can be downloaded from the website of the lender or can be received from the lender's office.
B) Proof of Identity- Any one from the below-mentioned documents can be submitted as your identity proof-
Your driving licenses
A voter ID card
PAN Card
Passport
Adhaar Card
Ration card
National Rural Employment Guarantee Act (NREGA) Job Card
C) Income proof-
The salaried professionals need to submit Form 16 /latest salary slip/bank account statements of the last 3 months -to show that the salary is credited to his account every month.
The self-employed individuals need to submit their balance sheet/P&L Account/IT returns for last 2 years / most recent bank statements.
C) Proof of residence- Any one from the below-mentioned documents can be submitted as your residence proof–
Driving license
Water or electricity Bill
Ration Card
Passport
Voter ID
Adhaar Card
Rent agreement
Important points to consider before availing a marriage loan
You should bear in mind the following points while applying for a personal loan for marriage –
Firstly, it's imperative for you to make a budget estimate for possible marriage expenses before applying for a loan for marriage. List all likely expenses (according to categories such as rituals, food, decoration and so on) and prepare the budget estimate accordingly. Then, you should add 20% of this figure to your estimated budget to cover for unseen expenses. This new figure may be close to the loan amount you should ask for.
To avail the best wedding loan, you should carry out a proper research on available loan offers well in advance, with special attention on interest rates and repayment tenure. You can save a lot if you compare the interest rates, processing fee and other related charges and make your decision based on comparative insights of offers from different providers.
Make a thorough assessment of your income and savings on a given month. It will help you decide on the most affordable marriage loan and you can serve the EMIs more comfortably in future. Choose your loan amount carefully. Most marriage loans come with high interest rates. Before applying personal loan you can compare all banks personal loan interest rate. You would do well to choose the loan amount in such a way that you can pay the EMIs to your lender every month without putting too much strain on your regular family budget.