Technology governs most day-to-day aspects of our life. From smart homes, smart vehicles, smartphones to now smart marketing too.
Organizations have realized the need to reach out to audiences via the internet. It has become apparent that neither do the old ways of marketing appeal to consumers anymore nor do they even come across it!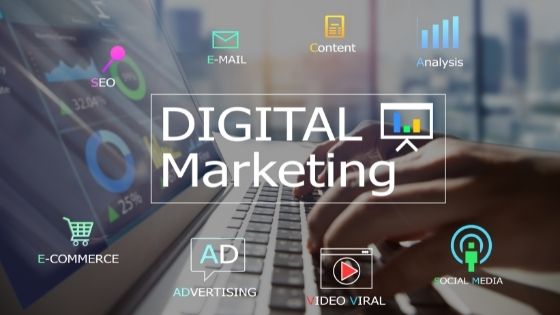 People all over the globe have become so tech-savvy that most of their daily tasks are being taken care of through a single click on their mobile devices. However mundane or important the task may be, it can still be carried out virtually.
More importantly, we have seen the global shift towards technology in the previous year more prominently than ever before. The pandemic has shown us a new normal as people are still adjusting to working from home schedules and virtual offices.
What Is Digital Marketing?
Digital marketing follows the same principle of reaching out to mass consumers through the virtual world using different online technological tools and the internet to promote products and services. It has become an essential component of marketing strategies that include not only emails and social media but also text and multimedia messages as a marketing channel.
One thing is ascertained, technology is here to stay, and it is only going to get more innovative and complex by the day. Investing in the right software applications may very well be the saving grace for your organization in the coming times. Moreover, new technological advancements mean new job openings.
So gear up to learn about the upcoming digital marketing statistics 2022 trends that can offer you an insight into how you can better manage your business or might help you to choose a career path for yourself.
1. Adapting and Adopting Artificial Intelligence
Deploying Artificial Intelligence will be crucial for organizations as consumers are more attuned and comfortable with it. It is a great way to communicate and connect with your target audience without overwhelming them.
AI also provides an insight into consumer demands and allows marketers to target untapped audiences. It enables to send out desired messages that shape the consumer buying behavior while highlighting needs that can be marketed and sold in the future.
For example, a great online tool that has enabled marketers and sellers around the globe to employ AI intelligently in earning profits is PipeDrive. It is an automated, customer-centered software that has changed the shape of customer management. You can use great discount deals at Pipedrive Promo Code to up your business game.
2. Deploying Automation Technology
The most popular trending marketing strategy for this year is automated technology. Each day new businesses are making use of this technology due to the increase in output and efficiency.
Many repetitive tasks such as emails, newsletters, social media posts, and even ad campaigns are automated by marketing departments not just to save time but also to provide a more personalized experience for their clients. It is also more cost-effective than hiring employees and also reduces the amount of time taken.
3. Carrying out Livestream Marketing
Another trend that has garnered praise and attention from both consumers and marketers alike is the live stream marketing strategy. Audiences prefer tuning into live streams from influencers, gamers, musicians, or other celebrities, and this provides endless possibilities to the marketers.
These opportunities may be in the form of unboxing videos, product reviews, or simply placing the product intelligently in the background, to name a few.
4. Instagram Reels-The Next Big Thing
The trend of short videos initially introduced by TikTok and then adopted by Instagram is all the rage!
From users to influencers and even celebrities- it has become an increasingly popular trend that is at the forefront of the Instagram algorithm. So much so that the reel icon has been positioned at the center of the application.
Get the right influencers to make reels about your product or service to reach out to the maximum target audience in a short span of time!
Also, do not undermine platforms like TikTok. Once considered an underdog, it is increasingly being used by smart marketers to promote their goods to a larger audience. Many home businesses have become a success once people posted short videos of their skills on this app.
5. Shift Towards Sustainability
The previous year has enabled individuals to make conscious efforts in saving the world by making eco-friendly decisions. Consumers are aware of the hazardous activities that harm our ecosystem and tend to raise their voices against it.
Sustainable digital marketing promotes projects and activities that are social and environment friendly through sustainable innovations. More and more organizations are going green and making policies that improve their sustainability credentials.
6. Influencer Marketing on the rise
Most of us have spent the previous year in front of our devices, eyes glued to our screens watching live streams or just scrolling through our feed. The lockdown brought about a great change in our daily routine.
Influencer marketing has seen a steady rise as more people have tuned in to live streams or videos of their favorite influencers. This trend is here to stay as more organizations are investing in individuals who have established credibility and audience to discuss, endorse, mention or place their brands in a social media post.
7. SEO Combined with Voice/Visual Search
SEO has been an integral part of digital marketing for the longest period. It has been an utterly useful and reliable tool in figuring out what content to put out for our target audience and where.
While that is true, most of our audience is now geared toward at-home browsing. Hence, we also need to be aware of 'how' our audience is searching as much as 'what' they seek.
This implies that many may want to use voice search or visual search for their convenience. Factoring this into our SEO strategies will certainly be fruitful.
These are just a few marketing trends that are most definitely going to be a game-changer for your business. Not all strategies for the year 2021 are new many of the trends from 2020 may still apply to the structure of your company. If you have not yet implemented them, then it's high time you start doing it.