The OEM exhaust on a Chevy Silverado 2500 HD has an okay sound. However, if you want to get a truly impressive and clean rumble, you will need to upgrade to an aftermarket solution. The best exhaust mufflers reduce vibrations while letting through an aggressive, throaty growl. This can make your driving experience even more enjoyable.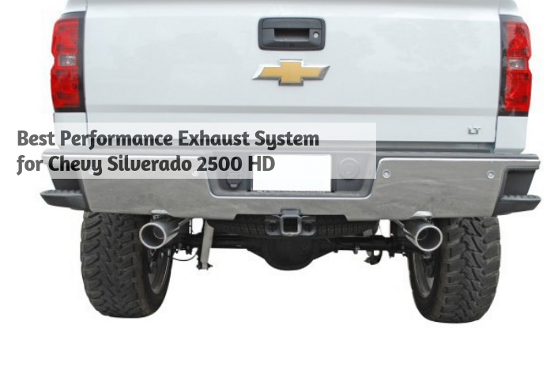 Of course, even the loudest performance exhaust doesn't have to be just a sound upgrade. Aftermarket exhaust systems also improve performance. Airflow through the engine is an essential component of making horsepower. When exhaust gases can quickly escape, then fresh, oxygen-rich air can be pulled in through the intake. A new cat-back exhaust can increase horsepower by 10 percent or more.
MagnaFlow Street Series Cat-Back Performance Exhaust System
This performance exhaust system can increase your engine's power output thanks to 3.5- or four-inch tubing. It also features some of the best exhaust mufflers which produce a refined, moderate sound that is perfect for truly enjoying all the intricate noises your engine makes.
Constructed from high-grade stainless steel, this system is very durable and resistant to corrosion. Combined with the easy bolt-on installation, which is perfect for a do-it-yourself upgrade, MagnaFlow's system is a great choice for any Silverado 2500 HD owner.
Choose from a variety of exhaust tip styles and exit layouts. Some variants vent exhaust on both sides of the truck, other on just one side. There are polished and black exhaust tips in single and dual style. In short, you can get whatever exhaust aesthetic work for your style.
Build Your Own
While the full performance exhaust system is a great option, you may want to customize even further. Consider buying the individual parts and putting together a custom cat-back or full exhaust system. High flow catalytic converters, for example, can greatly improve your performance while still minimizing your truck's harmful emissions.
The custom build approach also lets you personalize your exhaust note even more. X, Y and U pipes, collectors, bends and more offer the control you need to produce that perfect sound for a Chevy Silverado 2500 HD.
Just remember to check your sub-model before you buy parts. The exact layout of your truck and the type of engine you use can change what will and will not work for your needs. For example, Duramax diesel engines require different exhaust systems than gasoline engines.
Get Wrenching
One of the most rewarding aspects of owning a vehicle is taking advantage of performance upgrades. There is something uniquely enjoyable about riding around in a truck that you have modified to your exact specifications. It is also a lot of fun when you get to put your foot down, hear the roar of your engine and fly forward with all that added horsepower.
Today could be the day you start getting more from your Chevy truck. Upgrading your exhaust is one of the simplest ways to boost performance and modify the experience. Even beginners with basic automotive knowledge and make the change. So, get started wrenching on your truck with a new performance exhaust.