Every festive season in India sees an influx of ethnic wear. Be it men, women, or children, everyone gets to dress up to the nines in their best ethnic collection. While women have the liberty to opt for sarees, lehenga and dresses, men have to stick to their basic kurta and pyjama looks.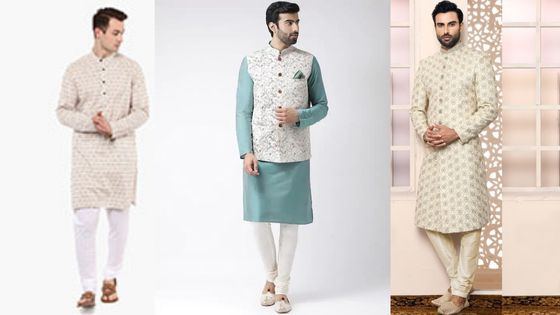 If you have got the classic kurta and pajama sitting in your wardrobe, waiting to be picked out by you this festive season, let's check out how you can dial up your style in pajama for men. Instead of wearing the same kurta and pyjama look, we are here to give your style a boost by showing you the different ways you can style pajama for men.
● Go the floral way: Whenever in doubt, just wear florals. Floral-printed outfits are one of the most trending styles in the fashion industry. Who said florals are only limited to women and children? Men can embrace florals too, and you must have seen how your favourite celebrities often wear floral-printed traditional clothes during the festive season. You can style your pajama for men by pairing them with a long floral kurta. A button-down kurta with long sleeves rolled up to your elbows will curate a classic touch.
● Slim fit kurtas: To create the illusion of a taller, slim frame, you can opt for the classic slim-fit kurtas, which stand true to their name. Slim-fit kurtas can be perfectly matched with your pyjamas. If your kurta is printed, you can go for a solid pajama, and if you are wearing a solid kurta, you can style it with a minimally printed pyjama to balance the look.
● Mandarin collar kurta: If you are trying to aim for a more formal approach in your ethnic wear, you can style your pajama with a mandarin-collar kurta. Kurtas featuring a mandarin collar give you that smart look. You can leave a few buttons undone and roll up your sleeves to below your elbow length to nail your suave look.
● Pair it with a short kurta: Kurtas for men don't always have to be long. If you are attending low-key events, such as a traditional day in your college or at work or even at Diwali parties, you can opt for a short kurta to be paired with your pajama for men. A solid black short kurta paired with a solid white pyjama is the classic look you should aim for.
● Layer with a Nehru jacket: This wedding season, aim to go the traditional way by layering your kurta and pyjamas with a classic Nehru jacket. You can experiment with your look by opting for floral prints and embroidered jackets to balance with your solid kurta and pyjamas.
● Asymmetrical kurta: There is beauty in asymmetry, and you can channel it in your ethnic look by pairing an asymmetrical kurta with a solid pajama for men this festive season.
These ethnic looks can be completed with traditional footwear such as juttis or even Kolhapuri chappals for men.