We all love glamour and want to look our best at all times. With the advances in technology and the use of social media, there is a greater influence on all of us as compared to earlier. We all follow our favorite celebrities and dream of having perfect skin and style just like them.
In truth, a lot of effort goes into styling even the most basic looks of the people we follow on social media. That is why they always look their best whether they are sporting a gym look or an airport look.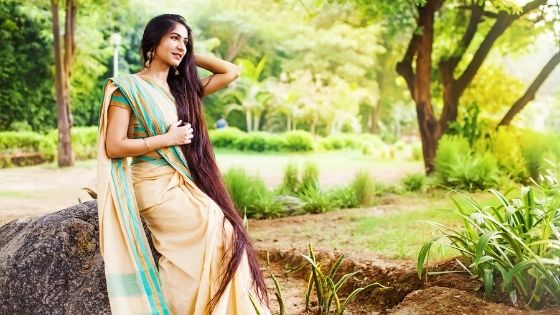 Styling is mostly about expressing one's own personality in the best way possible by wearing their choice of clothing with confidence. With some tips and tricks, one can style even the most basic forms of clothing like a simple t-shirt or even complicated traditional clothes like a cotton silk saree.
Why You Should Opt to Wear a Saree
In the early days, sarees were the most basic and common clothing worn by women across all cultures in India. With time and western influence on the Indian citizens and also after the British rule on our country, more and more people started to be influenced by the west.
Nowadays, we see teenagers and young people so influenced by the west that our traditional values seem to be lost. Globalization and social media have definitely made the whole world a more connected place but keeping our traditions alive is of utmost importance.
Clothing and language are some ways in which our traditions can be kept alive for a long. Sarees come in different fabrics as there is a variety of fabrics used across different states of the country.
Some very famous fabrics that are even bought by foreigners when they visit our country are the following:
1. Banarasi Silk Saree: the famous fabric of silk and golden work on them is a specialty of Banaras and is brought and worn by the elite class.
2. Khadi: another very famous fabric used for sarees is khadi that is produced using a charkha.
3. Cotton: sarees made of cotton can be worn in summers to keep the body cool. Cotton is also blended with various other fabrics to make even more attractive sarees like cotton silk sarees.
4. Organza: this is a thin and slightly more open weave than other fabrics. Made out of silk, organza sarees are a beautiful clothing piece to own. Many of them come with very beautiful hand paintings or embroideries.
5. Lucknow Chikan: chikan embroidery is a very famous work of Lucknow in Uttar Pradesh. Chikankari is found in suits, kurtas, lehengas, and even sarees. Mostly done using white thread for embroidery on pastel colors, it is also one of the most delicate pieces of clothing and also the most beautiful.
Styling A Saree In Different Ways
Now that you have bought your favorite saree, use the following tips to look your best at any occasion or even in everyday life while going to work.
1. Get Creative With The Blouse: one can always use a matching fabric and design for the blouse to be worn with the saree, but nowadays women tend to choose different colors or patterns to style their saree look.
You can choose a complementary color, different fabric, or patterns for the blouse to make a statement and not look your usual self.
You can also choose to get a blouse stitched with flare sleeves, dori at the back or laces and gotas of your choice. Plunging necks are also very attractive for special occasions.
2. Statement Footwear: one has the freedom to look their best and style their clothes in any way they want and they would look fabulous if they carry the look with enough confidence.
Many times, sarees can be combined with edgy footwear like shoes or boots for a bold look. Block heels and stilettos also go well when paired with a saree for traditional occasions.
3. Jewelry And Accessories: another way to style a saree look is to use jewelry and accessories in a creative way. Just like footwear, it adds to the look without much effort and can make a simple saree look properly styled and edgy.
One can opt for heavy silver jewelry or chokers on the neck. They need not be very costly, oxidized silver jewelry is available at affordable prices these days.
One can also go a little bolder if they choose to wear a belt over the saree. The belt may be a fashion statement and even a necklace can be used in place of the belt on the waist.