Managing a commercial real estate business is not an easy task. There is a lot of coordination, which is involved at multiple levels. Sometimes the nature of work dictates that realtors and their teams are working in different cities, chasing clients, doing paperwork, and closing conversions.
In such an instance, the slightest miss or delay on the part of a team member can result in thousands of dollars in losses. In other words, the margin for error in the real estate industry is very less.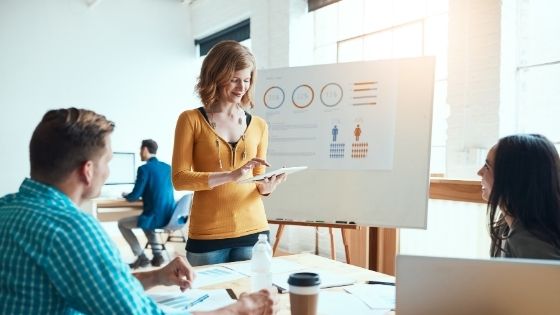 Over the past few years, realtors and real estate companies are turning to technological innovations to help them with better coordination. This is one area, where tools that offer simple collaboration for realtors are emerging as a sought-after alternative to working better and faster.
In this article, we bring you a round-up of the 11 best collaboration tools for realtors.
Collaborations Tools: What are they and how can they help Realtors?
While work collaboration tools had been in existence for a long time, their popularity has increased thanks to the pandemic.
Businesses have been looking at such tools during the lockdown to ensure that their work does not suffer when employees are not being able to come to the office.
Collaboration or Project Management tools are workflow task assignment software. They have message boards, voice, and video call facilities, file-sharing via cloud storage, syncing calendars, etc.
They are very useful when it comes to small businesses coordinating with their team members who are working remotely. Real estate companies have a lot of coordination between the actual sites and their offices. In addition, there is tons of paperwork involved at every stage.
Simple collaboration for realtors can become a real possibility with such project management tools. Not only does the efficiency get a much-required bump, but you will also see that wastages, oversights, and errors come down drastically.
List of 11 Best Simple Collaboration Tools for Realtors
1. Trello
The simple and engaging UI and UX of Trello are what draws realtors and real estate companies to use it as a project management tool. You can create task boards, add members (through a link) and keep an eye on the progress and status of tasks. You can also add files to the tasks to ensure that everyone has access to the same. Trello is a simple collaboration tool for realtors.
2. Asana
While Asana can be looked upon as an advancement over the basic features of Trello, it is nevertheless a much more complicated tool to work with. If you have any prior technical knowledge, you will be able to ace Asana. However, real estate companies who are working with employees who are not too technically proficient might find Asana to be complex.
3. AirSend
AirSend promotes simple collaboration for realtors. In addition to creating task assignment boards, you have real-time chat options, including features for voice and video calls. You also get the option of storing files on the AirSend Cloud. It uses the AWS Cloud system, so it is among the safest options out there. AirSend is fast becoming the preferred choice for realtors.
4. Workframe
We all know how any process of real estate involves a lot of complex paperwork. Maintaining a proper record of the same can get a bit overwhelming. This is where Workframe steps in to help you manage all the paperwork with regard to your real estate project at hand. From compliances to regulations and customer paperwork, you can arrange everything on this.
5. Samepage
If you want your entire real estate teams to be aligned and informed at the exact same time, you need to start using 'Samepage'. The tool allows for real-time document editing and sharing the same with all stakeholders. You can also take help from its video conferencing capabilities to ensure that you are holding virtual on-site meetings with the team.
6. Box
As the name suggests, Box is one of the most secure and safest file sharing and editing platforms out there. Real estate deals, plans, and financial details can be very confidential in nature. As a real estate company, you do not want it to get into the wrong hands at any point in time. Box helps you with its increased emphasis on security with powerful firewalls.
7. Google Suite
The familiarity of Google and the ecosystem of its apps help in making G-Suite still the preferred option for many. Google Sheets, Drive, Slides, Calendar, Mails, Messages, etc. provide a range of functions and features that are very helpful in coordinating work. The dependability of the software is always there and in terms of security, it is full proof.
8. Dotloop
Dotloop's core USP is that it is one of the most useful tools in the market for maintaining real-time transaction records. It is not simply an invoice generating software, its a free invoice maker. It is rather a collaboration tool, which helps track, manage, and maintain transactions between real estate vendors, governments, and clients. It plays a crucial role in moving payments across stages.
9. Clientlook
The sales pipeline of real estate deals is quite long. Given the scale and size of the investment, real estate brokers and firms need to keep chasing the clients for a long time. Clientlook is a software, which allows brokers and firms to maintain engagement with a potential client. You can send promotional materials, create lists, and prioritize tasks on a real estate project.
10. Dealpath
If you are an investor in the real estate sector, you will want to know about all your investments and deals down to the last detail. With Dealpath, you have the option of choosing from multiple deal templates and have access to complete information to help you make the best decisions. Dealpath is a great asset in the real estate sector for investors looking for updated reports.
11. MREN
According to leading experts, MREN is technically not a collaboration tool. Most refer to it as a Customer Relationship Management (CRM) software that allows for basic collaboration between real estate companies, brokers, and clients. You have the option of having chat functions, both in the group as well as one-to-one. The platform also allows you to share files and folders for promoting better coordination.
The Bottom Line
As you would have noted by now, while some options on the list are tools, which promote simple collaboration for realtors, others offer one or two functions. If you are looking for something that is simple, unique, well designed and affordable in nature, you can always go for AirSend, simply because of its rich feature lists, including the option of having group calls (video and voice).