You probably have your phone on you, near you, or right next to you. You may even be reading this blog on your phone. With how often your phone is in use, wouldn't it be nice to get paid for it? Well here's your chance to make money online! Yes you can earn hefty amount of money online as your secondary income if you pay attention to the tips given here. If you're in need of extra cash for the holiday season, keep reading to find out different ways to make money from your smartphone.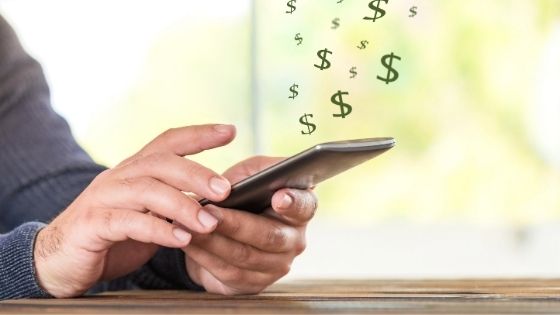 Give your opinion
If you have strong opinions and enjoy sharing them with others, all you have to do is download these apps and start taking the surveys to make money.
Google Opinion Reward: Go through and complete a series of surveys ranging from customer care to restaurant reviews. You can earn between $0.10 and $1 per survey. The amount you make depends on how long the surveys are.
Survey Junkie: Like the one above, Survey Junkie gives you cash rewards for participating in surveys. For every 100 points you earn, you make $1. You are eligible to redeem a cash reward after reaching 500 points, or $5.
Swagbucks: This app gives you a few more options to make extra money. Besides taking surveys, you can earn reward points by browsing the web, watching videos, and shopping. This service also operates as a point system, with 1,000 Swagbuck points valuing $10.
Shop and Save
With how expensive grocery shopping can get, it's nice to know that you have options to make some money in return.
Coupons.com: Even if you are not an expert at couponing, using Couponing.com is straight forward and simple. If your grocery store has a loyalty card, the coupons you use on the app will automatically link to your card and add your savings. If you don't have a reward card, you can take a picture of your receipt. Once your receipt is approved, your savings will be deposited into your Paypal account.
RetailMeNot: RetailMeNot works in a similar way being that you can find coupons and apply them to your store, as well as find online discounts and upload a picture of the receipt to receive extra savings.
Ibotta: This service also works similarly to the others, but what makes it special is that you can get cashback while shopping, traveling, and eating out.
Sell Directly From Your Phone
You can make money directly from your phone by getting rid of your unused items and growing your craft.
Foap: If you are a creative person interested in working with bigger brands without having the stress of it all, this may be the route for you! Foap lets you sell your videos and pictures to individuals, brands, and agencies. Content sells for as little as $5 or as much as in the hundreds. Just keep in mind that your profit is split between you and Foap.
Tech Reboot: If you have old phones, tablets, computers, game consoles, or accessories lying around your house, selling your devices to Tech Reboot is your best bet. You can get a free instant offer on your device and once it'd accepted, you'll be emailed a free shipping label. All you have to do afterward is box it up, send it out, and wait 48 hours for your payment. The best part is that they accept broken devices!
OfferUp: OfferUp is essentially a mobile and online marketplace that allows you to sell your secondhand items locally. All you have to do is upload pictures of the items, add a description, and set your price. If someone who is not in your area wants what is being sold, there is also an option to ship it to them.
Get a Side Gig
Getting a side job is easier than ever nowadays thanks to your smartphone. If you want the freedom of making your own schedule while making good money, download these apps.
Uber/ Lyft: The ride services Uber and Lyft both give you the freedom to make your work schedule. All you have to do is choose when you'd like to become someone's temporary personal driver. The minimum requirements for this job are having an eligible 4-door car, owning a valid driver's license, be the minimum age to drive in your area, and have at least one year of licensed driving experience (3 years if 23 and younger).
iFixYouri: This company offers repair services on a mail-in basis(and walk-in if you are near one of their stores). You could, without any skill, offer friends and family repair services on their devices, send them in and have a professional complete the repair, and then have them shipped back, good as new, all while adding 20% on top of the repair. If you look hard enough, there are coupons available to can save you 20% off your repair.
Uber Eats/ Door Dash: The same concept applies to these food delivery services. Choose who in the area you'd like to deliver to and make money in return.
The more rides you provide or orders you successfully deliver, the more money you make. Your earning are all up to you.
You can even walk into your neighborhood coffee shop and ask them if they would like some help handing out flyers. They may toss you $20 for a quick and easy flyering job. No matter what route you go, make sure you have fun making extra cash this holiday season. Just keep in mind that these options will most likely not be a replacement for your day job.