Buying homes, remodeling, and then selling them for a massive profit has quickly become popular. There are many houses that are simply outdated and need a few upgrades to boost their value for a profitable sale. If you're handy with home repairs and has an eye for design, flipping houses may be a very lucrative field for you to get into.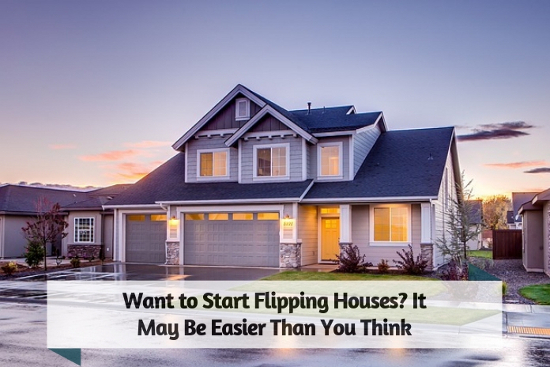 It can be overwhelming to start flipping houses. There are so many things to take into consideration to make sure that you're ready for the investment and that you can afford it. The guide that follows provides a few tips on things that you can do to make sure that you're ready for your first house flip.
Know How Much You Can Afford to Spend on a Home
The first thing you need to do is find out how much you can afford to spend on a house that you want to flip. If you aren't independently wealthy, this means that you will need to get a loan to purchase the house. Lackluster credit can make it difficult to get a traditional loan from a bank. Fortunately, a hard money loan can be much easier to get and requires far less harsh stipulations to be met for approval. You can often apply for a loan with hard money lenders online and know within just a few days if you're approved for the loan.
The only major stipulation that comes with a hard money loan is that you have to have collateral for the loan. If you own a home, you can use it as collateral. The hard money lenders will give you a loan based on the value of the property you already own, not the one you plan to buy. You will have to pay back this loan in a shorter period than a traditional loan, but if you know that you're going to flip it that shouldn't be a problem.
Consider the Home that You Want to Purchase
Next, you need to find a house to buy. The house needs to be located in a good part of town if you want it to sell quickly. It'll be easier to sell a house that is located in an area with a low crime rate and great schools. Do research about the area around any home that you're considering before you actually purchase it.
You should also find out what houses in the area are selling for so that you can determine if it will be worth your while to buy the house, remodel it and then try to sell it. If you're only going to be able to set an asking price that is a few thousand dollars more than what you paid for the property, it may not be worth your time once you consider the cost of labor and supplies.
Consider the Condition of the House
The condition of the house is something that needs to be taken into consideration because everything that needs to be repaired or replaced in the home will cost money. If you have a budget that is much higher than the purchase price of the home, then you can afford to make more costly investments than someone who's on a tighter budget. It's best to purchase a house that needs minimal changes in order to flip it when you're first starting out.
It's best to have a contractor come to the house with you to inspect it and to give you a rough estimate of the cost for the chances you're envisioning. This ensures that you have a ballpark figure of what the renovations are going to cost so that you can figure out if it's worth paying for.
Consider the Cost of Labor
If you're hiring a contractor to do a majority of the work for you, you need to make sure you take his labor costs into consideration, as well. You'll want to do as much of the work yourself as possible to decrease the labor costs. Consider handling as much of the demolition as you can and handle the pick-up and delivery of items you can handle on your own. The more that you can do yourself, the better.
Consider the Cost of Materials
Since you're flipping a house and not living in it, you may want to consider using discounted materials in order to save money on the overall cost of the remodeling. Using discounted materials allows you to reduce your costs without reducing the quality of the home. Many home improvement stores have a discounted section where you can get tiles for the kitchen and bathrooms, sinks, toilets, and even appliances for much cheaper than normal retail price. Take the time to ask the associates at the store if there is a loyalty program, discount codes or coupons available to use to help decrease the costs even more. Many stores have discounts available if you ask.
Once you have the house, the materials, and the contractor, get started promptly so you can flip the house. You want to get the construction done as quickly as you can and start taking care of the cosmetic issues. The goal is to get the house on the market in as little time as possible. Every month that the house is being repaired, you must pay the loan payment, which can add up quickly. As soon as the home is ready to be sold, hire a real estate agent to sell it for you. Real estate agents know the market and clients looking for similar homes. Agents can help you promote it and sell your home quickly.