Companies are slowly moving from CRM (customer relationship management) systems to social CRM as it offers more insights about consumer behavior and takes the conversations at the next level. Unfortunately, in this 'smart' era of IoT, and Machine Learning, some firms don't even have a basic CRM system in place. Let's take a look at possible risks that such organizations face.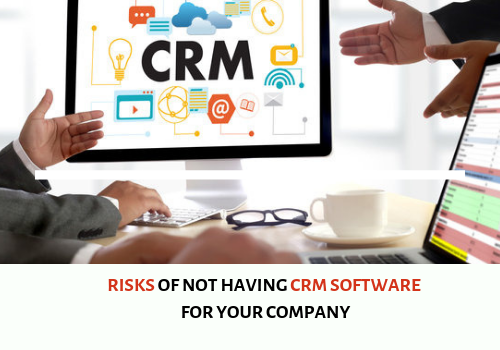 Lack of tools to understand the customers' needs results in a big failure
According to a study conducted by Bloomberg research, only half of the small businesses manage to survive for five years after their launch. Failing to understand the customer needs due to lack of appropriate tools and failure in tweaking the products according to consumer feedback are some of the prominent reason behind the crash.
Using tools can help you connect with your audiences, engage with them, understand their needs and requirements and then address the same in a manner that benefits your business. In such a case a salesforce partner agency is one of the most important assets you can have at your disposal. It makes the task of reaching out to and engaging consumers easier. This in turn helps in making the business much more customer-centric.
Lack of consumer data
Research conducted by the Harvard Business School has highlighted that getting new consumers on board can prove to be 25 percent expensive compared to the cost incurred in retaining existing customers. Even a small five percent improvement in retention rate can result in a 25 to 95 percent improvement in profits. There's no doubt that the customer relationship management system designed by a reputed crm development company like smart sight innovations plays a vital role in nurturing relationships and retaining customers.
For buyers, it is easy to find all the details about any business group. However, for a company, gathering data about the buyer to weave a better working relationship proves extremely difficult. Thus, maintaining error-free records about consumer's purchase history, communications, their likes, and dislikes, remains crucial for every small and large firm. Several studies have already proved how the brand's level of success is linked with the company's relationships cultivated with its consumers.
Developing a strong relationship with customers not only helps in offering excellent service but also results in more sales due to positive word of mouth publicity. Such positive reviews are of greater importance to small startups that have a minuscule budget for advertising and marketing.
Besides establishing relationships, customer management software also helps in analyzing possible future needs of any given consumer. Thus, if not SCRM, every company should at least have basic CRM in place.
Communication and documentation
Manual documentation about purchase history and interaction has become a thing of the past even in poor African countries. Thus, companies indulged in maintaining physical documents or excel sheets for such communications are wasting the time of its workforce. The same human resources can be utilized for sales and customer service tasks.
Customer relationship management system organizes data in the best possible way and presents it to the employees on a user-friendly interface. A cloud-based CRM also keeps a back-up for your data that can be accessed from anywhere. So, no need to worry about hard drives getting corrupted. On the other hand, firms that maintain documented records face a headache due to paper's deterioration that starts occurring naturally after a few days.
Some countries have made it mandatory for businesses to maintain a record for customer communications, purchase history, and details about the data shared with third parties. Getting detailed reports to comply with regulations can prove to be a nightmare without the right CRM system in place. Failure in complying with data storage and management norms can result in penalties and litigations worth millions.
Data stored in the customer relationship solution can be accessed simultaneously by employees in various departments. Access to the relevant CRM data can be granted according to the roles that employees perform.
Implementing a customer relationship system does not mean breaking the bank. Several crm developers offer custom-made solutions to cater to the needs of small and large businesses.
Titan Surveys is an app for survey integrated with salesforce with easy to use features.