Motorcycle accidents have life-altering consequences, from physical injuries to huge hospital bills, emotional trauma, and even death. If you or your loved one gets into a motorcycle accident, reputable lawyers at Reinartzlaw.com help you understand recoverable damages and attain the maximum compensation possible. Read on to learn six damages that can be awarded after a motorcycle accident.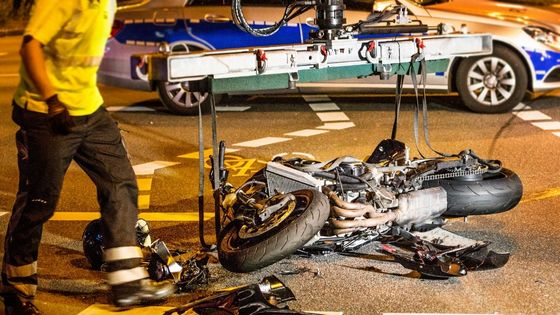 Medical Expenses
After a motorcycle accident, people sustain injuries such as broken bones, burns, spinal injuries, internal bleeding, whiplash, traumatic brain injury (TBI), and amputation. NHTSA reports that motorcyclists are four times more likely to sustain more injuries during a crash than passenger car occupants.
Some injuries are life-threatening, while others develop into ongoing conditions with life-long financial repercussions. For instance, whiplash can cause chronic pain, necessitating long-term medical management. Fortunately, the costs of treating injuries are recoverable from the expenses related to a hospital stay, surgeries, treatment, medication, and rehabilitation. You get compensation for both immediate medical bills and future treatment.
Loss of Income
Victims need time to recuperate from injuries after an accident. Sometimes, the victims become incapacitated due to severe injuries and cannot work. Whether you sustained a fracture, burn, amputation, or mental incapacitation hindering your ability to work and denying you income, you are eligible for compensation.
Persons who can't return to their careers or are forced to take lesser-paid jobs due to injuries can file for economic damages. Also, loss of business opportunities and earning capacity are compensable. A claim should also include lost days when attending medical appointments due to injuries from a motorcycle accident.
Non-economic Damages
Motorcycle accidents are devastating emotionally as they are physically and financially. They leave victims psychologically traumatized, with many suffering from anxiety, mood swings, depression, sleep problems, and PTSD. Additionally, unanticipated injuries and temporary and permanent disabilities can take a toll on victims. Emotional distress adversely affects a person's quality of life and disrupts their daily activities.
Subsequently, victims receive non-economic damages to compensate for emotional distress, pain, and suffering endured. Although these damages do not have a direct monetary value, an experienced lawyer can quantify them for optimal outcomes.
Punitive Damages
While juries rarely award punitive damages in personal injury cases, they are handy in cases of extreme recklessness. The court might require the at-fault driver to pay a predetermined amount if their negligence and gross misconduct led to the accident. Punitive damages serve as a punishment for the at-fault driver and a deterrent for others.
Other Objectively Verifiable Losses
Typically, any expense you wouldn't have incurred had you not been injured in the accident is recoverable. The most basic one is repairing or replacing your motorcycle, protective clothing like a helmet and reflective jacket, and personal effects like phones.
Also, the costs of home or car modifications to accommodate any disabilities from an accident can be awarded. Think about a ramp, chairlift, and widened doors for victims using a wheelchair. Other costs include buying medical equipment, hiring an at-home nurse, and housekeeping services.
Wrongful Death Damages
According to the Insurance Information Institute, there were 5,579 fatalities from motorcycle accidents in 2020. You can get wrongful death damages if a loved one dies from a motorcycle accident due to another party's negligence. They cater for funeral and burial expenses, medical care, and income loss. A successful wrongful death claim also recovers damages from loss of love and companionship, grief, and loss of a provider.
The effects of a motorcycle crash can be devastating, from medical expenses to physical impairment and mental anguish. While seeking legal action after a motorcycle accident can be daunting and overwhelming, a motorcycle accident lawyer makes the process seamless, and you receive the compensation you deserve.