The kitchen is one of the most important rooms in the house. It's where you prepare your meals and may also serve as an entertaining space if you have an open-plan kitchen/diner. This is one of the main reasons that revamping your kitchen is worthwhile, not to mention it can help to increase the value of your property. However, it's important to carefully consider your renovations, so if you are thinking about sprucing up your kitchen this year, here are a few things to think about.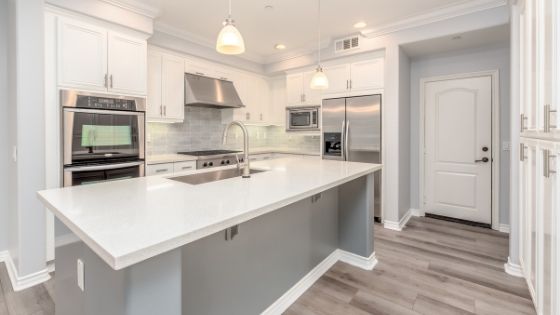 Your Budget
Any home improvement will cost money, but how much you spend will depend on the size of your project. The materials and style you choose for your new kitchen can end up increasing the price of your renovation enormously if you're not careful, so make sure that you have decided on a reasonable budget before you start making any other arrangements. This will also help when it comes to viewing new suites, as sticking to ones in your price range will help you to avoid getting your heart set on one that you can't afford.
Practicality
Of course, you want your kitchen to look good, but the more important thing to consider when choosing a new suite is how practical it is. A kitchen renovation is a great opportunity to improve your overall cooking and dining experience, and if you would like to upgrade your appliances, improve your storage space, or even create more space for preparing your meals, you need to factor in these needs when choosing your final design. You may even need to think about extending your kitchen to accommodate these upgrades too.
Style
The style you choose will come down to your preferences, but be mindful to think about how your new kitchen will fit in with the general aesthetics of your home overall. For example, if you live in a period property, a kitchen design that reflects a vintage or rustic style would work best, the latter would work especially well for country houses. If you live in a modern build with sleeker design features, then a minimalist kitchen would fit in best.
Quality Materials
Your budget will play a big part in choosing the kind of materials you use for your kitchen upgrade, but it is important to get the best quality that you can afford. Not only is this more likely to improve the look of your kitchen, but it will mean that the materials will last longer. For example, getting quartz, granite, or even marble countertops will look luxurious, and they are very durable and easy to clean. You can see some examples at Legacy Countertops to get a better idea of how they might look in your new kitchen. The same applies if you're planning to get new flooring put down and also for your kitchen tiles.
If you are thinking about having your kitchen refurbished this year, consider the points above to help you plan better for your new upgrade.