With the consistent boom in technology come along the problems and then solutions to such difficulties. One such term is the emulator. In simple words, an emulator is a hardware or software that enables certain software to run in devices that otherwise do not support such apps, software, etc. For example, an emulator can help run Mac Operating System on a Windows computer which is otherwise not possible.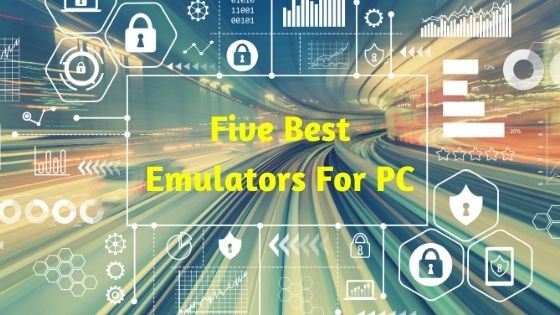 Emulators are either predominantly used for gaming or running other operating systems. They are advantageous beyond the limit one can think. If you own an Android device and wish to run iOS games, read about the best iOS Emulators for Android at (https://techyhost.com/ios-emulator-for-android/.) We have compiled a list of the five best iOS Emulators for Android devices with all the information you need. They are fairly an inexpensive solution as otherwise, buying such apps and systems can be costly. In addition, it is easier to find any unexpected behavior and is an open and free source that anyone can access.
Some of the most effective emulators for PC include:
1. Bluestacks:
Bluestacks is unequivocally one of the best emulators one would have so far explored. Apart from gaming, if one wishes to relish Android apps on Windows or Mac, in that case, this emulator has the edge over the others. Additionally, it can be downloaded for free though some additional subscriptions have to be bought by the user but at a minimum price. In May 2021, the latest version, Bluestacks 5, was released. Its huge demand is attributable to the basic requirements it needs for its operation.
In Windows, these include Windows 7 or higher, 5 GB of hard drive space, and 2 GB RAM. Some features include a keymapping tool, macro recorder, instance manager and the multi-instance sync, etc. These are just a few drops of an ocean. As far as safety is concerned, it is considered one of the safest emulators in use, is also partnered with companies like Samsung that erases the slightest doubt left.
2. LDPlayer:
It is one of the youngest among the emulators launched recently but has gained immense popularity due to its spectacular performance. Its latest version is LDplayer4 which promises high compatibility in running some mobile games and improved gaming performance with an upgraded kernel version. Both AMD and Intel PCs support it.
Numerous users have also mentioned that apart from being fast and lightweight, it is also relatively less bloated than other emulators available in the market. Moreover, all the apps on LDPlayer are available for free of cost and can easily access apps like TikTok. All one requires to access the apps on LDPlayer is AMD or Intel processor, 2 GB RAM, minimum 36 GB hard disk space, and enabled Virtualisation Technology.
3. MEmu Play:
This emulator works flawlessly on Windows PC designed to provide the best gaming experiences. It comes free of cost with an integrated play store and web browser providing a full range to choose from. It is a perfect amalgam of power, graphics, and processing, making it one of the most stable and demanded emulators. The feature of high mapping customization fulfills all the needs of mobile gaming controls. What makes it different from other emulators is its compatibility with AMD, Intel, and Nvidia-powered Windows. Highly customized gaming controls, multi-instance, smart controls, recording features, and disk controls are other MEmu Play features.
Both the keyboard and mouse can be used for mapping to increase gaming performance which is icing on the cake. The basic requirements to access this full bliss package are Intel, Nvidia or AMD CPU processor, Windows 7 or above, 2 GB hard disk space, 2 GB RAM, and enabled Virtualization Technology in BIOS.
4. Genymotion:
While considering the needs of an Android developer, the Genymotion emulator is ideal for testing. The best part is it can run offline through a Windows app on the cloud through a web browser. Apart from speedy testing, the user can share live demos and monitor performance through all devices. It offered high pixel compatibility for better clarity and strung sensors such as multi-touch and GPS in Android emulators for MAC. It supports Microsoft Windows, macOS, Linux, and Android, which makes it ahead of other emulators currently available in the market.
Most of its services are available for free, while some are available at the lowest prices. This emulator is ideal for those users who have weak computers and cannot take much load. OpenGL 2.0 capable video card, Intel HD Graphics 4000, Nvidia GeForce 500 series, 4 GB RAM, and approximately 2 GB Hard Disk Space are some basic requirements to take advantage of this emulator.
5. PrimeOS:
It does not operate as a traditional emulator works. It provides a complete desktop experience and boots up running native Android. In other words, the Android apps are downloaded in a partition on the computer enabling the user to enjoy both simultaneously. It is specifically designed to be gamer-friendly with the availability of the Google Play Store and thousands of games for free to download. Results have also shown that it provides high performance when compared to the Windows budget system. macOS, Windows, and Android are its supporting platforms.
The enhanced gaming experience is largely contributed by its exclusive gaming center known as DicaPrio Gaming Centre. Furthermore, PrimeOS is available free of cost and easy to operate. This emulator is a paragon for playing intense games. Its basic requirements include hard disk space of 3 GB, 2 GB RAM, Intel Core 2 Duo2 – 2 GHz Or above, NVIDIA GeForce – 128 MB VRAM, and a video RAM of 216 MB.