A Cake is what makes a celebration more special. It represents the purpose of the celebration, and every person has a different meaning to it. And getting a cake on a birthday is now like a mandatory ritual in every home.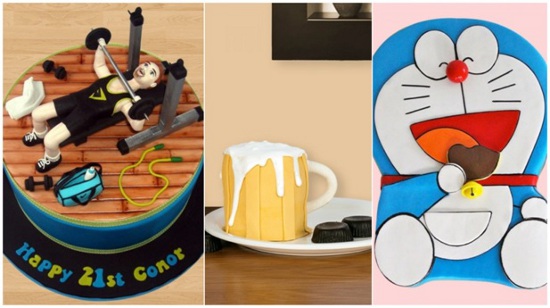 So, why just bring a regular cake? Bring a cake that describes your feelings and expression perfectly. And to express your feelings in the best way possible, here are 10 Kinds of 'Theme Cakes' that are going to make your loved ones feel special and loved in an instant.
1. Superhero Cakes
Who does not love superheroes? From Kids to adults everyone loves Iron Man, Thor, Spiderman, Hulk, Wonder Woman, Black Widow, Black Panther and all the other. And if you get a theme cake inspired by any of these, then, it will surely make the birthday celebration even more memorable.
2. Barbie Cake
Is it your baby girl's birthday and you are thinking of making it more special this time? Well then, there is nothing better than a Barbie Cake. There is no girl who does not love Barbies. In fact, they love to get almost everything inspired by a Barbie, so, get favorite Barbie carved in a cake to make her birthday even more special.
3. Cartoon Cakes
Cartoons are something that all kids love, as they find it more appealing than the 3D figures and they love seeing quick/fast-paced actions because it gives them more visual pleasure. So, how about getting his/her favorite cartoon character curated as a theme birthday cake this year and makes the celebration more memorable. Some of the cartoons that kids love and you can create them in a cake are- Doraemon, Tom N Jerry, Chota Bheem, Jungle Book, Angry Bird
4. Photo Cakes
Photos are a way of storing moments and cakes make those moments sweeter. So, how about getting something? That is a bit of both, and orders a Photo Cake this year to make the occasion more special. Choose the cake they like the most and top it up with a picture of a special moment that you shared together.
5. Jack Daniels Themed Cake
Is your friend an alcohol lover, whose parties are never complete without a drink or two? Then how about celebrating his birthday with a cake that is inspired by Jack Daniels, or any other that he like. This will surely be a better and healthier option to adding that special touch to the celebration.
6. MAC Makeup Theme Cake
Is it you're loved one's birthday, who just loves makeup? Who does make up for her happiness and not to show off her beauty? Well, and then send her a cake that showcases her love for makeup 'A Makeup Theme Cake'. And tell her that you love in all forms and that too unconditionally.
7. Cricket Themed Cake
Cricket makes everyone so pumped and if you are one of those crazy cricket fans that you can watch an old match repeatedly. Then, a cricket inspired cake can be the best surprise for them. Surprise them with a Cricket Theme Cake with some details of their all-time favorite cricket match in a tasty and neatly made Cake.
8. PUBG Cake
PUBG is the most loved game of all time, and thus a cake based on that game will be a huge hit among the PUBG lovers. They might not take off their hands from their phones, but this cake will surely make them take off their eyes and hands, and gulp this delicious PUBG theme birthday Cake.
9. Gym Freak Cake
Going to the gym and working out is becoming a new obsession, irrespective of the gender. And for that gym freak, a Gym inspired theme cake can be the best type of cake. It will be the best kind of surprise that they will always remember, and get it baked sugar free too so that they do not spoil their diet as well.
10. Camera Cake
Is your beloved an aspiring photographer? Then, how about turning that cake into a camera for that photographer in them, and give them a sweet surprise. Get their favorite flavor of cake turned into a camera with every detail so clean and neat, that it really looks like one amazing camera that he always wanted to get.