If you have renovated either your own property before or else work professionally in renovation, you may well believe that you know everything there is to know about the subject.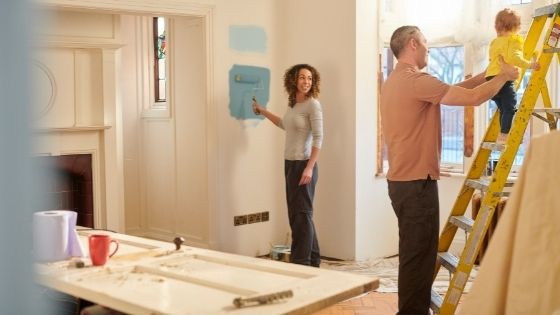 However, as each year passes, new legislation and rules are passed that change how an individual must approach the extensive yet rewarding project of renovating a house. So, with this in mind, here are the top four most important things to know about house renovation.
1. A Building Survey is Vital
Before you even put pen to paper, let alone start knocking down walls, the very first task of any house renovation should be to have a full and professional building survey conducted.
Building surveys are the best way to assess the entire property, from the foundations to the aesthetic features. Without a survey, you could run into a myriad of unforeseen problems, such as:
Mold and damp
Dry rot
Asbestos
Defective wiring and electrics
Subsidence
Roofing issues
Central heating issues
Woodworm and pest infestation
2. Listed Buildings Are Especially Complex
If you are lucky enough to live in or have recently taken overan officially listed building, you are in for a challenging and complicated journey of home renovation, which is conversely filled with excitement and numerous rewards.
As renovating a listed building is so complex, it is strongly advisable to hire the services of a reputable, renowned, and experienced plastering company, such as London based Decor Tadelakt – a specialist companyusing a traditional decorative and waterproof plaster.
There is also a wide plethora of other important factors to consider when renovating a listed building, the most vital of which consist of the following:
It is unacceptable to alter or indeed remove features like decorative stonework, windows, fireplaces, and doors because such architectural components are usually part of the reason why the building is listed
Remember that often, trees, walls, and even shrubbery can also be listed and protected too, as well as gates and fences
Contact the conservation officer responsible for your local area as they will have a wealth of knowledge and influence that you may well need in the not-too-distant future
Ensure that every single piece of documentation is kept both safely and easily accessible, as you never know when you may need it
Always keep in line with the property's traditional features and décor design – both on the exterior of the building and in the interior as well
3. Pay Attention to the Roof
Sometimes, enthusiastic home renovators pay so much attention to the interior of the building and the underneath foundations that they neglect the roof – and this is absolutely to the detriment of the entire property.
Not only is the roof of the property crucial for safety and security, but it also plays an important part in the overall aesthetic impact of the building. If you are conducting a full house renovation to sell it on, then the roof needs to be considered as well.
When assessing the right way to proceed with your roof renovation, take into account the ease of maintenance moving forward, the level of insulation needed, the basic quality to price ratio, ventilation, and of course, the level of sustainability and the eco-friendly nature of your new roof.
4. Always Take Out Comprehensive Insurance
Naturally, when you have taken over a lease or bought a house outright, it's likely that you will have already taken out home and contents insurance.
However, there is a myriad of benefits, and in the majority of cases, it is mandatory to elect to take out specialist renovation insurance if you intend to renovate a property. Such insurance is specifically and meticulously designed and provided to cover every potential issue and risk that is inevitably associated with renovating a property.
Not only will specialist renovation insurance provide ample protection and security against damage to any of the property structures, but it will also provide comprehensive cover for injury to anyone is involved in the renovation process.
When looking for the right specialist home renovation insurance for you and your project, then you should look for the following in the policy:
Extensive property protection in the event that the house is left unoccupied for any amount of time
The theft of any tools, building materials, or other equipment that is left at the property
Any damage caused by heave, landslip, or subsidence during the renovation
Damage caused to the neighboring properties on either side of your house
Proper cover in terms of employer liability in case any professional working on your house renovation makes an official claim relating to any injuries suffered
Any damage caused to either the existing structure of the property or the new foundations by flooding or fire