Thankfully, people around the country are finally waking up to the fact that each and every individual can make changes to their daily life that, far from being insignificant, can combine to seriously slow down the damage being done to the environment.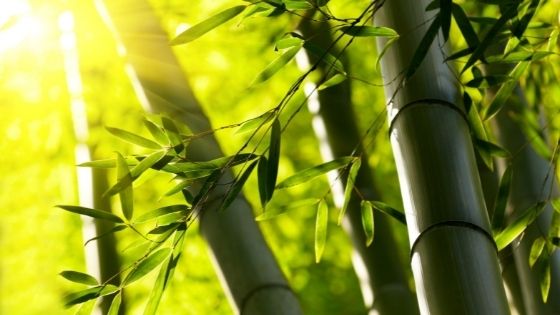 One of the most effective, affordable and truly exquisite entirely natural and sustainable materials that are now being used to create a plethora of different products is bamboo. With that being said, continue reading for a comprehensive guide to bamboo and its numerous uses.
Why is Bamboo So Good for The Environment?
Bamboo is one of the most eco-friendly materials in existence and it plays an important role within the environment, as it protects against harmful ultraviolet rays, contributes to the reduction of light intensity, and significantly lowers the volume of carbon dioxide. In addition, bamboo plants consume large quantities of nitrogen throughout their lifespan and as a result reduce the overall water pollution of the surrounding area.
The use of bamboo in the design and construction industry is both environmentally friendly and extremely affordable, so it is the perfect choice for almost any construction project or design product. Essentially, the purposes of bamboo can be divided into six basic groups:
Household Products
Paper Materials
Furniture
Clothing Pieces
Construction
In Furniture and Home Décor
There are a plethora of fantastically stylish and creatively designed furniture pieces and home décor items made entirely of, or partly composed of, bamboo. Sustainable bamboo furniture pieces simultaneously survive the test of time due to the hard-wearing properties of the material and also come in beautifully intricate and hand-carved patterns, styles and designs.
Bamboo Gifts
Whether you are looking for the perfect gift for a friend or family member, or rather a smaller gift in bulk for your employees or clients of your small business, there are never-ending options of fantastic bamboo products that can be as practical or as novel as you like.
For your workforce, why not treat them to a bamboo toothbrush wholesale, with their names or, even better, their work nicknames onto the side or bamboo travel cutlery sets for when they're having a working lunch. For your loved ones, perhaps a bamboo windchime for the horticulturist in your life, for the culinary expert a bamboo cheese board or serving platter and for the younger ones this Christmas, you could treat them to bamboo mugs, play mats or building blocks.
Bamboo Clothing
There are a multitude of advantages to treating your loved ones, or even yourself, to a beautiful piece of sustainable and organic bamboo clothing this holiday season.
Due to the microscopic fibers in bamboo, such clothing offers extra ventilation and extended freshness than ordinary cotton or polyester tops and sweaters. One of the primary properties of bamboo is the unrivaled level of softness and comfort the circular fibers offer, as well as the protection against ultraviolet rays, the sweat-resistant material and the natural hypoallergenic properties.