If you are in the market for an off roader that offers excellent quality and unmatched off-road performance, you will never go wrong with the Toyota Land Cruiser Prado. For many decades, this 4WD has managed to stay on top of the competition—thanks to its rock-solid reputation as the strongest and most reliable 4×4.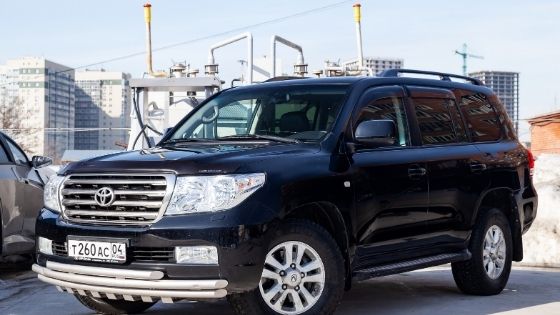 With its unrivalled quality and performance, you might think the Toyota Land Cruiser Prado could not get any better—but it just did. Last year, Toyota gave it a refresh, further elevating its status with a more powerful diesel engine, multimedia system, and safety technology.
Keep reading to discover just how powerful the new Toyota Land Cruiser Prado is or look into the full Toyota Prado reviews on Car Expert.
New 2.8-Liter Diesel Engine
The Toyota Land Cruiser Prado is selling like hotcakes in many countries around the world and it is not hard to see why. For 70 years, this 4×4 has cemented its status as the king of its segment, thanks to its superior off-road performance, durability, and unparalleled reliability. With the new Toyota Land Cruiser Prado, however, what you get is an even more potent 2.8-liter diesel engine that delivers more power and torque than ever before.
The new four-cylinder, 16-valve DOHC engine is capable of generating a power output of 200 DIN hp/147 kW at 3000-3400 rpm, a significant rise from the previous 23 DIN hp/17kW. But just when you thought the new engine churning out as much horsepower is the best part, there is the Toyota Land Cruiser Prado's new maximum torque of 500 Nm at 1600-2800 rpm. Yes, you read it right—the refreshed version's diesel engine delivers a remarkably class-leading torque, making it the torquiest diesel engine that Toyota has ever introduced. This engine is so powerful that it is only used to power up trucks and pickup trucks in most markets!
Manual vs Automatic Transmission
While all variants in the Prado range now uses the same engine, you have the option of going for a six-speed manual or six-speed automatic transmission if you are getting the entry-grade models GX and GXL. You do not enjoy the same freedom of choice with the VX and the Kakadu models, which only come in auto transmission. If there is one advantage to this, it's that it automatically gives you access to a rear diff lock—which is not available in the manual versions. This may cause you to think twice if you're a manual gearbox enthusiast. On the flipside, the manual Land Cruiser Prado consumes only 7.9L per 100 km, while the auto option consumes at least 8L per 100 km. If you venture off-road with adults occupying the four other seats, you can expect a tad more fuel consumption that can reach up to 11.5L per 100 km.
Off-Road Ability
If you are among the thousands of Australians who love the Toyota Land Cruiser Prado the most because of its strong and peerless off-road and on-road capabilities, then you will love how the refreshed version offers more than just that. The changes made on the Toyota Land Cruiser Prado make it even more capable of offering extended and more adventurous family trips that go beyond the paved highways.
With its new diesel engine, refreshed ball-bearing turbocharger, and enhanced engine rigidity, the Toyota Land Cruiser Prado gets a handsome performance boost and flexibility, making it an ideal vehicle for touring. And not only that— the improved capacity of its 150-liter fuel tank also promises longer range mileage. Even if you opt for the flat tailgate version of the VX, GXL, or Kakadu and get only an 87-liter fuel tank capacity, you can still expect your Toyota Land Cruiser Prado to get you far.
Now if you plan to use your 4×4 on paved roads—whether for running around town or going around country thoroughfares, we recommend that you opt for the GX, GXL, or VX models. This is because while the Kakadu's suspension system is unmatched when it comes to scaling rugged hills, you will notice how its four-link rear suspension causes the vehicle to rebound over bumps. The entry-level models, on the other hand, have front suspensions that are more capable of handling bumps even on the craggiest terrain.
Either way, to say that the new Toyota Land Cruiser Prado is a fantastic choice for an off roader would be an understatement. Regardless of the mode you choose, this vehicle is unbelievably capable in terms of off-road ability—thanks to its permanent 4WD system and reliable drive-mode selector system that lets you go over rugged surfaces with so much ease.