There are many advantages to becoming a real estate agent, including the opportunities to work for yourself, the rewarding nature of helping people to find their forever homes, the lack of earning ceiling, and more. Whatever your motivation, you need to know how to take the first step onto this path, and everything you need is here in this guide!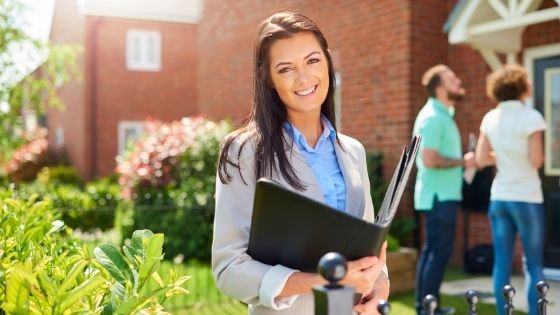 Gain the Right Qualifications
When people buy or sell a home, they look for experts to take away the stress and deal with the paperwork and other difficult tasks. Therefore, it makes sense that these professionals need a certain level of education and training before entering the field.
Depending on where you are in Australia, we recommend looking up the local regulations because the entry requirements could differ slightly. This being said, you'll need to attend and complete a registered real estate course.
Normally, new real estate agents take one of two paths. Firstly, they train while working in another job and get their qualification before actually working in the industry. Secondly, they get an assistant role with a real estate agency and get their qualification while learning on the job.
Before anything else, you need to make sure that you're eligible for training and this means being over the age of 18. What's more, you cannot be bankrupt or insolvent – you also cannot have had a business go into administration. Finally, you cannot have a criminal record in the last ten years. Some restricted crimes include drug trafficking, fraud, dishonesty, and violence.
To start on the right course, it's best to visit the MySkills government website. From here, you can enter your location and the website will inform you of the local requirements and the training providers closest to your position. The most common training course to become a real estate agent in Australia is the following:
● CPP41419 Certificate IV in Real Estate Practice
At the moment, you may also see Certificate IV in Property Services (Real Estate) with the code CPP40307 – both of the courses are recognised nationally but the latter will be superseded by the former later in 2021.
Get Your License
After completing the training, it's now time for the exciting part because you can get your real estate license. Don't get too excited, you won't be launching your own businesses and making millions within a few days. Instead, some states require you to have some work experience before acquiring your license.
For example, you won't be able to get your license without some work experience in Tasmania, Western Australia, Victoria, or the Australian Capital Territory. What does this mean? Instead, you'll have to get a job with a real estate agency and shadow a licensed agent for one or two years. At this point, you will have learned the ropes and you'll then be eligible for a license.
Don't worry, this isn't exactly a new system and established real estate companies are accustomed to hiring unlicensed professionals to help them get their license. As well as big brands, contact local real estate firms because they may have openings. You'll have the right qualification so you're still desirable to companies.
If you trained while working with a real estate company, you have an advantage because you will have been building experience while training. Become an assistant to a licensed agent and it won't be long before you have a license of your own.
Set Yourself Free
With the right qualification, training, and licence, you're free to operate however you wish in the market. Do you want to focus on property management, sales, administration, or another field? Good luck and have fun!