Today we celebrate everything, so finding a theme for an 18th takes some working out! However turning 18 is a milestone in a young person's life and should be an occasion to remember. The birthday person should set the tone for the big day are they male or female? Do they enjoy partying out loud, or prefer a more intimate group of friends. Whatever theme you chose, an Event Florist can create the perfect atmosphere. To connect with teenagers these days you need to be creative, and to cater to the style of the guests, you want them to 'engage' and really enjoy the party. Here are 5 Unique 18th Birthday Party Themes to get you started.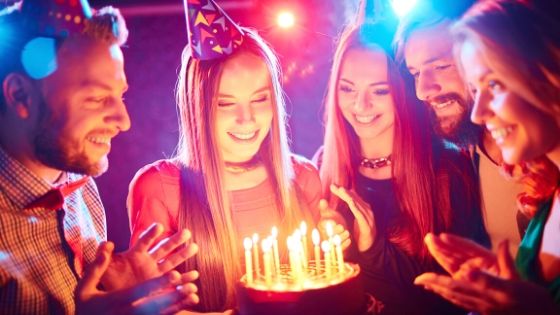 1. When I grow up
To get their creative juices going, ask the guests to dress up as the career or profession that they hope to be 'when they grow up' make it fun and imaginative. Many teenagers of 17 or 18 still have no idea what they really want to be. If you have the budget, then holding the party at an Escape Room venue would add to the adventure and have them working as a team or teams. Catering could be at the venue or at home after the 'Escape'
2. Bond Style Dinner party
For the more sophisticated or 'Cool' 18 year old, a James Bond style party with guests dressed in their best cocktail outfits (could be Op Shop finds), and treated to a formal sit down dinner (maybe catered?) along with 'Bond' themed music. Consider creating a Casino Royale games room set-up for after dinner which would fill the night and have everyone mixing and having fun.
Phone cameras are commonplace today with snaps of everything being instantly uploaded to Social Media, However a photographer (this could be a friend or family member) engaged to take 'formal', or 'red carpet' photos will add to the occasion, and make all the guests feel special, and the Birthday Girl or Guy will have some great memories.
3. Spa/Pool Party
If you have a pool or spa, a Tropical themed Spa/Pool Party might be just the go. Bring in someone to provide facials, massages or manicures for a fun activity. Event Florists can create the perfect floral tropical paradise, with relaxing Island themed' music will have the guests enjoying themselves while sipping cocktails or mock tails and nibbling on finger food. This have all the guests very relaxed, in Spa mode and 'chilled out'!
4. Fun Games from Yesteryear!
For active sporty teenagers it is always great to have team sports or activities where they can engage with each other while enjoying themselves. 18-year olds can be quite 'selective' about what they will engage with, so the activities should have broad appeal. Something as simple as 'Backyard Cricket' will have everyone involved and would be easy to cater for with picnic style food and simple layout.
Alternatively you might want to provide games that were enjoyed around the time that they were born or earlier such as Quoits, Hookey, Spin the Bottle, Limbo etc. These are still fun activities which can be done as teams but may be new to these teenagers!
5. DJ music and Dance
If your teenager is into music, then music is what is going to get them going! If you have the room, a live DJ will set the tone…find out what music is best for this group before hiring anyone! Space for a dance floor is essential for dancing. Invite guests to wear outfits to fit the theme. The Theme could be as varied as 1920's Dance Hall, to Goth or Hip-hop and will set the tone for everything else, such as the catering, lighting and decorating. This is basically a dance party with trimmings! Wherever it is (home or at a venue), create atmosphere with decorations such as balloons, banners, and floral arrangements such as ferns or taller plants to 'shape' areas for different functions – food, dance, talking, gifts etc.