An SME loan is the best way to fulfill the financial needs of an SME. SMEs are the Small and Medium Enterprises that hold a major portion of the Indian economy. But, they usually lack knowledge regarding the available funding to them and how to avail an SME loan. So, here's is the guide to SME business loans in India and the points to consider before applying for them.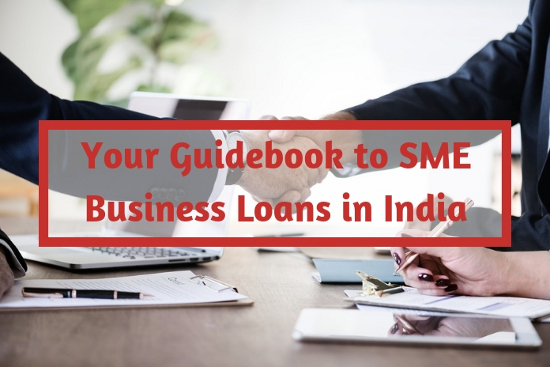 What is an SME loan?
An SME loan is the credit facility offered by an SME finance company to the business owner. The funds availed under SME loans can be used for the various purposes, whether you are looking forward to investing in infrastructure or want to increase working capital.
An SME finance is helpful to improve cash flow, acquire new machinery, increase inventory, etc. There are many SME loan companies in India that offer SME finance to small and medium enterprises to help in their performance.
Banks usually do not lend to small and medium enterprises due to their low turnover. Additionally, they also do not offer small ticket business loans and usually, their loans start from INR 1 crore. Nonetheless, the financial sector has seen the rise of NBFCs (Non Banking Finance Company), online lender, and Fintech (Financial Technology). These companies offer SME finance at low interest rates and easy to fulfill terms and conditions.
Types of SME Loan
There are different types of SME loans that an SME owner can look forward to avail. The two major categories are collateral and collateral-free business loans. The collateral business loans are secured in nature. They are backed by a collateral, i.e., the borrower is required to hypothecate an asset to secure a loan in case of default by him. Collateral-Free loans are unsecured in nature and can be availed without any security in terms of collateral. These SME loans without collateral are the best suited for small and medium business owners who could not provide collateral.
The other types of SME loan are those which are differentiated on the basis of the purpose for which they are availed. The following are such SME loans:
Capital Loan: A capital loan is availed to increase capital or say, provide extra capital to the business.
Working Capital Loan: The working capital is used to fund the business's day-to-day activities. Such as utility bills, salaries, wages, etc. A working capital loan is availed to increase the working capital of the business.
Machinery Loan: An SME can avail an SME loan if it wishes to buy new machinery or upgrade to a new version. An equipment loan is usually collateral free since the equipment or machinery itself is the collateral.
Flexi Loan: In this type of SME loan, a credit limit is sanctioned to the SME owner for a period of time (usually for a year). He can use the amount up to the limit anytime during the approved time.
SME Loan Eligibility
The SME loan products differ from one lender to another. The loan products offered by different lenders have some different characteristics which make them different from that offered by the competitor. And so, they have different SME loans eligibility criteria as well.
Let's talk about some common SME loan eligibility:
Minimum Turnover of the SME should be at least INR 10 Lakhs in the previous 12 months.
Last year ITR filed should be of INR 2.5 Lakhs minimum.
Either house or the business premises should be owned by the SME owner.
The SME business place should be separate from the residence of the business owner.
The Business should be operating from at least 2 last years.
SME Loan Documents
As the eligibility is different with different SME loan lenders, so are the documents. A generic list of SME loan documents are:
PAN card of the business owner
Last 12-months bank statement of the account linked with the SME
Last 2-3 year ITR
Business place address proof – utility bill, etc.
Residence address proof – aadhaar card, Passport, utility bill, etc.
Passport size photographs (4)
How to avail an SME Loan?
Availing an SME loan is very easy. Most of the SME finance companies offer an online loan application process. So, you are not required to leave your business to apply for a business loan online in India.
You can simply visit the website of the lender and apply for the loan for SME from the comfort of your home and at any time of the day. Follow the following steps to apply for a business loan online in India
Visit Website: Choose the lender of choice and visit their website. Fill their application form online with relevant information.
Upload Documents: Upload the required documents. You can simply upload the PDFs of the required documents online.
Get Approval: After you apply for an SME loan and upload documents, the lender's representative will process your documents. If your application is approved, you will get funds within a few days. And if your application is rejected, they will share the reason of denial with you.
Points to Consider while Availing an SME Loan
The following are the points to consider while applying and availing a loan for SME:
Type of SME Loan: Decide the type of loan you want to apply for. Remember, all types of SME loans are designed for specific purpose and therefore, you must know the purpose for which you are availing the loan.
Interest Rate: The SME loan interest rate is another important eligibility criteria that you must consider.
Loan Tenure: Decide the tenure for the repayment of the loan. Remember, longer tenure will increase interest cost whereas the shorter duration will increase EMI. So, you must choose the one that fits your pocket the best way.
SME loans in India these days are offered at minimal documentation and at easy terms and conditions. And most of the lenders charge low SME loans interest rates which makes them absolutely affordable. And now that you know all about SME loans – eligibility criteria, documents required, and how to apply for them, you can go ahead, avail them, and take your business to new heights.