Nursing is a challenging yet rewarding career path. In recent years, this occupation has never been more vital, and as populations age, more healthcare is also required for the older generation than ever before. This career choice appeals to many people looking to care for and help others in their time of need. It's also an excellent pathway to pursue higher positions and travel opportunities within the healthcare sector.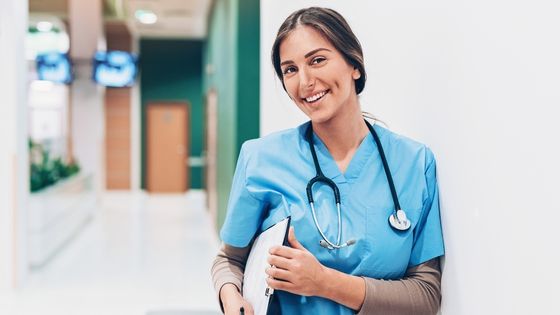 So, what are the main reasons to become a registered nurse?
Excellent training opportunities
To become a nurse, you need to get a formal education and undertake training to gain a qualification. However, there is a host of training opportunities out there, including on-campus and online courses. There are options if you're looking to start a degree. Plus, courses for people already in the healthcare sector looking to take the next step in a nursing career. The choice is vast, and you can train close to home or even from the comfort of your sofa.
Active and varied work
If you want a varied job that keeps you on your feet, then nursing is a great option. You'll be tending to patients and walking a lot. It's also an extremely diverse job role. No two people are the same, so there are plenty of opportunities to use your knowledge and experience to solve common health issues.
Roles that make a difference
One of the main reasons people become nurses is because these jobs directly help people in need. However, the role doesn't just involve administering medication or taking observations – nurses provide empathy, compassion, and comfort without even thinking about it.
Professional development
Learning something new every day is a prerequisite for the job. The medical industry changes frequently, so there's always scope for on-the-job training and development training to progress your career. After you complete your training and license to become a registered nurse, there's also the opportunity to train for higher positions such as nursing management.
Different work environments
Many nurses will go on to work in hospital and clinic environments, but that's not always the case. Nurses are required in a range of different places, including corporate settings, schools, and nursing care facilities. You could also travel with your nursing qualification and get involved in unique projects and causes.
Specialist nursing vocations
As a registered nurse, you can choose to be involved with general nursing or specialize. This choice typically comes from working within different settings over your career, and it's the perfect chance to progress once you've found your favorite sector.
Flexible work schedules
Nurses work shifts, and these change depending on workload. However, there is the option of choosing shifts depending on your preferences or needs of the job at the time. Having more control over your shift pattern gives you time to get a better work/life balance, which naturally improves your job satisfaction.
If the above reasons strike a chord with you, then take a look at how to pursue this career path below:
What qualifications do you need to become a registered nurse?
Get a degree
The first stage in your nursing career starts with earning a degree. This is essential for any nursing career path. There are two main types of degree you can choose – an Associate Degree in Nursing and a Bachelor of Science in Nursing.
An associate degree provides the foundations in knowledge, skills, and aptitude to move into nursing. This option takes the least time to complete (around two to three years). But, you are required to pass the national licensure exam to use your skills in the workplace.
A Bachelor of Science in Nursing is another way to gain a qualification in the profession. You don't need an associate degree to get onto this course. Plus, having this degree is more likely to open up opportunities in nursing jobs. This course typically takes three to four years to complete, and the same licensure exam is required to gain entry to practice. The program covers general education, nursing specialism, and clinical education. This clinical experience allows you to learn more about what specialty you'd like to explore after graduation.
Accelerated nursing programs
If you have a degree in another area, an accelerated nursing program can help you switch to this occupation. Some of your previous coursework may be taken into consideration. However, it is an intense 12 -18 months of full-time study to complete your BSN degree.
Master of Science in Nursing degree
For nurses looking to progress studies, a Master of Science in Nursing is the next step. Having a BSN degree is typically a prerequisite to getting on the course. Still, there are several options for study, including online classes. Students can obtain this qualification part-time or full-time, and it's an ideal way to balance studies, work, and family life.
There are a few different pathways for people studying for a higher degree. You can go into more specialty areas and apply your knowledge in a different role. Or there's the option of moving into nursing education, business, or leadership roles. The choice is endless.
On-the-job training and clinical practice
When you study advanced nursing education, clinical education is part of the process for qualification. This stage in your study takes you through the practical application of nursing. You will use your learned knowledge to apply the skills to different aspects of nursing, such as assessing, diagnosing, and disease management.
This part of your education bridges the gap between classroom study and real-world scenarios. To complete this part of the training, you will need to set up placement and organize a preceptor. A preceptor is an experienced practice nurse who agrees to supervise, monitor and guide you through your training.
This person has extensive knowledge and experience in an advanced nursing role and helps you to get the best out of your experience. On your degree course, you'll have access to advice and guidance on setting this clinical experience up. You'll also be connected to a coordinator who oversees everything and ensures you're happy during this experience.
Depending on the course you study, you will need to complete a minimum number of hours in clinical training. This ensures you have adequate experience alongside your studies to apply everything you've learned in the course.
Get your nursing license
After your degree, the next step is obtaining a pass in the national licensure examination (NCLEX). This is compulsory for all graduates looking to become registered nurses. There are different requirements depending on the state and area of nursing. So, check what is required before sitting the exam. Without this, you won't be able to practice as a nurse.
There are different exams you can sit on depending on what area you want to work in. These include:
Certified Nursing Assistant (CNA)
National Council Licensure Examination (NCLEX-PN)
National Council Licensure Examination (NCLEX-RN)
You can get advice on the right exam you need to gain your license.
Look for employment
Once qualified and licensed to work as a nurse, it's time to find a job. The field of nursing is growing. The U.S Bureau of Labor Statistics estimates it will grow around 9% between 2020 and 2030. With this in mind, there are a variety of jobs in different locations. Some states have more vacancies than others. However, as the population ages, it's projected there will be more opportunities to work in nursing care in the future.
Choose a specialism
Want to work with children? Or perhaps clinical nursing is your specialism of choice. The variety of specialist areas in nursing opens up a world of opportunities. When you become a registered nurse, you don't have to leap into one area straight away. Instead, it's a great idea to get a feel for what type of nursing you prefer, then look at job vacancies later down the line. Some specialties may also require extra training or qualifications. So, this gives you a chance to research the job and choose the right path for you.
Some examples of nursing areas include:
Midwife
Clinical nursing
Neonatal nursing
Critical care nursing
How many years does it take to become a registered nurse?
The level of skills, knowledge and practical experience needed to become a nurse takes several years. The minimum time is typically two to three years if you're taking an associate degree. For bachelor's degrees, it's about three to four years to complete. Plus, taking a master's degree takes around two to five years, depending on whether you study part-time or full-time.
The next steps in your nursing career
Choosing a career in nursing opens up many doors for people that want a diverse and active role in the community. The routes and specialisms give you a chance to develop your career as you wish and move up the ladder to other exciting options. There are also many avenues to get into nursing, and a flexible degree option can give you the relevant qualifications to take the next step.